Cucumbers are native to the Indian subcontinent, and made it to China and the rest of South-East Asia in the 10th Century. They used to have a bitter taste, and this has been gradually bred out of them.
This salad appears in various forms all over the place, and no single person can claim its invention. The principle is to heavily distress the cucumber to that the dressing sticks to them. Then they are spiced as far as you dare and garnished with sesame seeds.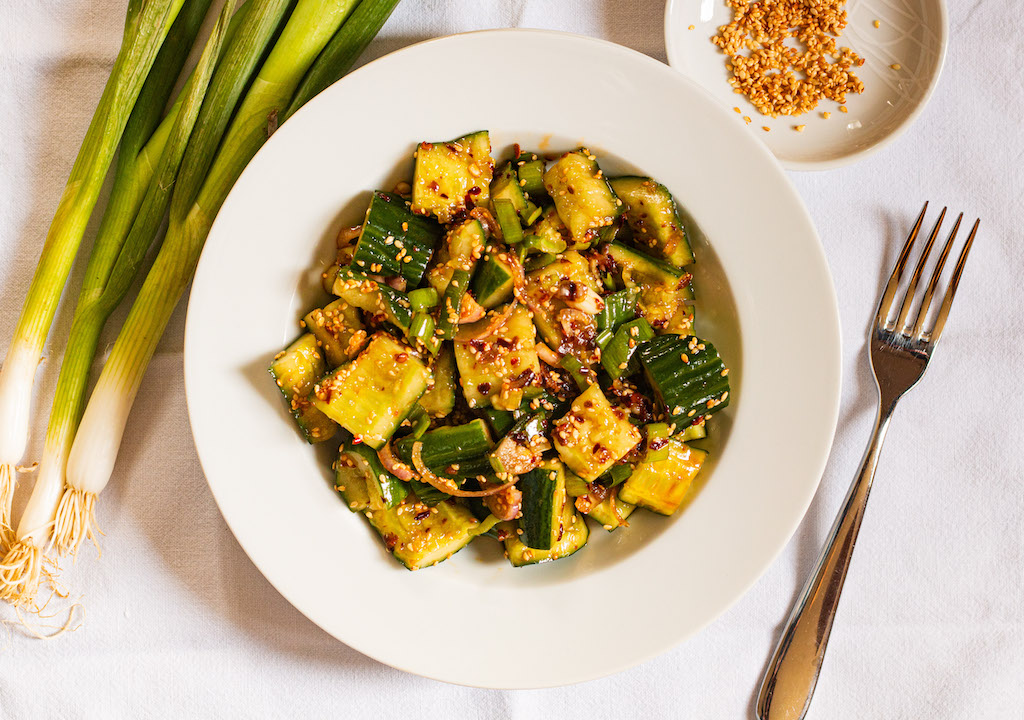 Print Recipe
Spicy Asian cucumber salad
Ingredients
For the salad:

2 cucumbers

Large pinch of sea salt

2 banana shallots, sliced

2 spring onions, chopped

2 tsp sesame seeds, toasted

1 tbsp chilli crisp or the solids from a jar of chilli oil

For the dressing:

30ml soy sauce

30ml sesame oil

20ml rice wine vinegar or Datu Puti vinegar
Instructions
1
Start by making the dressing. Put all the ingredients in a jam jar and shake the life out of it.
2
Smash the cucumbers with a meat hammer, and cut them into 1-inch chinks. Sprinkle with salt and leave for 30 mins to draw out excess water. Drain.
3
Add all the other ingredients and the dressing. Toss and serve.