Like doughnuts and beignets, churros are a type of fried dough. Coming to the fore in Spain, the origins of churros are not entirely clear, but they are thought to come from the usual Moorish invaders in times past — which would make churros North African/Arabian.
A recipe for churros was first written down in the early 17th century cookbook 'El Cocinero Francés' (The French Cook). The recipe describes a method for a twisted, fried dough called 'churros that bears much resemblance to those knocked out by street vendors all over modern-day Spain.
Churros later gained popularity in Spanish-colonised Latin America. Churros are most often served with toppings and dipping sauces, such as chocolate or caramel. The best churros I ever had were actually in Amsterdam.
This recipe given here is my own, and has been developed after a lot (weeks) of trial and error in a domestic kitchen.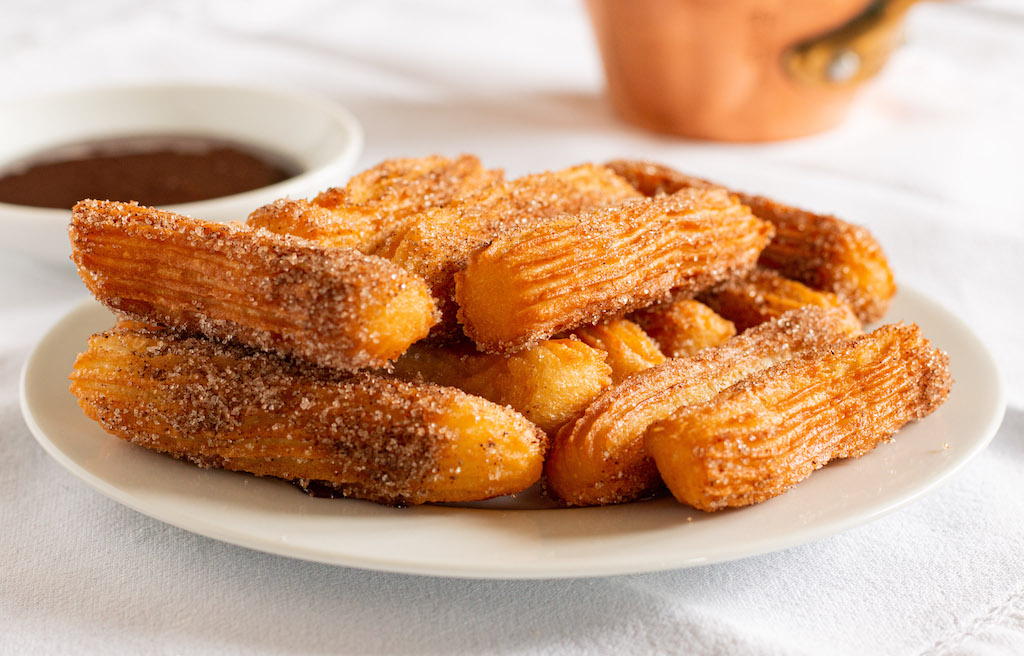 Print Recipe
Ingredients
For the dough:

90g unsalted butter, melted

250ml water

1.5 tbsp sugar

2 tsp anilla extract

1 tsp table salt

150g plain flour

3 eggs plus one egg yolk

For the coating:

130g granulated sugar

1 tsp ground cinnamon
Instructions
1
Combine the butter, water, salt sugar and vanilla in a pan and bring to a boil. Lower the heat and add the flour. Mix into a dough. Remove from the heat and add the eggs. Mix until smooth,
2
Transfer the mixture to a piping bag with a star tip. Combine the coating ingredients in a wide bowl and set aside.
3
Heat a pan of oil or a fryer to 190˚C.
4
To cook the churros, pipe the batter directly into the hot oil and snip to length, Fry each batch for about 5 mins until golden brown. Fish the cooked churros out with a spider spoon and blot in a bowl lined with kitchen paper. Repeat to use all the batter. Toss the warm churros in the coating mixture and serve.