The recipe given here is very, very old. It was written in 30AD by Marcus Apicius in the cookbook known as De Re Coquinaria. In our hunt for interesting side dishes, this stood out as interesting because bits of it are recognisable from carottes Vichy, and the spices are similar to those I found to work well with peas.
This recipe for takes the principle of making carottes Vichy, and applies it to the ingredients list from two recipes that are listed in Apicius. The original Roman recipes are written as follows:
[124] ANOTHER WAY: THE CARROTS [are] BOILED [and] SLICED, STEWED WITH CUMIN AND A LITTLE OIL AND ARE SERVED. AT THE SAME TIME [here is your opportunity] MAKE A CUMIN SAUCE [from the carrot juice] FOR THOSE WHO HAVE THE COLIC.
[40] ANOTHER [CUMIN SAUCE]: PEPPER, LOVAGE, PARSLEY, DRY MINT, PLENTY OF CUMIN, HONEY, VINEGAR AND BROTH.
The cumin sauce mentions an unspecified 'broth.' Roman cooking frequently features a pungent preparation known as 'garum,' which is made from fermented fish and is often cut with wine to make a sauce. Given that one of the Nosey Chef cooks is a Filipina, the solution was simple – we put spicy Asian shrimp paste in the water with the carrots.
The result is spectacular.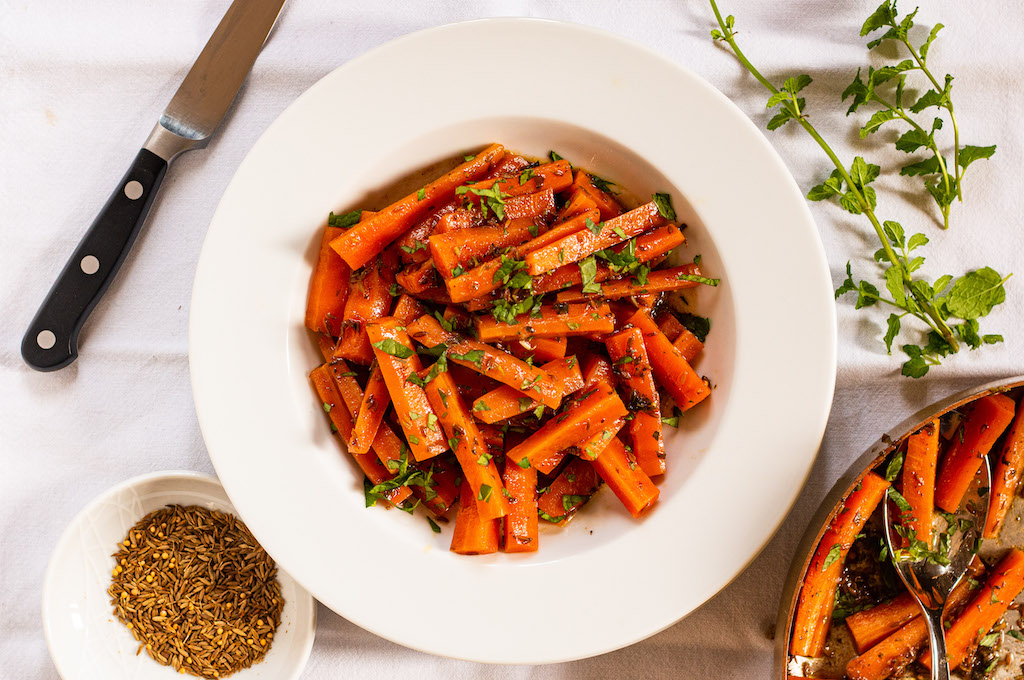 Print Recipe
Ingredients
400g carrots, peeled and cut into batons

1 tbsp olive oil

2 tsp cumin seeds

1 tbsp fresh mint, finely chopped

1 tbsp lovage leaves, finely chopped (see notes)

Drizzle of honey

1 tbsp white wine vinegar

1 tsp shrimp paste (e.g. Dagupan Spicy Guisado Bagoong)

Sea salt and freshly ground black pepper
Instructions
1
Put the carrots in a sauté pan and cover with water. Add all the other ingredients and mix, whisking the shrimp paste into the water. Season.
2
Bring the pan to the boil, and then simmer on low until the carrots are cooked. If the liquid is disappearing a little too quickly put a lid on the pan.
3
Serve and use any residual pan juices as a sauce spooned over. Sprinkle with fresh chopped mint.
Notes
Unless you grow it yourself, lovage can be hard to come by. It tastes like celery, so you can add a stick of celery to the pan while the carrots cook, and then discard it later.