We have done the origins of ice cream before, so let's keep this brief. Chocolate chip ice cream uses a vanilla ice cream base and adds chocolate fragments to it once the custard mixture is cold. easy (and recommended by some) to use a bag of dark chocolate chips from the baking section of your local supermarket. You also could lightly blitz a bar of dark chocolate for a more rustic result, but both of these methods result in massive chunks of chocolate in your ice cream and it's not nice. It is far better to go the extra mile and use the same technique that is used for Italian stracciatella gelato.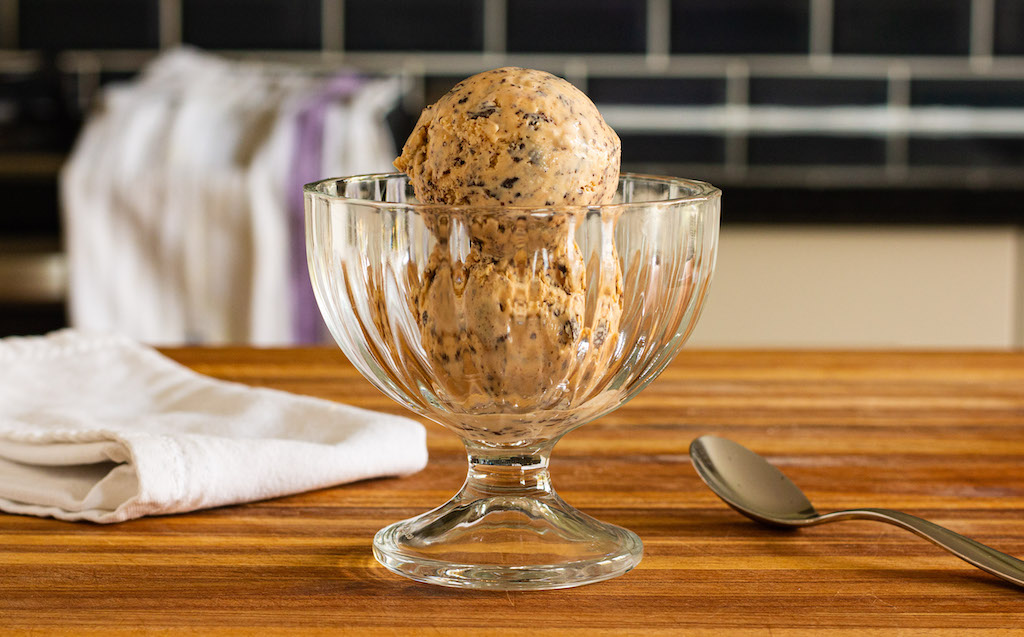 Print Recipe
Ingredients
300ml full fat milk

300ml double cream

30g liquid glucose (optional, see notes)

Seeds scraped from 1 split vanilla pod

5 egg yolks

90 g caster sugar

100g 75% cocoa solid chocolate

10g coconut oil
Instructions
1
Put the milk and cream in a pan, bring to the boil and remove from the heat. Stir in the glucose and vanilla seeds. Set aside.
2
Beat the egg yolks and sugar until fluffy and pale (use a stand mixer).
3
Reheat cream a little (just to make it flow, but not enough to scramble the eggs) and add it to the bowl with the eggs while whisking (just run the stand mixer and slowly put the cream in).
4
Scrape mixture back into the pan and heat slowly to 82˚C (use a thermometer) to thicken to coating consistency – do not boil or it will split). Strain to remove lumps and cool with some cling wrap on the surface to prevent skinning.
5
Churn the ice-cream in a machine.
6
While churning, melt the chocolate with the oil in a pain marie and pour into a plastic bag. Seal and stand in some warm water until the ice cream is ready to take the flavouring. When the ice cream is nearly frozen, cut a tiny hole in the corner of the chocolate bag and slowly drizzle it into the churning ice. It will solidify on contact and distribute itself throughout the ice cream.
7
Once fully churned, transfer to a plastic carton and freeze.
Notes
The glucose syrup prevents icing if frozen for more than a few days. If you intend to eat the ice cream in short order, you can omit it.