Historians think that sorbet is Persian in origin and that its name comes from the 'sherbet' that Westerners would encounter in Persia and the Ottoman Empire. The Italians got hold of it first as 'sorbetto,' and the French followed up with 'sorbet.' The Brits still eat the sherbet powder (made from dried fruits) … because they are crazy.
Sorbet can be made in an ice cream machine, but that is not necessary. Instead, you can freeze the fruit, process it, add cold syrup and freeze. It will be perfect. Sweet fruits can be offset with a bit more citrus, and tart ones with less of it.
This recipe comes from Nick Nairn, where it sits in the dessert section of his Cook School Cook Book. It is fair to say that if an interested person takes it upon themselves to cook that book from front to back, then a pretty good cook will emerge from the other end of the exercise.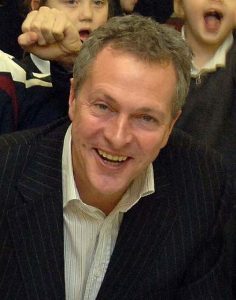 Now, I love Nick Nairn. He has been very nice to us while we have done this blog thing, and he is one of the few pro chefs who actually follow us, but the apple crisp in the original recipe … well, I can't get it to work. The original soaks the apple slices in syrup and then heats them for an hour in a low-is oven. We can get crisps that way, but we get burnt ones. The cheat is to shallow fry them.
Nick does better quenelles than me, and I am sure yours will look better than mine too.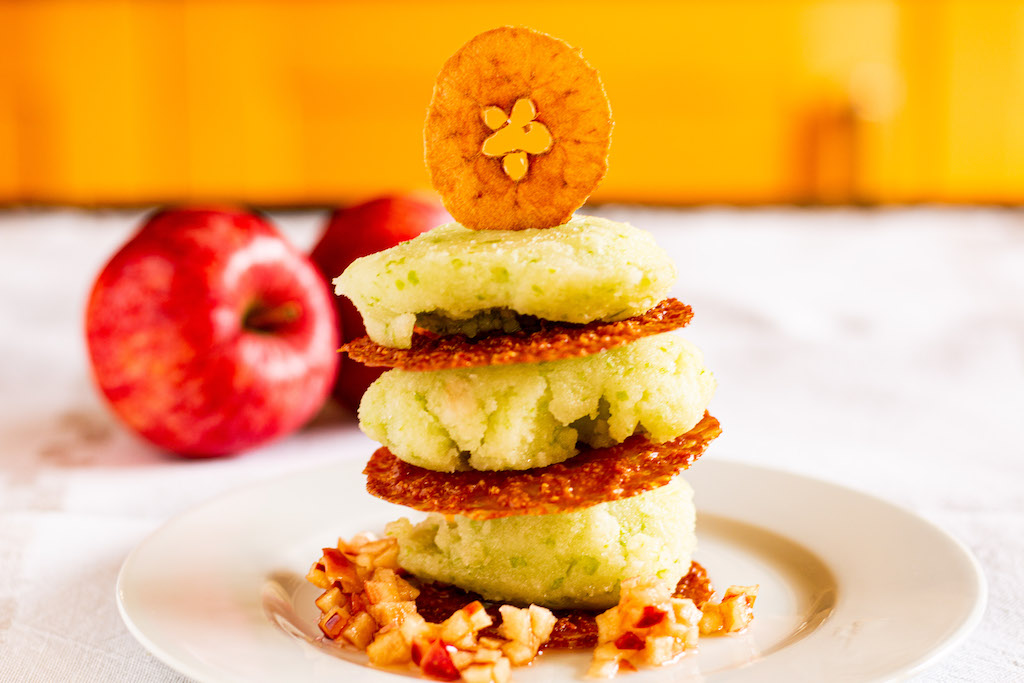 Print Recipe
Ingredients
For the sorbet:

3 Granny Smith apples, unpeeled, cored, sliced and frozen

Some cold simple syrup (see notes)

Juice of 1 lime

For the cider syrup:

120ml dry cider

120g caster sugar

Juice of half a lemon

1 red apple, unpeeled and cut into small cubes

For the praline crisps:

200g sugar

60g flaked almonds

For the apple crisp:

2 granny smith apples

Some simple syrup
Instructions
1
To make the sorbet, put the apples in a food processor with the lime juice and run the machine. Pour in cold syrup until you get slush Box and freeze.
2
To make the cider syrup, melt the sugar in the cider and lemon on the heat, cool and add the cubed apple. Cool.
3
To make the pralines, heat the sugar slowly in a pan until it melts completely and turns slightly brown. Mix in the almonds and pour out onto an oiled baking tray. Allow to se completely hard, and then blitz in a food processor until powdered. Spread the dust out onto a silicone sheet (quite thinly) and heat at 200˚C for 3 mins. Remove from the oven, and cut it into rounds when just under set. These will not keep overnight.
4
To make the apple crisps, ignore the original recipe. Cut the apples in half equatorially, cut a barrel out with a cutter and then slice thinly with a mandoline. Soak the slices in the syrup for 15 mins and shake dry. Fry them quickly in hot oil. Place on a wire rack to crisp up.
5
Serve the four components how ever you like.
Notes
Simple syrup is made by mixing sugar and water in a 1:1 ratio volume:volume, heating to dissolve the sugar and then cooling. The original recipe for this suggests that 2L of syrup may be needed. This is not the case – you need to go by feel, so follow our instructions.