Adobo is not adobo. The Spanish have an 'adobar' (where the word means 'marinade') in which meat is submerged in paprika, oregano, salt, garlic, and vinegar to preserve it prior to cooking. In the Philippines, most of the ingredients are swapped out for vinegar, soy sauce, garlic, bay leaves, and black pepper. The marinated meat is then stewed relatively slowly and served on a bed of fluffy rice to absorb all the excess cooking liquor.
Vinegar-based marinading is popular in warm climates as a means of preserving fresh meat for a day or so prior to cooking.
The Filipinos adopted the Spanish term 'adobo' after invasion/colonisation in the 16th Century, and adobo is now considered to be the unofficial national dish of the Philippines, although the Filipinos were sticking meat and fish in vinegar long before the Spanish rocked up and liked the look of the women.
The recipe given here for chicken adobo (adobong manok) is one that I freestyle when I want to treat a guest, It is quite brilliant.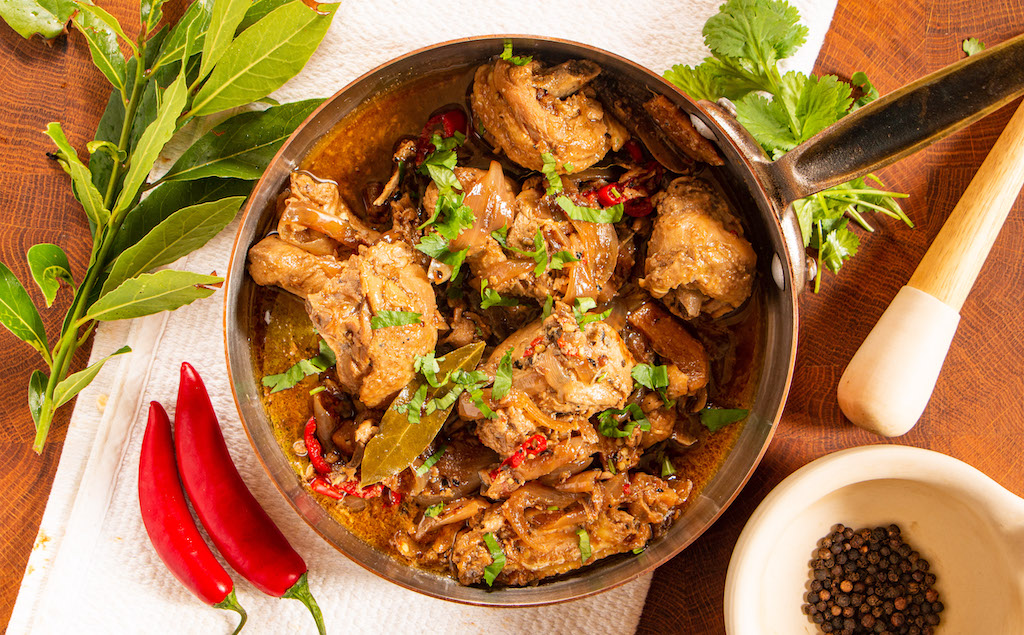 Print Recipe
Ingredients
For the marinade:

1 chicken, jointed Chinese-style by a crazy woman with a cleaver

20 black peppercorns, lightly crushed

1 whole garlic, smashed, peeled and sliced

1 tbsp Oriental cane vinegar (e.g. Datu Puti sukang maasim)

60ml soy sauce

2 bay leaves

Pinch sea salt (the soy sauce provides a lot of saltiness)

To cook:

1 tbsp neutral oil

1 onion, sliced (see notes)
Instructions
1
Mix all the marinade ingredients in a bowl and refrigerate overnight.
2
Heat oil in a large pan. Add the contents of the marinade bowl along with a splash of water. Bring the dish to a boil, reduce the heat, and simmer uncovered, for about 25 mins until chicken is cooked. Throw in the onion last minute to heat through
3
Discard the bay, and serve the chicken with the cooking sauce spooned over. Eat with your fingers.
Notes
Common variants put the onion in the marinade and cook it with the chicken. The bay is immovable.