Beef tapa is to the Philippines what beef jerky is to Jamaica – it is a heavily seasoned, marinated/cured beef, cooked off in a skillet. Beef tapa is almost always served with rice, and is traditionally topped with a fried egg, just like Thai phat kaphao. Beef tapa is traditionally served as a breakfast, but is also popular these days as an any-time 'street food.'
'Tapa' as a preparation started life as cured fish, but time and mission creep hooked in other fleshy sources of protein, including beef. In modern Tagalog, the term 'tapa' is now interchangeable between curing, drying and smoking.
In the beef tapa we have provided here, strips of high-quality beef are cured overnight before cooking off in oil. The recipe is a version I learned to cook from my family in the Philippines. If you make this beef tapa, you can be sure you are making the real deal.
Do not be tempted to chuck salt in the marinade as the soy is sufficiently salty when reduced.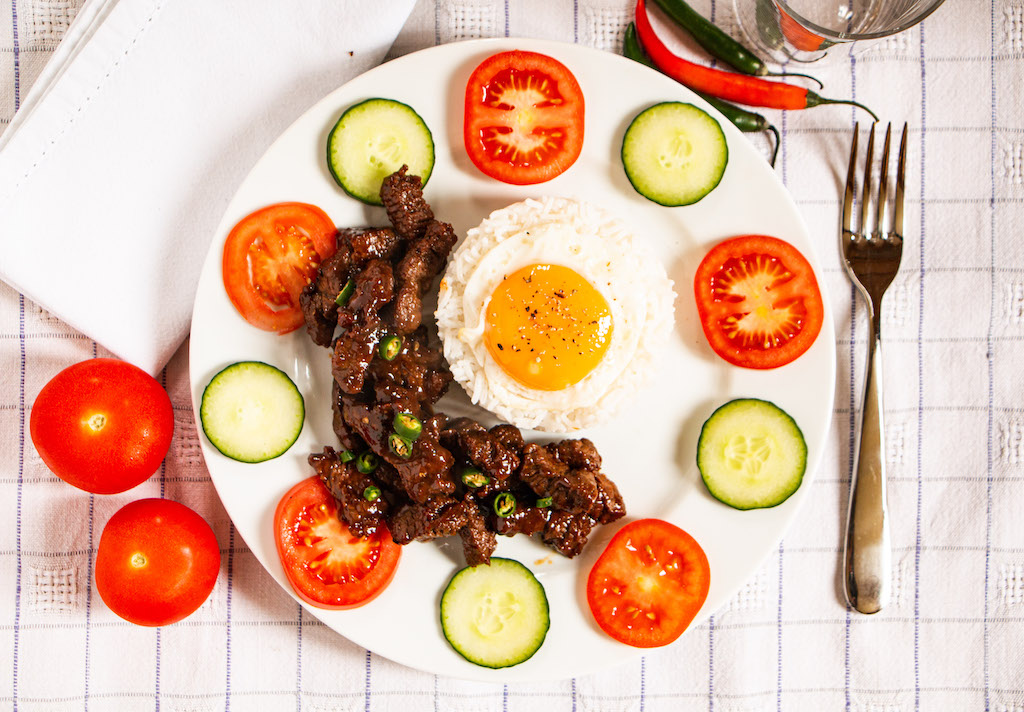 Print Recipe
Ingredients
For the marinade:

4 rump steaks, cut into finger-sized strips

1–2 heaped tbsp brown sugar

6 black peppercorns, crushed in a mortar and pestle

100ml Kikkoman soy sauce

4 tbsp distilled white vinegar (or lime or calamansi juice)

4 cloves of garlic, minced

To cook:

2 tbsp neutral oil
Instructions
1
Mix the beef with all the other marinade ingredients, cover and marinate overnight.
2
To cook, heat the oil in a large frying or sauté pan. Cook the beef and the marinade on a low simmer until tender and the sauce well reduced (about 30 mins).
3
Serve your beef tapa with steamed rice, a fried egg, and a small side of sliced tomato and cucumber. Cast over some chopped spring onions, coriander or even sliced green chillies if you like.
Notes
The marinade ingredients given here were written down when Ann Marie made this for me. The quantities are formalised as tbsp this and tsp that; but, in reality, AM does the whole thing by dead reckoning and taste.