The Romans. Any powerful-tasting food that includes pungent fish is going to be Roman. Salsa verde is a slurry of herbs, anchovies, garlic and olive oil stiffened with breadcrumbs that is found all over Europe with as many names as there are countries. It is a common accompaniment to any grilled protein, i.e. red meat and hearty fish. The French version contains tarragon and is called 'sauce verte.' The Germans chuck a salad of non-mediterranean herbs and a load of mayonnaise in it and call this much lighter version 'Grüne Soße.' The Californians have something similar to sauce verte and call it 'green goddess dressing.'
The Romans, while expeditioneering (i.e. plundering) in the Near East, found natives making vinegar-sharp, herb-laden sauces and took the idea back to Italy. They then exported the sauce, probably by force, to Germany and France.
Some food historians have got themselves in a funk by confusing salsa verde with Mexican salsa. Mexican salsa is an altogether different gig of tomatoes and chillies.
The salsa verde recipe given here is a mish-mash of a very authentic one from Anna Del Conte, with the the handful-based quantity assessment of Jamie Oliver. If you are making this to go with grilled meat, use red wine vinegar. If you are making it for grilled fish, swap the vinegar out for lemon juice.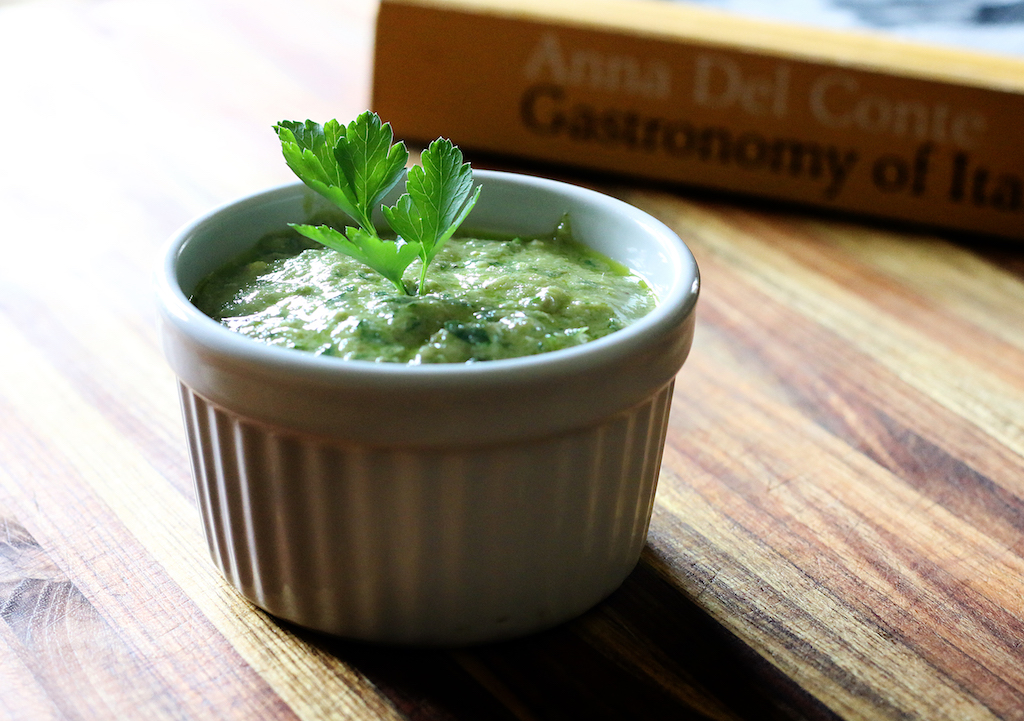 Print Recipe
Ingredients
A large handful of flat-leaf parsley leaves (about a whole supermarket plant).

A handful of white breadcrumbs

Half a hard-boiled egg

1 clove of garlic

1 small handful of capers, washed

1.5 tbsp red wine vinegar

3 pickled cornichons or 1 gherkin

3 white anchovy fillets, or 6 of the brown ones from a jar or tin

Salt and freshly ground black pepper

100ml or so of the best extra virgin olive oil you can find (I am very lucky to get some pressed by my father's friend in Bordeaux)
Instructions
1
Combine all the ingredients except the oil in a food processor.
2
Gradually add the oil until you have the consistency you want (like porridge is best). You may need to scrape the mixture down from the sides of the bowl once or twice.
Notes
Once you are happy with this basic salsa verde, you can experiment with adding basil and/or oregano, and the very popular Dijon mustard (which is as Italian as my arse).