Have you ever been to a really high end restaurant and marvelled at how lovely the puréed vegetables and mashed potatoes are? Well, there is a reason that they taste this way, and that reason is butter. I have seen James Martin ask chef guests on Saturday Kitchen how a Michelin-starred chef prepares mashed potato (like he doesn't already know), and the response is always the same. You use a metric shitload of butter.
My introduction to pro-kitchen mash came from a lesson from Rupert Rowley at the now defunct Tideswell School of Food. Rupert is the head chef at the Michelin-starred Fischer's at Baslow Hall in Baslow, Derbyshire. During a one-day course, he taught me how to make mashed tatties worthy of his restaurant table.
Thus far, none of the recipes I have posted on this blog can flat out kill you … until now. This recipe for mashed potato will not kill you quickly like a poorly prepared pufferfish, rather this dish will slowly line your aorta with cholesterol-laden atherosclerotic plaques, until, one day, the blood just stops – and then you die.
So, how is it done? First of all, you need to boil your potatoes. These are peeled, halved (no dicing for fast cooking), placed in a pan of cold water and brought up to the boil. Starting them from cold helps extract some of the starch. Once cooked (poke them with a paring knife), they are drained, and then passed through a potato ricer. A masher won't cut it.
Once riced, the potatoes are put back on a low heat, and we start adding butter. We add as much butter as we can until the potato starts to sweat the butter back out like a fat lad on a Marbella beach at two in the afternoon. At this point, the potatoes will take no more butter. So you add a splash of milk, mix, and watch the butter nicely absorb. Then you add more butter. This process is repeated until you get that taste of a baked potato with melted butter lying on the top of it.
At this point, folks get to asking "How much butter will I need?" Now this is no joke: if you have mashed a kilo of potatoes, then you are going to use a kilo of butter. I am not shitting you.
That said, although this mashed potato recipe is insanely loaded with saturated fat, it is worth doing once or twice just so you know how it's done, and so you can tell your friends that you made the best mashed potato in the world, but will never make it again.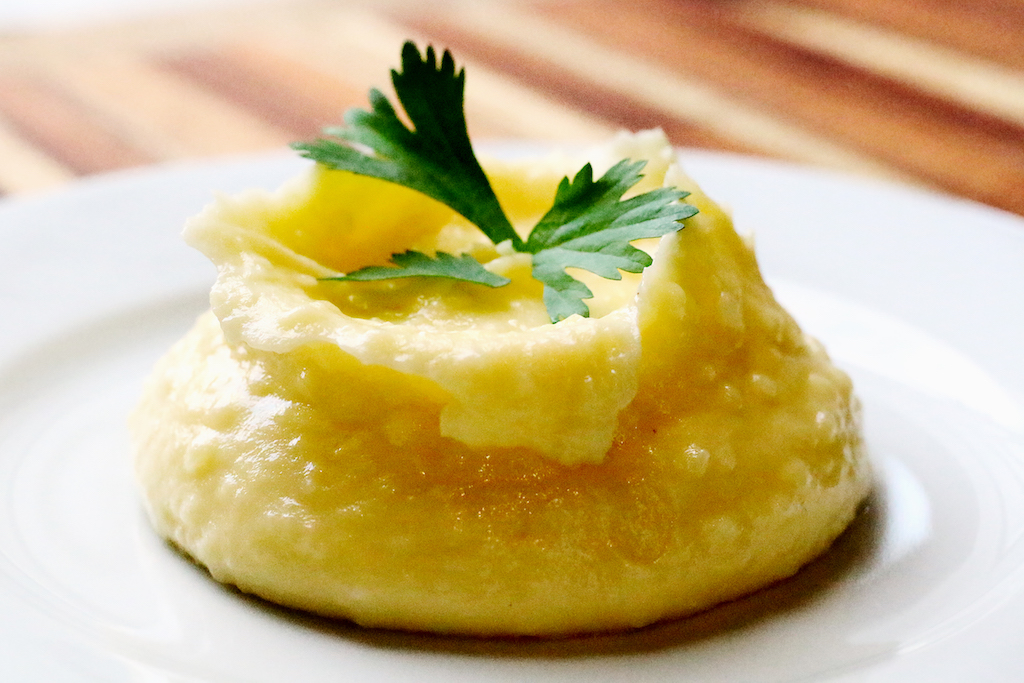 Print Recipe
Ingredients
500g Maris Piper potatoes, peeled and halved

500g salted butter

Some milk (about 75ml)

Salt and freshly-ground white pepper

Whole nutmeg
Instructions
1
Place the potatoes in a pan of cold water and brought up to the boil. Once cooked, drain and pass through a ricer.
2
Put the potatoes put back on a low heat, add about 50g of butter. Incorporate the butter before adding another 50g. Continue to do this until the potato starts to sweat and will not take any more butter.
3
Add a splash of milk and mix to enable the butter to absorb.
4
Continue to add butter to sweating, and milk to combine until you get the taste of baked potato with melted butter on it.
5
Season to taste, and grate over some fresh nutmeg.
6
Serve with rosuvastatin ± ezetimibe.
Notes
Whatever quantities of potato you are used to for making mash, you need to use only a third of that potato weight to make one portion of Michelin Star mash – it is way too rich to eat more. Note that you cannot freeze this for defrosting and reheating – it will split and will not recombine (painful experience). Rosuvastatin is not available in Tesco, but you can get it from AstraZeneca via your GP.