Potatoes are not in the least bit native to India. Potatoes arrived in India with the Raj, which was British. But potatoes are not native to Britain either – they are actually from Peru where they were cultivated as far back as 5,000 years BC.
The British introduced potatoes to India as a means of subjugating the population. Scottish economist Adam Smith had figured out that a labourer could be nutritionally maintained by a smaller plot of land if he ate potatoes instead of rice, and the state-sponsored pirates of the East India Company were listening. The EIC then went on to bribe the indigenous Indian people to plant potatoes; because, not only would they be grateful, but there would also be more locals per square foot of agriculture – all of whom could be enslaved to labour on civil engineering projects around the Empire.
One of the classic Indian potato preparations is Bombay aloo. I remember that I first tried it when a colleague, Dr Asim Dutta-Roy, made it for my lunch when I was working at the Rowett Research Institute in Aberdeenshire in the 1990s. I have loved it ever since.
The recipe given here is lightly adapted from that of Atul Kochhar, with notes on how to switch back to the original from Chef Atul.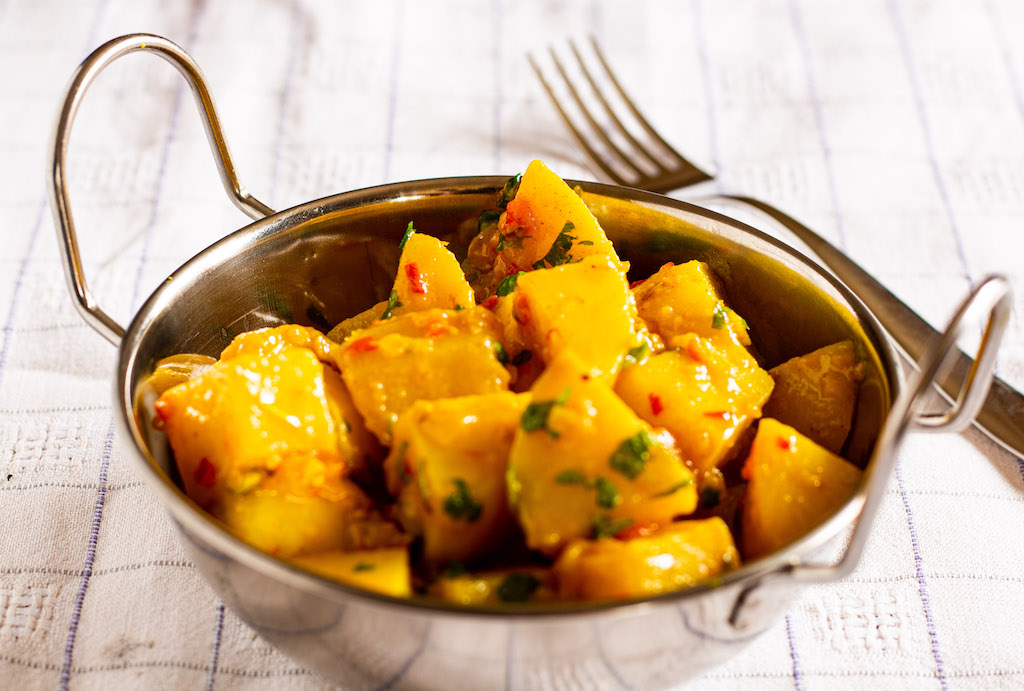 Print Recipe
Ingredients
3 tbsp vegetable oil

50g butter

1 large onion, chopped

Half a tsp cumin seeds

2 mustard seeds

1 tsp fenugreek (seed or ground)

1.5 tsp ground turmeric

1 tsp garam masala

2 medium-size red chillies, deseeded and finely chopped

4 baking potatoes, cut into 2–3cm chunks

1 tbsp lemon juice

600ml hot water

1 tsp sea salt

2 tbsp fresh coriander, chopped
Instructions
1
Heat the oil and butter in a large sauté pan. Add the onion, spices, curry leaves and chillies. Cover and cook on a low heat for 3–4 minutes without colouring, stirring occasionally.
2
Add the potatoes and lemon juice, cover with 600ml hot water, then add the sea salt. Cover and simmer for about 10 minutes, then remove the lid and continue to simmer for another 15 minutes, stirring occasionally until the potatoes are cooked.
3
Simmer for a few more minutes or until the liquid has evaporated. Stir in the coriander to finish.
Notes
The original recipe from Chef Atul adds 20 fresh curry leaves to the spice mix. It also uses black mustard seed, and specifies fenugreek seed over ground.