Pici is essentially pasta made without egg. Given that it uses gluten-rich strong bread flour rather than 00-grade durum wheat flour, pici probably pre-dates egg pasta.
Pici appears to originate from Siena in Tuscany. The ingredients can vary, with things like spinach and tomato working their way in to flavour and colour the product, just like pasta.
The production of pici is as rustic as it gets. We just cut the flattened dough into strips, and then roll by hand to the thickness of a pencil with flour to dust. Cooking is done as for fresh pasta, but a little longer (5–6 mins in a rolling boil).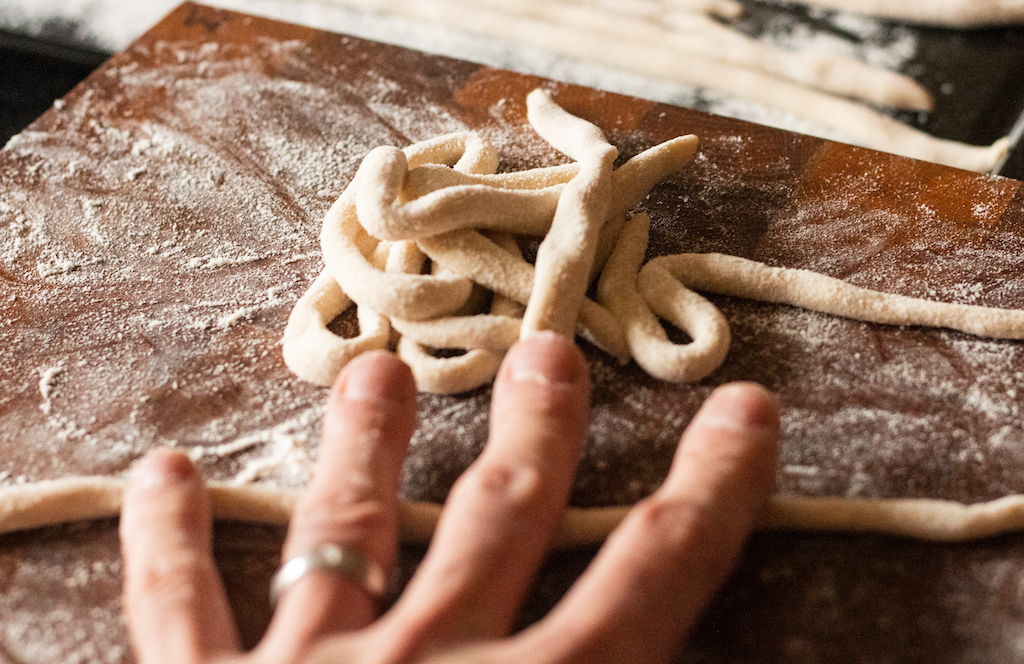 Print Recipe
Ingredients
350g strong white bread flour

180ml water

Pinch of salt

1 tbsp olive oil
Instructions
1
Make the dough exactly as you do for pasta. Measure the dry ingredients into a bowl. Tip the bowl out onto your surface and use the bottom of the bowl to create a well in the flour.
2
Pour the water and oil into the well and use a dough cutter to gradually chop and work in the liquids to the flour.
3
Once the mixture is gaining nothing from the cutter, use your hands to knead the pici to the point where a poked finger results in the dough springing back in less than 10 seconds.
4
Flatten the dough into a 2cm thick rectangle, wrap in clingfilm and chill for 30 mins.
5
Make the pici, cut the dough into 15g strips (weigh one and use it as a guide). On a floured wooden surface (marble is too smooth for this), roll out the strips into pencil-thick noodles. Keep the unrolled strips under a damp tea towel on a floured tray while you work. Place the formed pici lengthways in ranks onto a floured tray and give them a light dusting to stop them from sticking to each other. Cook immediately, or chill, floured and covered with cling wrap, until needed.
6
Although these pici have a pinch of salt in them, they still must must be cooked in water that has been salted to the point of 'mild' seawater, just like a proper pasta. Drop them in the boiling water and cook for 5–6 minutes.
Notes
It is perfectly possible to mix and knead pici dough using a stand mixer and a dough hook with some hand kneading to finish it off.