Along with beer bread, soda bread is among the simplest of baked flour preparations. It has few ingredients, take no skill to make, requires no kneading or proving, and can be cooked in 30 minutes without even requiring an oven.
As a staple for the abjectly poor living with no proper kitchens in remote areas of a craggy, sodden, financial wasteland, soda bread is perfect for the Irish.
Soda bread is found all over Ireland, and is a popular accompaniments to simple stews like coddle. It is always present for St Patrick's Day celebrations, and there are north-versus-south traditions on how the bread is shaped and marked.
The history of soda bread is constrained by the invention of bicarbonate of soda. Bicarb arrived mixed with cream of tartar (baking powder) in Ireland in 1836, and the first recipe found thus far for soda bread was written in 1838. In 1840, single-ingredient bicarbonate of soda became available. Soda bread was an important 'rescue food' during the 1845–1849 Irish Potato Famine. One of the important characteristics of soda bread for the poor is that it was originally made with milk that was going off to generate the acid required to activate the bicarb (these days, buttermilk is used).
There is a compelling theory that the Irish learnt how to make soda bread from the Native Americans encountered by early Irish settlers in US. The Native Americans had a method of creating a soda from ash, and they used that to bake a risen bread without the need for yeast.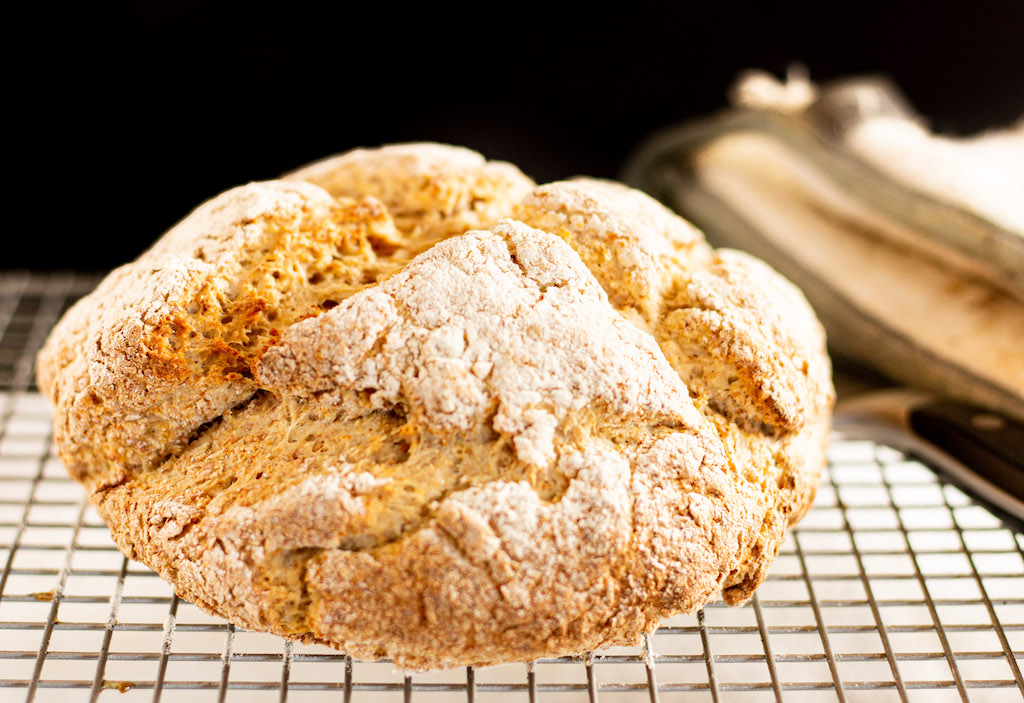 Print Recipe
Ingredients
170g wholemeal flour

170g plain flour

Three quarters tsp salt

Three quarters tsp bicarbonate of soda

275ml buttermilk (one pot of St Ivel)

Flour for dusting
Instructions
1
Preheat an oven to 200˚C.
2
In a large bowl, mix together the flour, bicarb and salt. Add the buttermilk and mix into a sticky dough (you can use a stand mixer for this), but do not knead it.
3
Flour your hands and a worktop, and shape the dough into a ball. Place the ball on a floured baking tray and flatten it a bit, keeping it nice and round. Dust over with flour, and cut a deep cross in the top.
4
Place in the oven and bake for 30 mins. Check it is done by making sure the bottom sounds hollow when tapped.
5
Cool on a wire rack. Eat on the day of baking with plenty of salted butter.