Tortellini are from the Emilia-Romagna region of northern Italy (think Modena for Ferraris and Bologna for Ducatis). Traditionally, tortellinis had an awful lot in common with Chinese dim sum, as they were filled with pork and served in a chicken broth. As time has worn on, the little tortellini has become gentrified and can be found filled with all sort of things. In their most elegant format, they can be stuffed with sea food and served as a wee starter.
The tortellini we have made here were invented one Autumn afternoon when the last of the chervil was hanging on for dear life in the garden. The Italians routinely pair seafood with fennel, so the aniseed flavour of chervil was hardly an enormous logical leap.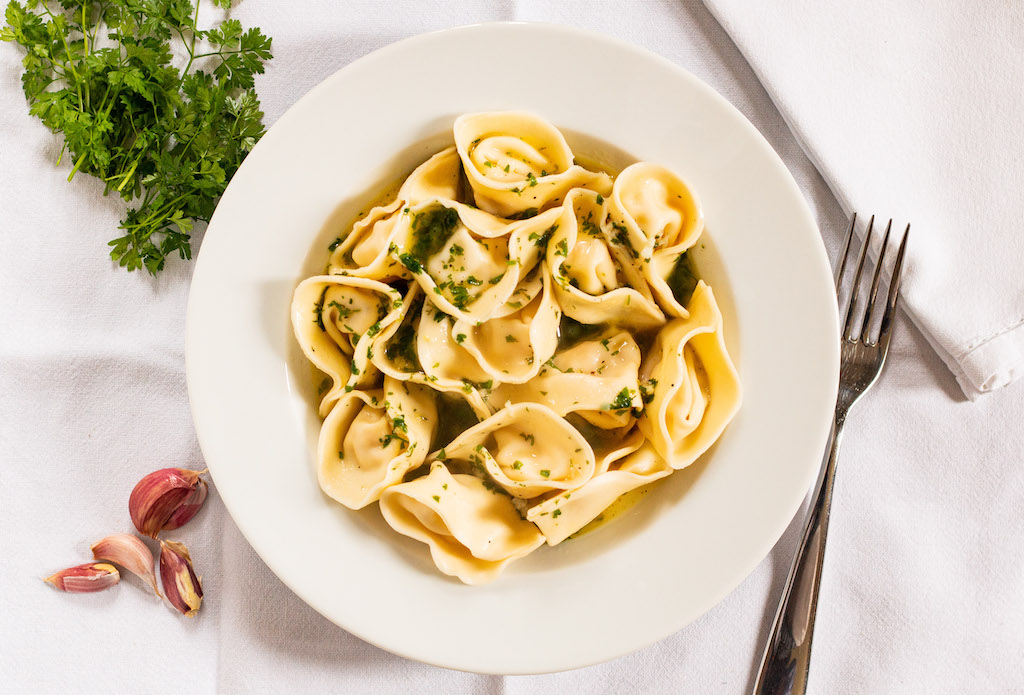 Print Recipe
Tortellini di gamberi con cerfoglio
Ingredients
For the tortellinis:

200g basic pasta

400g raw prawns, chopped

2 tbsp natural yoghurt

About 2 tbsp breadcrumbs

Sea salt and freshly-ground black pepper

For the sauce:

50g unsalted butter

4 garlic cloves, crushed

Large handful fo chervil, finely chopped

100ml dry white wine

A ladle of pasta water

Sea salt and freshly-ground black pepper
Instructions
1
Combine the prawns, yoghurt and breadcrumbs into a mixture that will form a ball. Season.
2
Roll out the fresh pasta and cut into large circles. Place a small amount of filling in the centre of each circle. Using a bit of water to help the tortellinis seal, fold over into a semicircle, pinch, and fold the two corners together, pinching again. Boom, tortellini.
3
Bring a saucepan of asletned water up to the boil and add the prepared tortellinis. Boil for 2 mins.
4
Meanwhile, heat the butter in a sauce pan and add the garlic. Sizzle for a moment and then add the chervil. Mix, increase the heat and add the wine. Reduce the mixture while whisking. Add a ladle of the pasta water and reduce again. Season.
5
Drain the tortellinis, plate top, and drizzle the sauce over.