Meaty tortellini's in a rich chicken broth is classic Christmas fayre in the Emilia-Romagna area of Italy. The dish uses Parma ham from Parma, mortadella from Bologna, and mixes it all up with cooked-off mince. Nutmeg is invariably present as a seasoning. The little pasta dumplings are cooked and served in a meat broth in a manner very similar to Chinese dumpling soup. If there was ever a 'recipe zero' for tortellinis this is it. Do not be tempted to make your dumplings too large. The effort of making lots of small ones really pays off.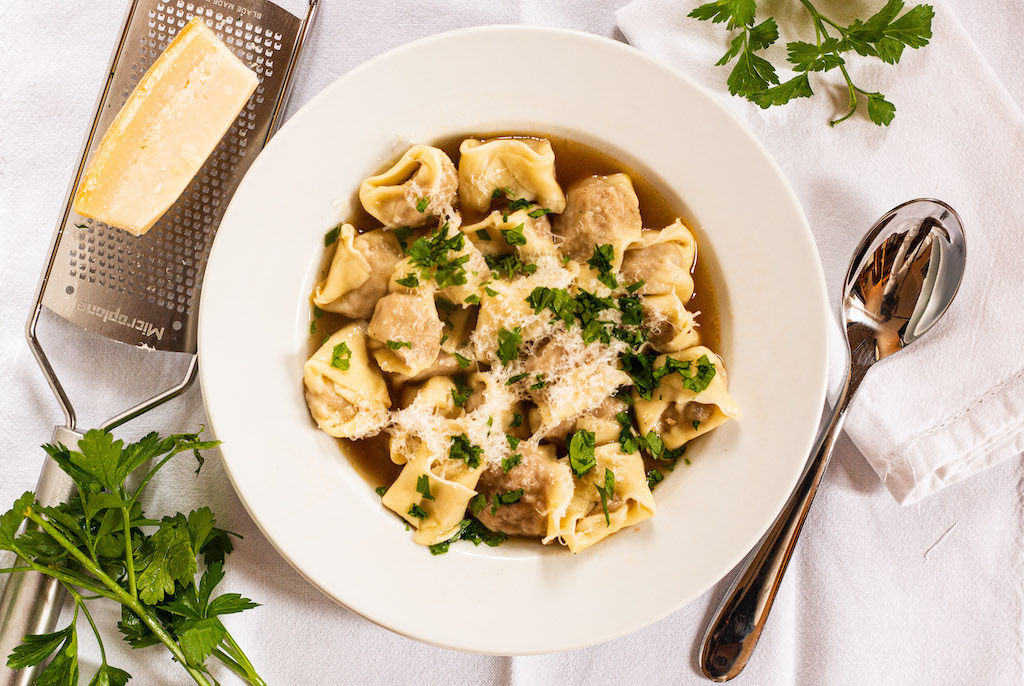 Print Recipe
Tortellini in brodo di cappone
Ingredients
For the brodo (makes more than you need):

1 chicken, split

5L water

2 carrots, halved

2 onions, halved

2 sticks celery

10 cherry tomatoes

8 juniper berries

6 cloves

2 bay leaves

Sea salt and freshly ground black pepper

For the filling:

20g butter

50g pork mince

50g beef mince

80g mortadella

80g Parma ham

150g Parmesan, grated

Grating of fresh nutmeg

Sea salt and freshly ground black pepper

For the tortellinis:

400g fresh pasta (see our basic pasta recipe for this)

Chopped parsley and fresh, grated Parmesan to garnish.
Instructions
1
Simmer all the ingredients in a stock pot for a day. Strain and season.
2
Fry the mince in the butter until browned. Blitz into a paste with the other ingredients in a food processor. Season. Chill.
3
Roll the pasta very thin with a pasta machine. In batches, cut into 4–5cm squares. Place half a teaspoon of filling in the centre of each square. Fold over in a triangle and seal. Bring the two corners together around your index finger and seal again. Keep going until you have enough for your diners.
4
Heat the brodo to boiling and add the tortellinis. Cook for 3 mins until they float. Serve them in shallow bowls, with a good amount of brodo and a spoon. Garnish with fresh parsley and grated Parmesan.