The cuisine of the Abruzzo region of Italy is characterised by simple ingredients that combine dishes of skewered lamb, salt cod and red wine gathered from mountain and sea. Tomatoes grow well in the area, and there is access to a huge range of vegetables.
Insalata all'abruzzese is found in many cook books that cover the Abruzzo area. This spicy dish combines tomatoes and fish with lightly cooked vegetables to create a salad that is an ideal accompaniment to grilled meat eaten al fresco with a bottle of Montepulciano.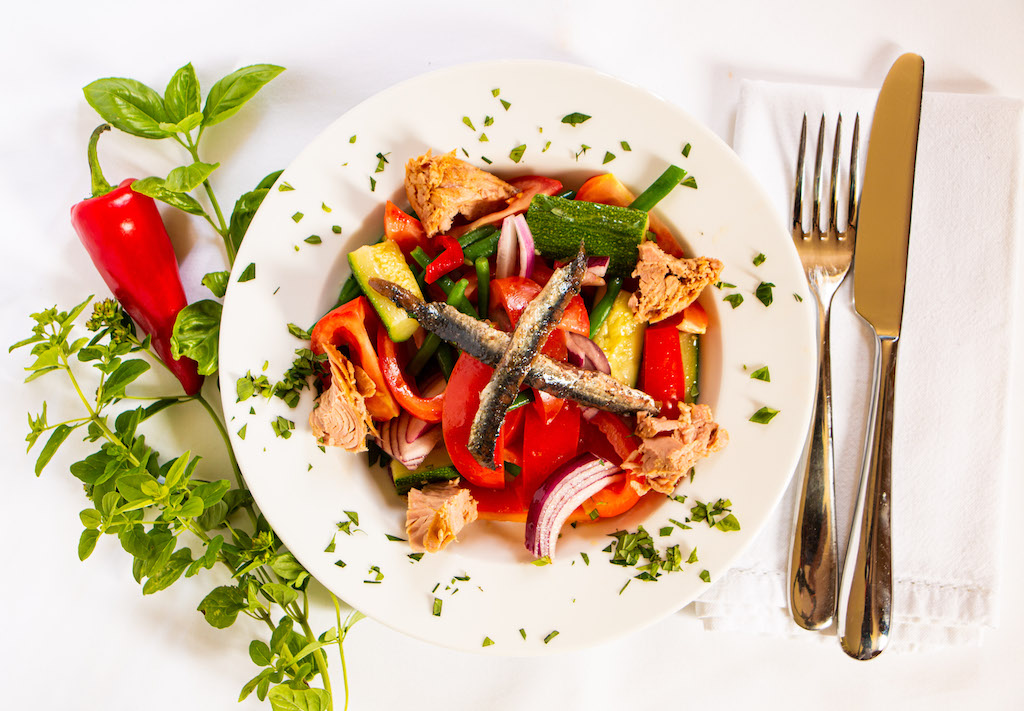 Print Recipe
Ingredients
300g courgettes, cut into batons

200g French beans, trimmed

1 red pepper, sliced

1 red onion, sliced

8 anchovy fillets, drained

8 basil leaves, torn

1 tsp dried oregano (or 1 tbsp fresh oregano, chopped)

1–3 red chillies, sliced (1 is not spicy, 3 is getting there, 4 is for the brave)

6 tbsp extra-virgin olive oil

2 tbsp white wine vinegar

150g tuna in oil, drained

Sea salt and freshly ground black pepper
Instructions
1
Blanch the courgettes and green beans until al dente. Drain and plunge into iced water to stop them cooking,. Drain again.
2
Combine all the ingredients except the tuna in a bowl with the cooked vegetables. Season.
3
Portion the salad into bowls and add the tuna on top. If you mix the tuna through the salad, it will end up quite messy.
Notes
Mise en place: if making ahead, combine all the ingredients except the tuna and basil. The basil is best added fresh immediately before serving or it will wilt.