Italy is a colossal producer of fish. Looking at a map, this comes as no surprise. The boot of Italy juts far into the fertile waters of the Mediterranean, and the country is only 381km wide (compared with the UK's 437km from Wales to Ipswich). 2017 figures from the Federation of European Aquaculture Producers placed Italy in 7th place among volume fish producers (5th place for fish farming), and the top three varieties were sea bream, rainbow trout and sea bass. Greece continues as the dominant force in finfish production.
Sea bass (Dicentrarchus labrax) production in Italy is chiefly about farmed fish. Chefs and food writers will argue all day long that wild sea bass is better, but unless you are hooked into the fish supply chain, you are not going to get it. Sea bass in most fishmongers and supermarkets is farmed.
The Italians initially cracked the art of sea bass farming in the Po estuary region near Venice. It took until the 1980s for scientists to work out how to increase the yield of viable larvae. After something of a false start, Italy sea bass production was in full swing by 1998. These days, the Italians farm their bass all over the coast, but most fisheries are in now Puglia, Sardinia and Calabria, and there are relatively few up near the mouth of the Po. In 2016, Italian sea bass farms managed to produce 6,800 tons of fish. This sounds like a lot, but it is actually down on figures from a decade ago when they were producing almost 10,000 tons of the stuff annually. I am not sure what this tells us, but overall European figures show a decline in farmed fish production. I do hope it is not because folks have stopped eating fish. The Nosey Chef loves the stuff.
The recipe for sea bass on this page comes from the pages of The Silver Spoon, which is regarded by almost everyone as the definitive guide to Italian cooking.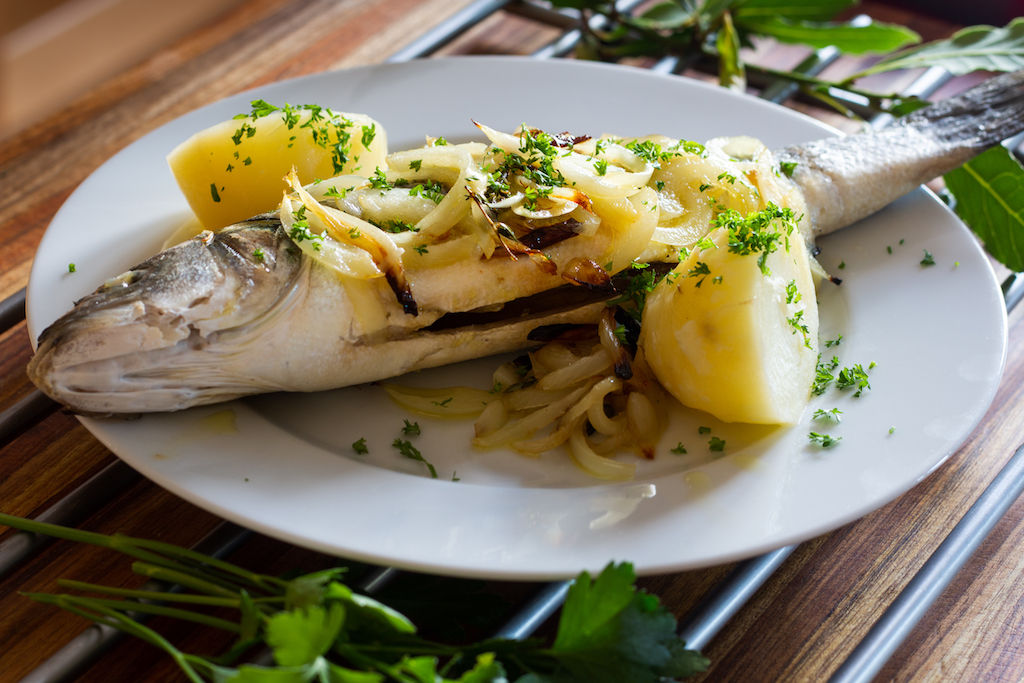 Print Recipe
Branzino marinato al forno
Ingredients
1 whole sea bass, gutted

1 onion, finely sliced

5 tbsp olive oil

1 sprig of thyme

1 bay leaf

1 sprig of parsley

Sea salt and freshly ground black pepper
Instructions
1
Combine the onion, herbs and olive oil in an ovenproof baking dish large enough to fit the fish. Place the fish in the dish, and marinate for 1 hour, turning occasionally.
2
Meanwhile, set an oven to 200˚C.
3
After the fish is marinated, remove the herbs, but retain the onion. Season the fish inside and out, and cook in the oven with the onions for 20 mins, turning once and basting occasionally with the marinade.
4
Serve the fish whole with the onions and some steamed potatoes.