There are probably about four main-line recipes for French apple tarts. One is the roughly assembled galette. Another is poured over with a custard and set per Maman Blanc. However, for the classic 'shop window' tarte, there are two recipes that stand out. One uses a frangipane base, and the other uses apple puree. It is the latter version we have given here.
This recipe uses our standard blind-baked pate sucre case. You can find that in our recipe for tarte au citron.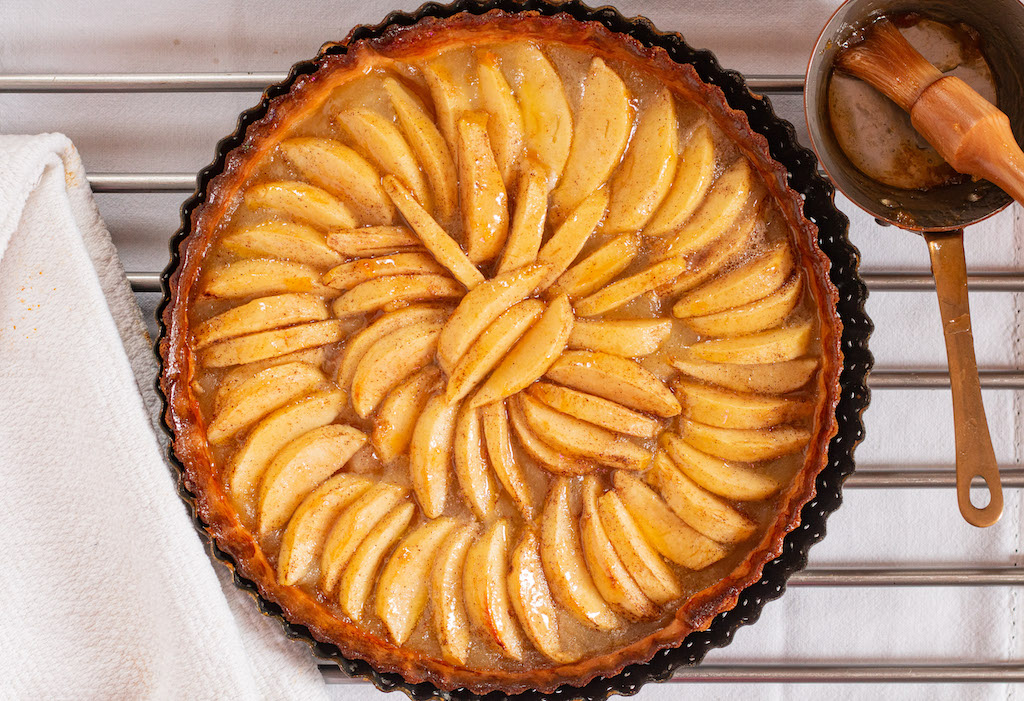 Print Recipe
Ingredients
1 blind-baked pate sucre case in its baking tin

12 dessert apples

50g caster sugar

25g butter, melted

Pinch of cinnamon

3 tbsp apricot jam
Instructions
1
Keep back 4 of the apples. Peel, core and cut up the remainder. Place the chopped apples in a pan with a dash of water and all but 1 tbsp of the sugar. Stew the apples until pureed. Pass through a sieve. Cool.
2
Peel, core and slice the remaining apples (about 16 slices per apple). Toss in the remaining sugar and cinnamon.
4
Place the tin with the pastry case on a baking sheet. Spread the base over with the apple puree. Fan the apple slices on top in a rosette pattern. Brush with the melted butter. Bake in the oven for 20–25 mins until just golden but not to burn the pastry edges.
5
Meanwhile, heat the jam with 1 tbsp of water to make a glaze.
6
Once the tarte is cooked, brush over with the glaze including the pastry edges. Cool.