European people do not generally make pancakes for breakfast. In the USA, soccer moms are knocking the things up most weekends. I am not alone among cooks in my assertion that the problem with rapid European family pancake production is the way that the ingredients are measured. in the US, pancake batter is made using the volumetric cup method where there is basically one of everything. In Europe, we start getting the scales out.
The Nosey Chef has covered this issue before, and our basic recipes for pancakes are adapted from the one given in Lateral Cooking by Niki Segnit.
Get yourself some culinary cups and break the pancake jinx.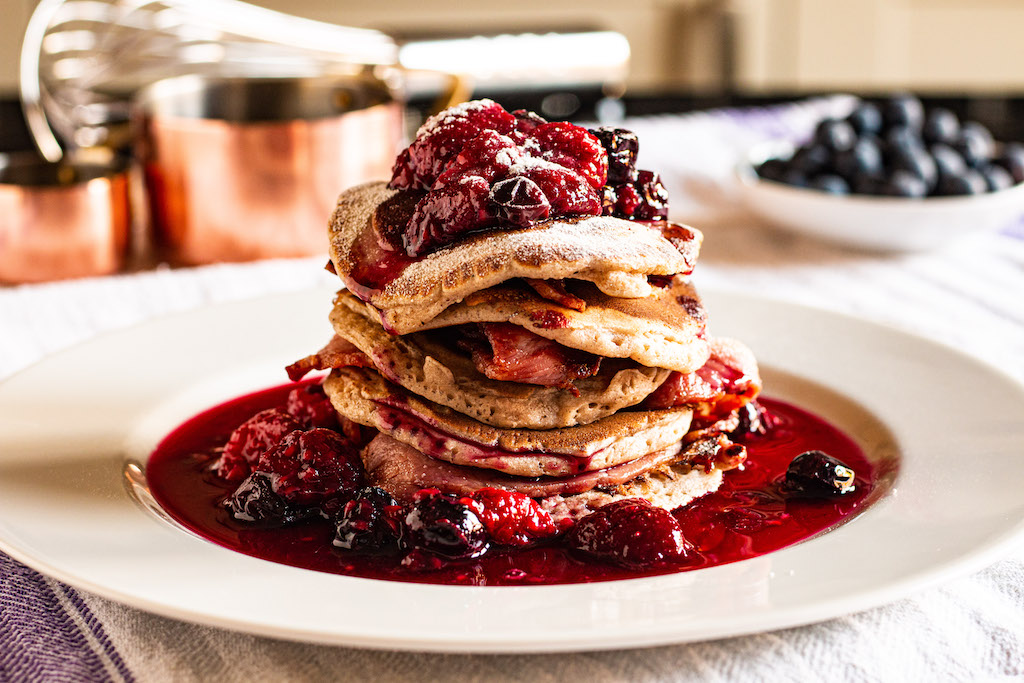 Print Recipe
Ingredients
For the batter:

1 cup plain flour (see notes)

1 cup of milk

1 egg

1 tsp baking powder

1 tsp caster sugar

1 tsp cinnamon

1 tbsp melted butter or neutral oil

Good pinch of salt

For the other bits:

However much bacon you fancy (1 rasher per pancake is nifty)

Two handfuls of mixed, fresh berries

Caster sugar

Water

Maple syrup

Icing sugar
Instructions
1
To make the batter, mix the dry ingredients and half the milk. Wisch until smooth, add the rest of the milk and the egg and whisk smooth again. You can just stick the whole lot in a blender and whizz.
2
Grill of the bacon until crispy and keep warm.
3
Clean the pan (don't use detergent), ready for the next bit.
4
Mix sugar and water 1:1 v/v in a frying pan and heat until the water is dissolved. You need about 3 tablespoons of each.
5
Add the fruit to the pan, reduce the heat and gently stew the fruit in the syrup.
6
While the fruit is stewing, cook the pancakes. Heat a pancake pan and wipe round with kitchen paper sealed in neutral oil. Spoon in a small ladle of batter. Leave it until you see bubbles form on the surface. Flip, and cook the other side. Repeat with the rest of the batter and keep them warm in the oven.
7
To assemble the dish, stack up the pancakes, alternating with the bacon. Spoon the fruits on top, drizzle with the pan syrup, drizzle again with maple syrup, and dust with icing sugar.
Notes
1 cup is about 250ml.