When undertaking a period of healthy eating in the month of January, the one thing that can mess everything up is travel. And among all the meals that people tend to change when they are away using hotels, breakfast stands out as the real villain. A decent business hotel will lay on bacon, eggs, hash browns, Danish pastries, croissants and enormous lattes. This sort of breakfast bounty can wipe out a week's worth of weight progress in about 2 days.
However, help is at hand with the Hilton hangover breakfast. This is a dish I 'invented' to suppress the temptations of the hotel breakfast bar. I can make this at home, but I can also make it in pretty much any hotel in the world. Grab a bowl, and go off to hunt for the fruit salad, a pot of yogurt, one of those tiny jars of honey, and a tablespoon or so of anything crunchy (even if it is just cornflakes). Assemble the whole thing at your table, while the diner next to you gawps in amazement at somebody doing something resembling 'cooking' in middle of a Hilton dining room.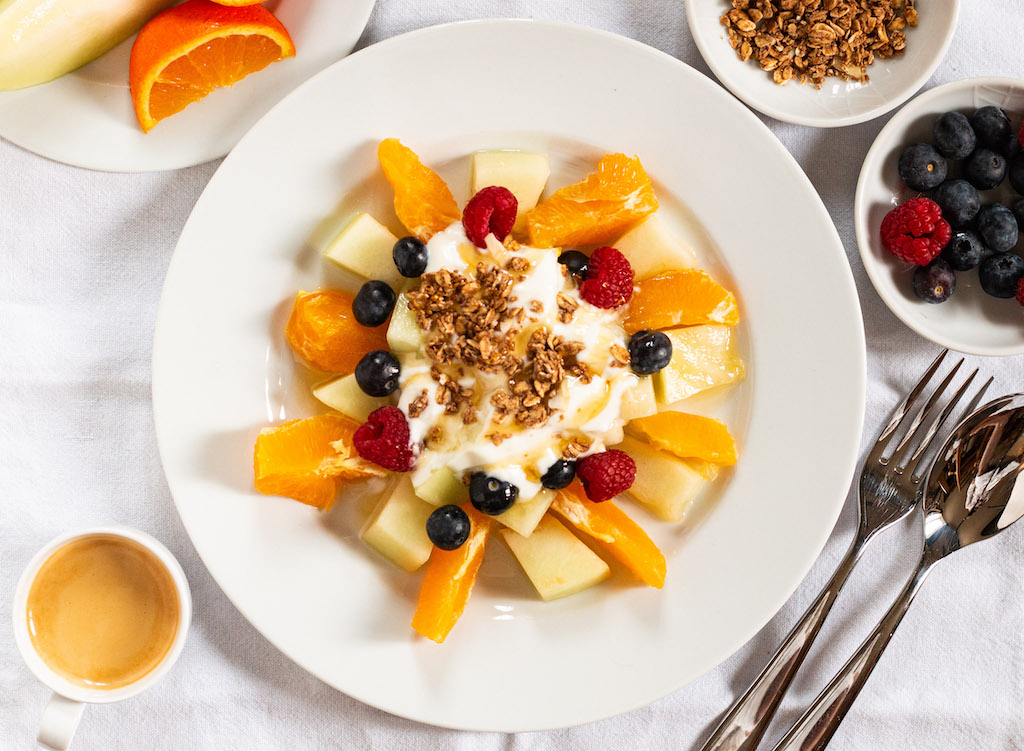 Print Recipe
Ingredients
1 small bowl of prepared fruit

2 tbsp natural yoghurt

1 tsp honey

1 small handful of granola or nuts
Instructions
1
Arrange the fruit in a bowl. Plop the yogurt on top, sprinkle with the crunchy bits and drizzle with honey.
Notes
This comes in at about 270 calories if standard yoghurt is used.