Bercy is a neighbourhood in the 12th arrondissement of Paris, sitting on the banks of the Seine, just south-east of Notre Dame. In days of old, Bercy was not part of Paris, and was, instead, a small village outside of the city walls that had set itself up as a hub for wine merchants. In this way, we have a range of sauces that go by the name of 'Bercy,' simply for their use of white wine.
There is a classic 'sauce Bercy' that is used to accompany fish, and involves a fish stock velouté whisked into with wine with shallots. Saumon Bercy is for another day. On this occasion we are making a simple chicken dish from Auguste Escoffier that has no veloute and no fish stock, but includes the delightful addition of chopped-up pork sausages. The white wine makes it 'Bercy.'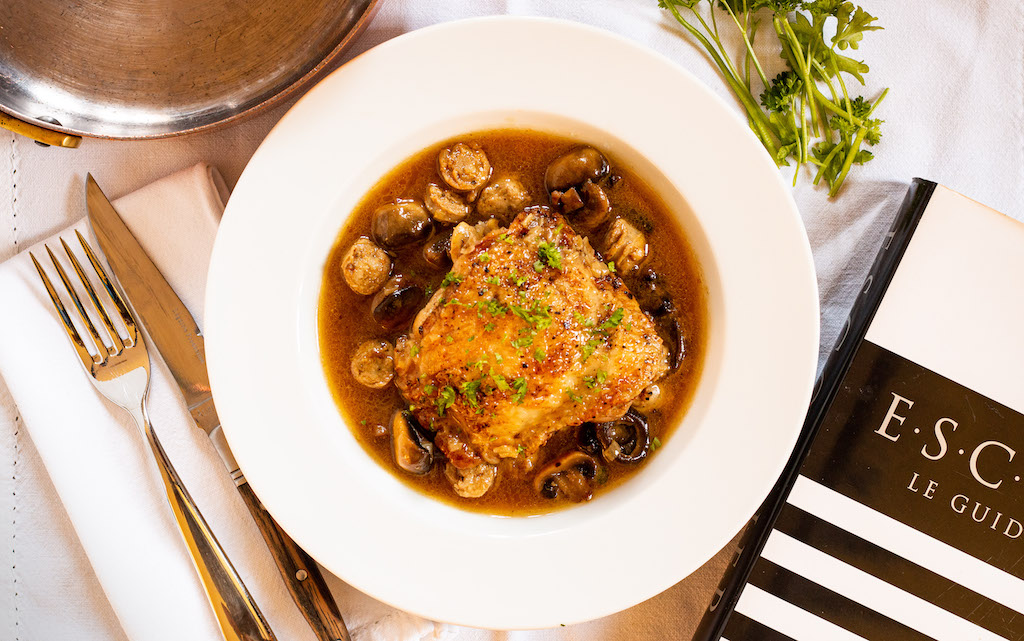 Print Recipe
Ingredients
For the meat:

8 chipolata sausages

1 chicken, jointed

50g butter

Sea salt and freshly ground black pepper

For the sauce:

100g mushrooms

1 shallot, finely chopped

100ml white wine

100ml meat glaze or demi glace

Juice of half a lemon

50g butter

Sea salt and freshly ground black pepper

Fresh parsley, chopped to garnish
Instructions
1
Poach the sausages in simmering water for 15 mins.Set aside.
2
Heat the butter in a sauté pan and brown the chicken. Cook until done (will take about 20 mins). Season the chicken pieces and set aside in a warm oven.
3
Gently cook the mushrooms in a little bit of butter until all their water has gone.
4
Gently sauté the shallot in the pan juices until soft but not coloured.
5
Deglaze the pan with the wine. Add the meat glaze/demi glace and the lemon juice. Whisk together. Add the butter, the whisk until smooth. Season to taste.
6
Add the mushroom and the sausages to the sauce and warm though. Pour over the chicken. Scatter the parsley over and serve.