I love to cook from Larousse. I get a sense of pride from understanding the almost stubbornly vague recipe instructions that have no ingredient lists and make wild assumptions about culinary ability. On page 385 of my edition there is a lovely recipe for 'duck two ways' that is titled 'roasted duck breasts and thighs sautéed in burgundy wine.' In it is the single sentence "cook the thighs in a vegetable brunoise." No further information is given, and that is how I like it. You have to go and figure it all out by reading other sources and other recipes until you are confident in understanding the cookery.
I am particularly fond of this duck dish. As a lesson in preparing duck, it tells you everything you need to know from basic butchery to obtaining perfectly pink breast meat. But there is more. My friend Ian once called me in need of assistance. He had met a woman on a recent flight and struck up a romantic relationship with her. He wanted to impress by cooking her dinner. Was there anything I could show him? Well, this duck dish sprang immediately to mind as it is quite posh but very difficult to completely mess up. We cooked it together as a test run, and I also showed him how to do Lyonnaise potatoes.
In the event, romantic meal for two was a success, as you can see from the photograph below.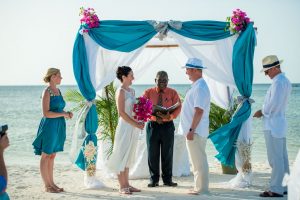 Perhaps we should rename this dish 'canard rôti à la Ian et Stéphanie.'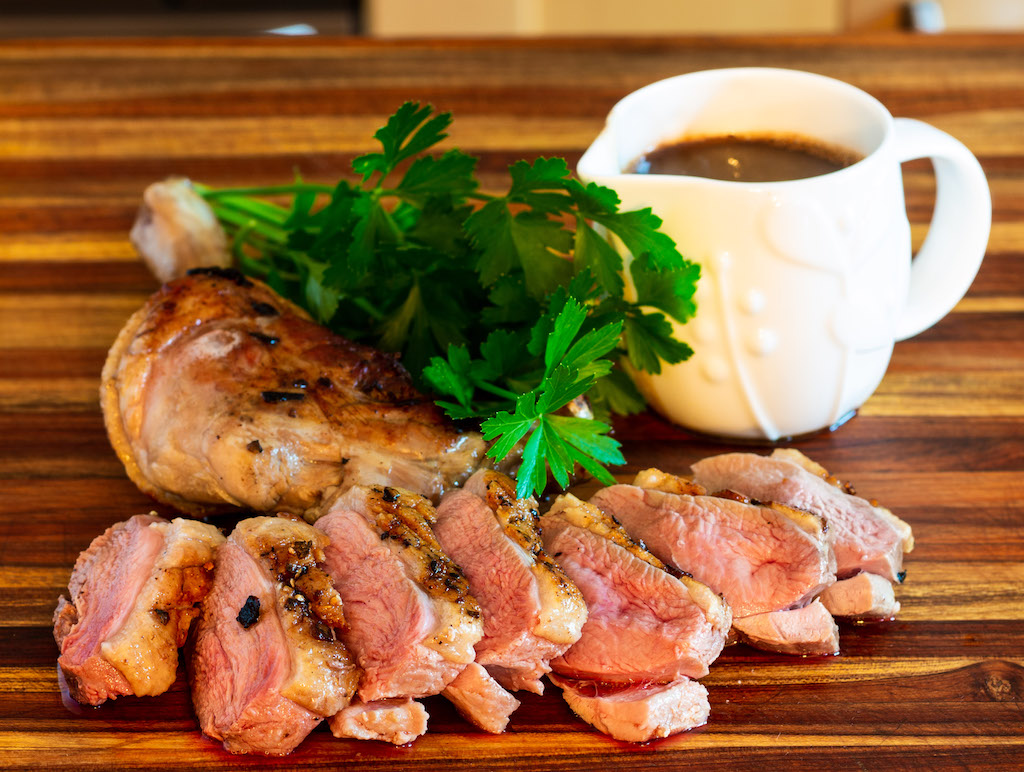 Print Recipe
Canard sauté à la sauce Bourguignonne
Ingredients
1 whole farmed duck or two wild mallards

1 bottle of red Burgundy wine

50g butter

1 carrot, 1 stick of celery and 1 onion chopped into a brunoise (note that on occasions that I have not been arsed making a brunoise, I have used a handful of frozen mixed veg)

2 tbsp neutral oil

3 tbsp port

Salt and freshly ground black pepper
Instructions
1
Preheat an oven to 200˚C.
2
Joint the duck. Set the legs and the breasts aside.
3
Break up the rest of the carcass, putting it in a pot with the bottle of wine. Bring that to the boil and simmer gently for an hour. Strain the sauce and set aside. Discard the braised carcass.
4
Melt the butter in a sauté pan and add the brunoise. Add the legs to brown them, and then turn down the heat to gently cook the legs. This will take about 30 mins. Use a meat thermometer to understand when the meat goes past 60˚C. Once there, set aside and keep warm.
5
Meanwhile, heat the neutral oil in a frying pan. Score the duck breasts, season, and fry them until the skin is crisp. Transfer to the oven for 10 mins. The result will be rare meat. It is critical to rest the meat once done or you will lose all the juices on carving.
6
Deglaze the pan with the port and reduce. Add the duck and wine stock and reduce again.
7
Strain the sauce into a serving jug or gravy boat and keep warm (discard the brunoise – it has done its job and will probably be pretty black by now).
8
To serve, plate up the duck legs, carve and fan out the breast meat. Serve the sauce in a jug on the side.
Notes
Larousse suggets serving this with glazed beets, turnips and onions, some potatoes, and a fig and sultana purée. We serve with Lyonnaise potatoes and watercress.