Tuscan sausage stew combines pork sausages with beans and kale in a fresh tomato-based sauce. I suppose it is similar to a French cassoulet, but much simpler and fresher, using Italian ingredients and techniques. While a cassoulet takes an age to make and could floor a rhino with its richness, a classic Tuscan casserole is the opposite of all that. Fresh ingredients, tons of flavour, bursts of colour and a rapid cook is what defines a great Tuscan 'spezzatino'.
Many (most) recipes for Tuscan sausage stew suggest slicing the sausages. This is a dumb idea. They will just break down and leave you with pork mince. It is better to leave them whole. The exception to that would be a classic 'zuppa Toscana,' which is a completely different dish, and is a proper soup of crumbled sausage with bread used as a thickener – similar to the rice-based minestrone.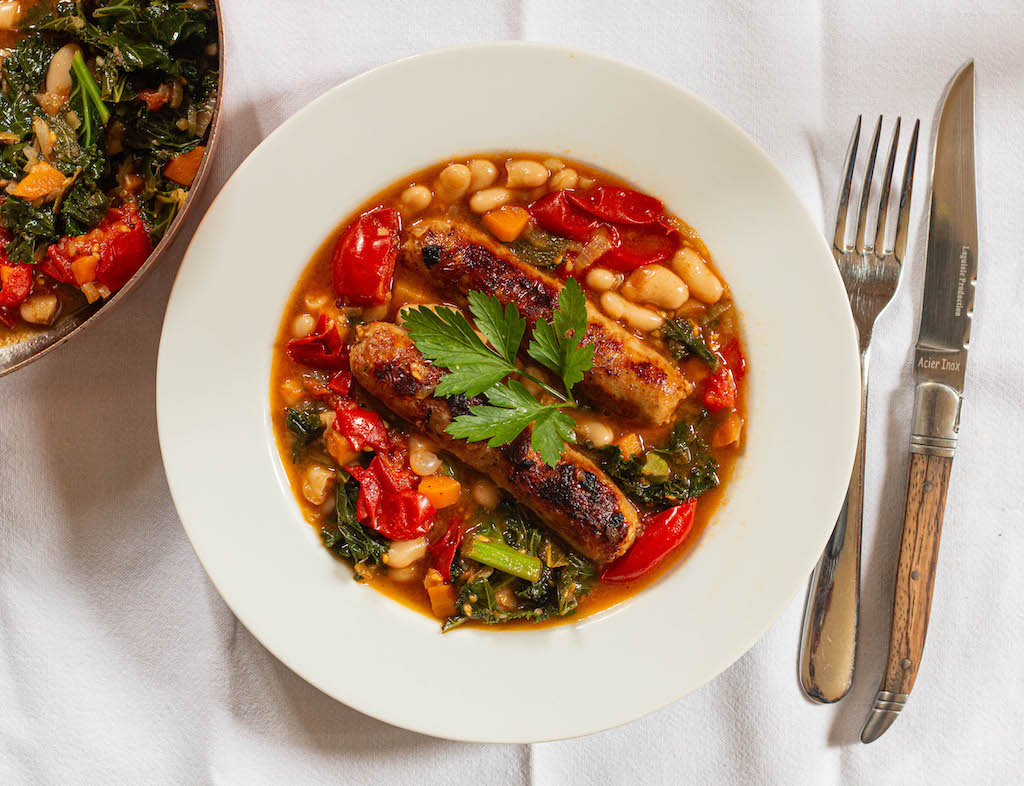 Print Recipe
Spezzatino di salsiccia Toscana
Ingredients
1 tbsp lard

8–12 pork sausages (2 or 3 per diner; if you can get genuine Tuscan sausages, then great)

1 tbsp olive oil

1 onion, chopped

2 carrots, diced

1 stick of celery, diced

2 cloves garlic, minced

Small handful of fresh sage leaves, finely sliced (chiffonade)

500g cherry tomatoes, halved (see notes)

380g cooked cannellini beans, drained and rinsed

500ml chicken stock

150g cavolo nero or curly kale, chopped up a bit with large stems removed

Sea salt and freshly ground black pepper
Instructions
1
Heat the lard in a frying pan and brown the sausages on all sides. Remove the sausages to a plate. Reserve the fat.
2
Heat the olive oil in a large casserole and pour in the reserved lard and any pan scrapings. Sauté the onions, celery and carrots until softened. Add the garlic and cook for 1 minute further. Add the browned sausages and all the other ingredients. Season and simmer on low for about 20 mins.
Notes
Canned chopped tomatoes are also fine in a pinch.