The Italian tradition of cooking 'alla bianco' (or white) has two major branches. The first is to dress pasta or gnocchi etc. in just olive oil, cream, cheese, or a combination of all three. The other use of 'alla bianco' is applied to sauces that would normally contain tomatoes, but, on the day, do not. In the second vein, ragú alla bianco is made exactly like popular sauces such as ragú alla Bolognese, but omits the red bits.
This recipe starts with a standard soffrito of carrots, onion and celery, and uses diced rabbit meat to preserve the 'bianco' look. It is served with gnocchi verde to create some visual interest. I invented this dish myself based on a synthesis of other recipes, my own Bolognese, common sense, and a love of rabbit meat.
There are some obvious swaps here. If you do not fancy rabbit, then pork, chicken or turkey can be used. To make the dish even more 'bianco' the carrots can be swapped for finely chopped fennel.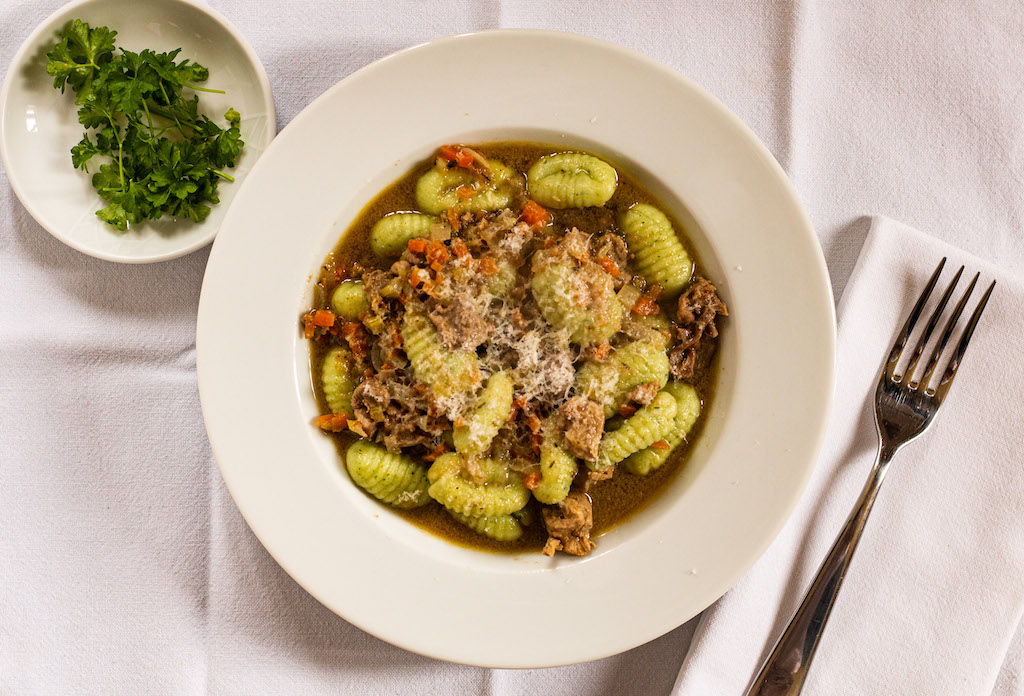 Print Recipe
Gnocchi verde e coniglio alla bianco
Ingredients
For the ragú:

2 tbsp olive oil

2 carrots finely diced

1 onion, finely diced

1 sticks of celery, finely diced

2 cloves of garlic, minced

1 rabbit, joined, boned and cut into 2cm dice (about 900g unboned weight)

250ml dry white wine

250ml stock (rabbit, chicken or vegetable; see notes)

6 juniper berries, crushed

2 cloves

1 bay leaf

1 tbsp rosemary, chopped

1 tsp thyme, picked

Sea salt and freshly ground black pepper

For the gnocchi:

500g floury potatoes, steamed

100g spinach

Dash of olive oil

1 egg yolk

Approx 200g 00-grade pasta flour

Salt

To finish:

50g Parmesan, grated
Instructions
1
In a large Dutch oven (cast-iron casserole) heat the olive oil. Add the vegetables ('soffrito') and fry gently until softened but not coloured. Add the garlic and cook for 1 minute longer. Add the rabbit and mix through. Cook until largely whitened.
2
Add the wine, stock, spices and herbs, season and cook on low, uncovered for at least 2 hours until the rabbit is reasonably tender.
3
Pass the potatoes through a ricer or a sieve. A masher will not do the job here. Wilt the spinach with an oil dna squeeze out in a cloth to remove as much water as possible. Add to the yolk, blitz and pass through a sieve to collect the purée but leave the fibrous parts behind. Mix the green mixture into the potatoes with a silicon spatula and season with a good pinch of salt.
4
Add about 2 dessert spoons of the flour and knead in. Continue to add flour a dessert spoon at a time until you have a nice dough that no longer sticks to your hands. Roll the dough into a ball.
5
Liberally flour a surface, and roll about an eighth of the dough into a sausage about the thickness of your middle finger. Cut with a knife into 2cm lengths. Working one at a time, shape the dough pieces into balls and then drag them over a gnocchi board with your thumb. This will curl and groove them into lovely dumplings. Place them on a floured kitchen cloth until needed.
6
To cook gnocchi, lower them into boiling in small batches. Lift them out with a slotted spoon when they float freely (about 3 mins). It is essential to cook in small batches or they will stick together and revert to mashed potato – this time, unrecoverably soggy. See notes on freezing.
7
Put the cooked gnocchi in the sauce and stir through. Check seasoning.
8
Ladle the dish out into bowls with a bit of the liquor and grate over the Parmesan.
Notes
Regarding the stock, if you are jointing a rabbit, you end up with a load of left over bones and bits of meat that are impossible to recover. It is senseless to waste this, so the answer is to use all the scraps from prepping the veg and make a stock by putting all the scraps (animal and vegetable) in a big pan, adding bay, thyme, parsley stalks, 10 black peppercorns, two cloves and a few crushed juniper berries, and one chicken stock cube, filling with water and bubbling down for a few hours until very tasty. Strain to remove all solids. It is well worth the effort, costs next to nothing in ingredients, but it adds a ton of time onto the prep. If you do this, do NOT put the juniper and cloves into the ragú as they are are already there in spirit. Gnocchi will not freeze. Well, they will freeze, but they will defrost wet. It is better to roll out any leftover dough into a patty, wrap and freeze that. This will defrost quickly to enable you to make fresh gnocchi on the fly.