Dijon, the capital of Burgundy, is the city that lends it name to Dijon mustard ('moutarde de Dijon'). The famous condiment was first served in the court of crisis magnet Philip VI of France way back in the 1300s.
Made from brown mustard seeds, seasoning and vinegar, Dijon mustard gained its uniqueness and popularity in 1856 when one Jean Naigeon of Dijon swapped out the acid for super-acidic verjuice, which is made from unripe wine grapes.
Nowadays, the verjuice has been cast aside, and a combination of white wine, white wine vinegar and seasoning is used to ape the taste of the original verjuice. Not only has the verjuice gone, but so has Dijon itself. The multi-national, many-headed chemical hydra that is Unilever moved production of Dijon mustard out of Dijon and into nearby Chevigny-Saint-Sauveur. Because they can; and who, after all, gives a shit about 800 years of history, right?
The most popular brand of Dijon mustard is Maille (pronounced mai as in Mai-Tai). Maille have a long-published recipe for quiche that is well worth making. We have repeated it here.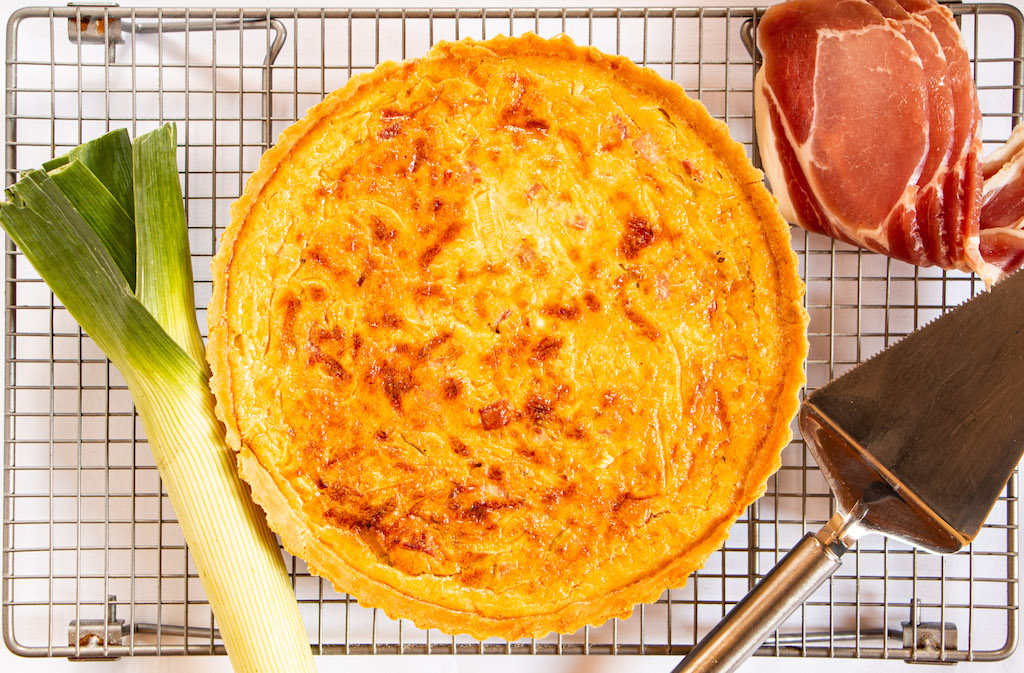 Print Recipe
Quiche aux poireaux et bacon à la Maille
Ingredients
1 blind-baked, savoury shortcrust pastry case

100g butter

4 rashers of dry-cured, unsmoked bacon, chopped

1 leek, thinly sliced

75ml double cream

75g Gruyere cheese, grated

3 large eggs (or 4 smaller ones)

2 tbsp Maille Dijon mustard

Salt and freshly-ground black pepper
Instructions
1
Prepare your pastry case using your preferred method – it is OK to use ready-made shortcrust pastry, buy a pastry case, or make your own. If using fresh pastry, blind baking at 180˚C for at least 10 mins is essential.
3
Fry the bacon with the leeks in the butter until browned.
4
Whisk the eggs, cheese, mustard and cream in a jug and season. Add the bacon and leeks (once cool). Pour the mixture into the flan case.
5
Bake in the oven for 35 mins. Remove from the oven and allow to cool a little before serving.
Notes
This recipe inexplicably uses less than half the normal 400ml of cream used in a quiche.