Patatas bravas are the classic side that literally everyone orders when out for Spanish tapas. They never fail to satisfy, they are suitable for vegetarians, and they are beloved by all.
This invention of patatas bravas is tied firmly to the Spanish conquest of the Inca civilisation in the 50 years following 1532. This was the point at which the European continent first got to know about potatoes.
Patatas bravas are generally considered to be native to Madrid. The name comes from the word 'brave,' indicating the chutzpah required to stomach the spice. This is complete bollocks as patatas bravas are not remotely spicy compared with other classically hot dishes.
For patatas bravos, many, many variations exist. One of the most common twists to to drizzle the dish over with aioli. We stick with Madrid, and don't do aioli at all.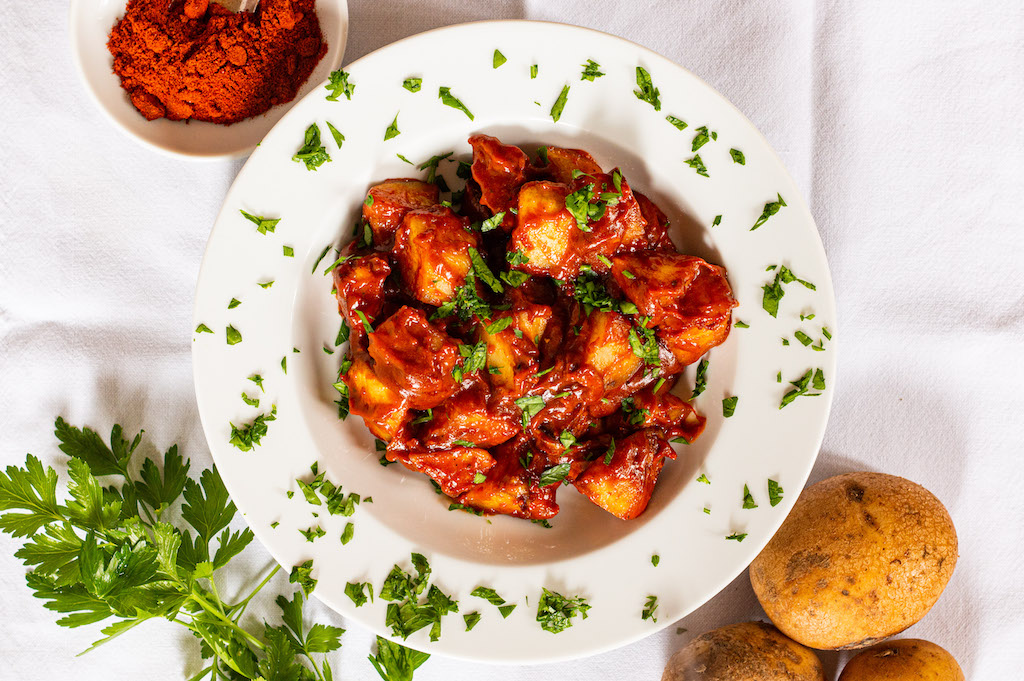 Print Recipe
Ingredients
For the potatoes:

2 tbsp olive oil

2 good-sized Maris Piper potatoes

For the sauce:

2 tbsp olive oil

2 tsp paprika

2 tsp smoked paprika

1 tbsp cornflour

250ml vegetable stock

Sea salt and freshly ground black pepper
Instructions
1
Heat the olive oil in a non-stick frying pan until nice and hot. Throw in the potatoes, toss in the oil and sauté on medium for about 15–20 mins until golden on the outside, and cooked in the centre.
2
While the potatoes are cooking, heat the olive oil in a small sauté pan.
3
Once hot, remove from the heat briefly, to whisk in the paprika and cornflour. You are looking for a nice, homogenous paste. Put the pan back on the heat, and slowly add the stock, bit by bit, ensuring there are no lumps. You are looking for a thick sauce, and you may not use all the stock. Add the vinegar and whisk in. Season to taste.
4
Finally, tip the potatoes into the sauce, stir to coat, and heat everything through. Serve.