'À la Normande' refers to French dishes containing apples for the simple fact that the Normandy area of France grows such a lot of the fruit. While fruit with game birds is very commonplace, it is less so with chicken, and I was surprised to run across poulet à la Normande on the recipe site of Morley Butchers in Crouch End, London.
Morley Butchers has been very good to us at The Nosey Chef as they tweet our existence every Friday and offer us advice on meat cuts even though we live some distance from their shop. Morley's would probably agree with us when we say that quartering rather than jointing a chicken is a good skill to learn. It uses more of the chicken in the cooking, and, critically, it enables the lucky recipients of the leg to also get their hands on the fabled oyster. This morsel, if butchered correctly, will come off as part of the leg portion rather than being left on the oft-discarded back.
You can get an education in quartering a chicken here: https://www.youtube.com/watch?v=J8iQydcMCJQ
You can find Morley Butchers at 23 Broadway Parade, Crouch End, London, N8 9DE, UK or call them on 0208 340 2436 to place an order.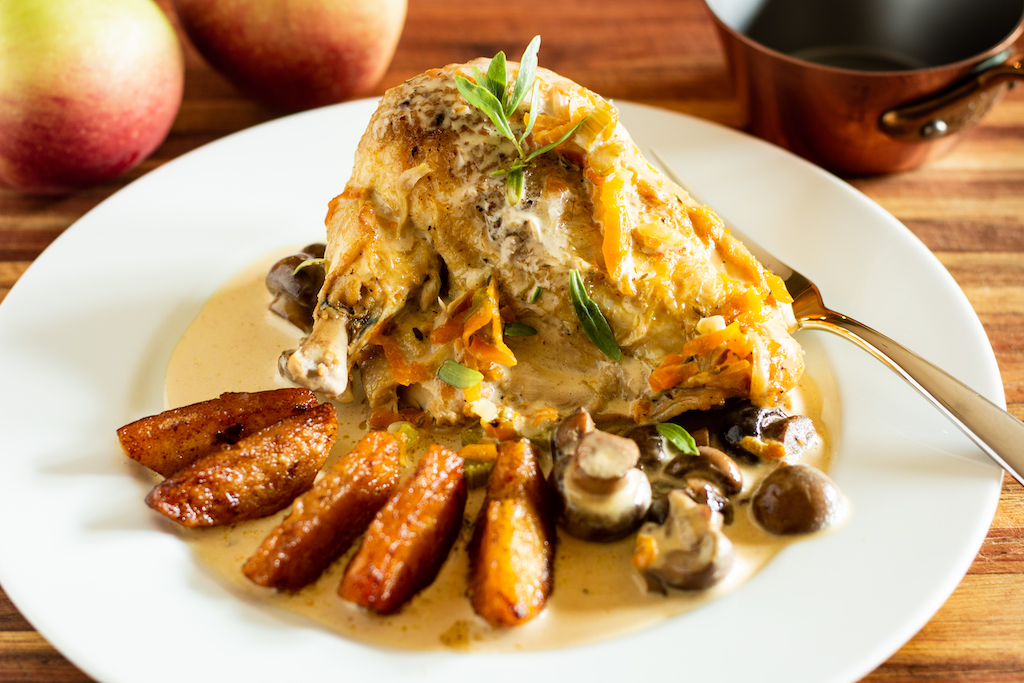 Print Recipe
Poulet à la Normande Crouch End
Ingredients
2 tbsp olive oil

1 fresh, free-range chicken, quartered, retaining the backbone and winglets

1 onion, sliced

1 carrot, grated

1 stick of celery, finely sliced

1 bay leaf, torn once

4 sprigs of thyme

500–700ml chicken stock

50g unsalted butter

300g button mushrooms, quartered

1 dessert apple, peeled and cut into eight

150ml fresh double cream

1 tbsp calvados or cider brandy

1 sprig of tarragon

Salt and freshly-ground black pepper
Instructions
2
Heat the olive oil in a Dutch oven, season the chicken all over, and fry in the hot oil until golden on all sides. Remove the chicken to a plate.
3
Sauté the vegetables in the fat until translucent. Add the herbs, the chicken quarters and the chicken trimmings. Add enough stock to cover the chicken, bring to a simmer, cover and place in the oven for 1 hour.
4
While the chicken is braising, fry the the mushrooms in butter until they have slight colour. Next fry the apple pieces in butter with a little salt until they brown. Flambé the apples with the calvados.
5
Once the chicken is done, put about 2 ladles of the stock into the pan with the mushrooms and add the cream. Bring just to the boil, reduce a little to thicken and check seasoning.
6
To serve, lift the chicken quarters onto plates, spoon over the mushroom cream sauce and arrange the apples around. Garnish with a little tarragon.