Cookies will be forever associated with America. The Girl Scout Association of America is funded, it seems to outsiders, largely from doorstep sales of cookies. As a soft, chewy biscuit-cake hybrid with a slight crisp, cookies are generally usurped in Europe by much snappier biscuits (whose name derives from the Latin 'bis cotum,' to 'twice baked.'
Cookies as we know them are thought to have their origin as test cakes whereby bakers would put a bit of cake batter in the corner of an oven to see if it was hot enough. The small rounds would be scoffed by the cooks as a treat. The original combination of flour, sugar and something moist is thought to be 7th Century Persian, as it was back then in that locale that sugar was first cultivated.
These days, there are thousands of different cookie recipes. Much to the horror of many, my favourite is oat and raisin.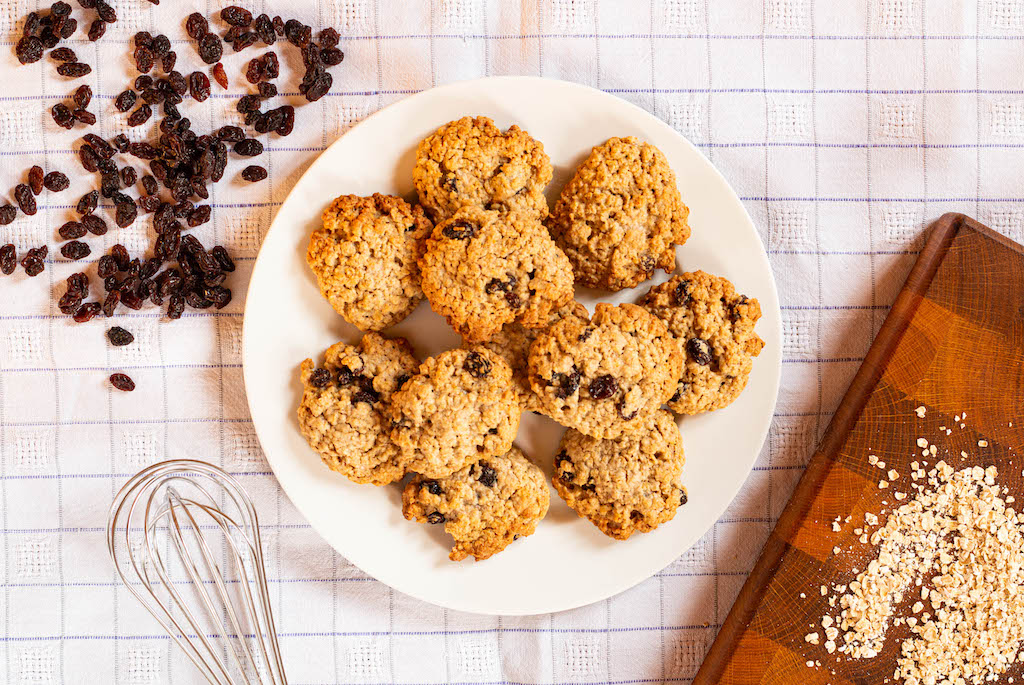 Print Recipe
Ingredients
100g raisins

150ml vegetable oil

200g golden caster sugar

1 egg, beaten

1 tsp ground cinnamon

1 tsp vanilla extract

140g plain flour

Quarter tsp bicarbonate of soda

300g oats
Instructions
1
Heat oven to 160˚C (fan) and line 2 baking trays with baking parchment. Pour 50ml boiling water over the raisins and leave to soak for 20 mins until plump. Drain, reserving the liquid.
2
Meanwhile, in a large bowl, mix together the oil and sugar. Gradually beat in the egg, along with the reserved water from the raisins, the cinnamon and vanilla extract. Sift the flour, bicarbonate of soda and a pinch of salt into the bowl, then add the oats. Finally, mix in the raisins.
3
Drop heaped tbsps of the cookie dough onto the baking trays, well spaced apart as they will spread when cooking. Bake for 12–15 mins until golden. Leave to cool on the trays for 10 mins before tucking in, or transfer to a cooling rack to cool completely. Will keep in an airtight container for up to 3 days.