Water biscuits, currently enjoyed by the British with cheese and port, have their origins in the truly awful Royal Naval 'hardtack.'
Hardtack – in use in the English Navy of the 1500s and beyond – was made from a simple baked dough of flour and water. The biscuits were baked four times, usually six months ahead of a voyage. This hardened them to the point of stone – and for good reason. Firstly, hardtack would last for years if kept dry. Secondly, if moisture was present (e.g. like on a ship), then the hardtack would gradually soften over time before becoming rotten and useless. So, having a very hard start point would improve the longevity of the biscuits at sea.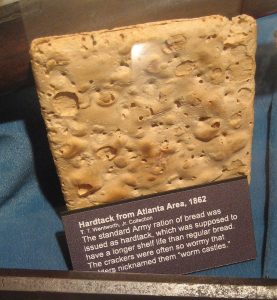 Hardtack – a critical source of energy in the daily rations of naval ratings and officers alike – was often dipped in coffee, beer or seawater to soften it. It was also broken down to make a porridge/gruel-like affair. Hardtack was often known as 'ship's biscuits,' and it was notorious for being one of the most dreaded foodstuffs available from the galley.
Familiarity, however, is hard habit to break, and companies back on dry land would make versions of hardtack for the general population. In 1831, Jonathan Dodgson Carr opened a small mill and bakery in Carlisle, Cumbria. He would bake bread by night and biscuits in the day. When he slept is not recorded.
One of the popular products that Carr made was water biscuits – these were derived directly from naval hardtack. Water biscuits were baked thinner than hardtack so they formed a nice, 'snappable' biscuit. At some point, some kind of oil was added to the recipe as a shortening. The Carr's water biscuits you can buy today are made from flour, water, oil (palm, sadly) and salt.
At the outbreak of World War 1, the Royal Navy, presumably wary of giving their crews actual hardtack and triggering mutiny, turned to Carr's bakery to supply the ships with water biscuits. Despite their modern refinement, water biscuits still had considerable capacity to stay fresh for long periods at sea.
Making water biscuits is easy once you know at what point to stop adding water – the dough does not behave like a pastry or shortbread dough. This is one of those volumetric recipes where using USA cup measures actually makes sense.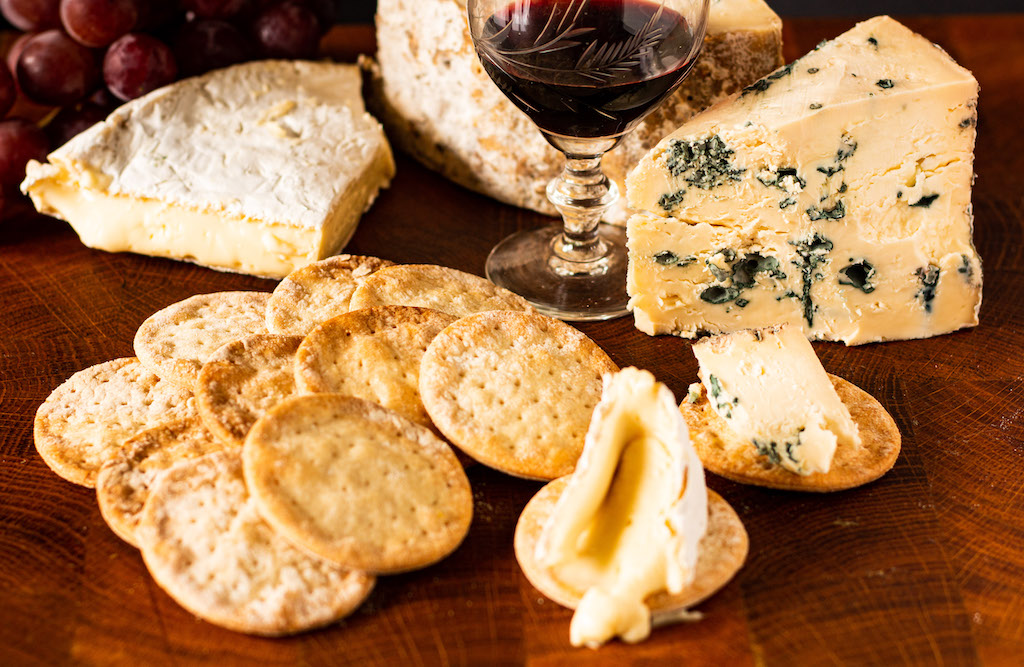 Print Recipe
Ingredients
120g (1 US cup) plain flour

1 tbsp vegetable oil

Half tsp Maldon sea salt

About 50ml (quarter US cup) cold water
Instructions
1
Combine the flour, oil and salt in a food processor.
2
With the machine running, slowly add the water until the mixture comes together (It will look grainy rather than suddenly balling like pastry). Stop the machine and check if the dough will form a ball. If not, more water is needed.
3
Form the dough into a flat round, wrap and chill for 30 mins.
5
Once the dough is rested and chilled, roll it out on a floured surface to about 2mm thick. Alternatively, run it through a pasta machine to the second setting for a really even finish.
6
On a floured surface, prick the dough all over with a fork or a dough docker. Use a cookie cutter to cut the dough into biscuits the size you like.
7
Carefully transfer the biscuits to a baking tray lined with floured baking paper or a silicone lining. Bake in the oven for 10–15 mins until just turning golden. Cool on a wire rack.