The Vampiro is the national drink of Mexico. It is said to have been invented by Oscar Hernández on his food stall in San Luis Soyatlán. Hernández spent his days selling seasoned cucumbers and jicama, which is a Mexican yam bean.
As a tipple, Oscar would mix a citrus-flavoured soda with Viuda de Sanchez, which is a Mexican orange juice-based sangrita. All that would be poured into plastic bags, that Hernández would draw from with a straw to stave off the blistering heat. This was around about 1978.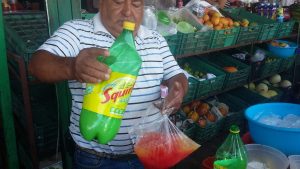 Customers would comment that it looked like he was drinking blood, and the mix became known as a 'Vampiro.'
Making a Vampiro anywhere but Mexico is problematic because the base ingredients are not marketed outside of the country. But, we can get very close by following the IBA recipe, which is the one given here. Other recipes use chilli sauce rather than strained-out whole veg.
Print Recipe
Ingredients
50ml tequila

70ml tomato juice

30ml fresh orange juice

10ml fresh lime juice

1 tsp clear honey

Half a slice of onion, finely chopped

A few slices fresh, red hot chili pepper

A few drops of Worcestershire Sauce

Salt
Instructions
1
Pour all ingredients into a cocktail shaker, shake and steep the veg for a moment. Strain into an Old Fashioned glass rimmed with salt. Stir with ice.