There is a revolution underway in the world of sparking wine. The British, long derided for producing sub-par wines in a difficult climate, are reaping the benefits of gradual climate change and a perfect terroir.
The Champagne vines of Reims grow on a circular area of upper and lower Cretaceous chalk soil that wraps around the Paris Basin. Reims is much colder than the rest of France, but it was still historically warmer than the south of England. However, this temperature differential was very small, and global warming has provided the few percentage points of temperature increase to bring Kent and Sussex into the Goldilocks zone for sparking wine production. The key to successful wine production is that the same patch of Cretaceous geology that is found under Reims is also found under England's southern coastal counties.
England has become one of the most exciting places to make wine, and the wines produced in the Garden of England, particularly the white varieties, are now so good that leading European wine experts are having trouble hanging onto the idea that French is best.
The vineyards of Chapel Down are located at Tenterden in Kent. They were first planted in 1977. The Winery was formally established in 2001, and from there, the brand has gone from strength to strength. Awards come tumbling in: in 2018, the Chapel Down Kit's Coty collection won four awards at the International Wine & Spirits Competition; three awards were won in 2017, and 18 medals were secured in various competitions in 2016.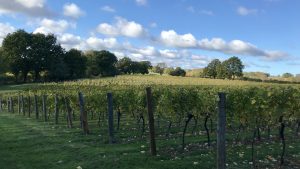 Alongside wine, Chapel Down has also embarked on gin production. Gin is hugely popular in the UK at the moment, and it makes a lot of sense for a company with the resources and connections of Chapel Down to make England's national spirit.
For Christmas 2018, I was lucky enough to receive a bottle of Chapel Down Gin from my brother. I already had some Chapel Down Classic NV Brut in, so it made a lot of sense to combine the two to make a cocktail.
The Champagne Marguerite was invented in the 1860s, but history does not record by whom. In 2014, Sean Ware of the London Cocktail Club put it back on the map using demi-sec Champagne. We have adapted the drink to use Chapel Down NV Brut and gin (a little sugar is added to 'recreate' the demi-sec taste). In doing so, we needed to alter the name. Sensitive to brand appropriation, we contacted Chapel Down for permission to do this, and they enthusiastically agreed. So here is the Chapel Down Marguerite with all the principal ingredients sourced from our new friends in Tenterden.
The Chapel Down Winery can be found at Small Hythe, Tenterden Kent TN30 7NG. The Chapel Down Gin Works are at Goods Way, Kings Cross, London N1C 4UR.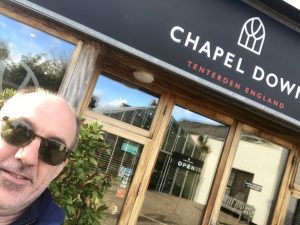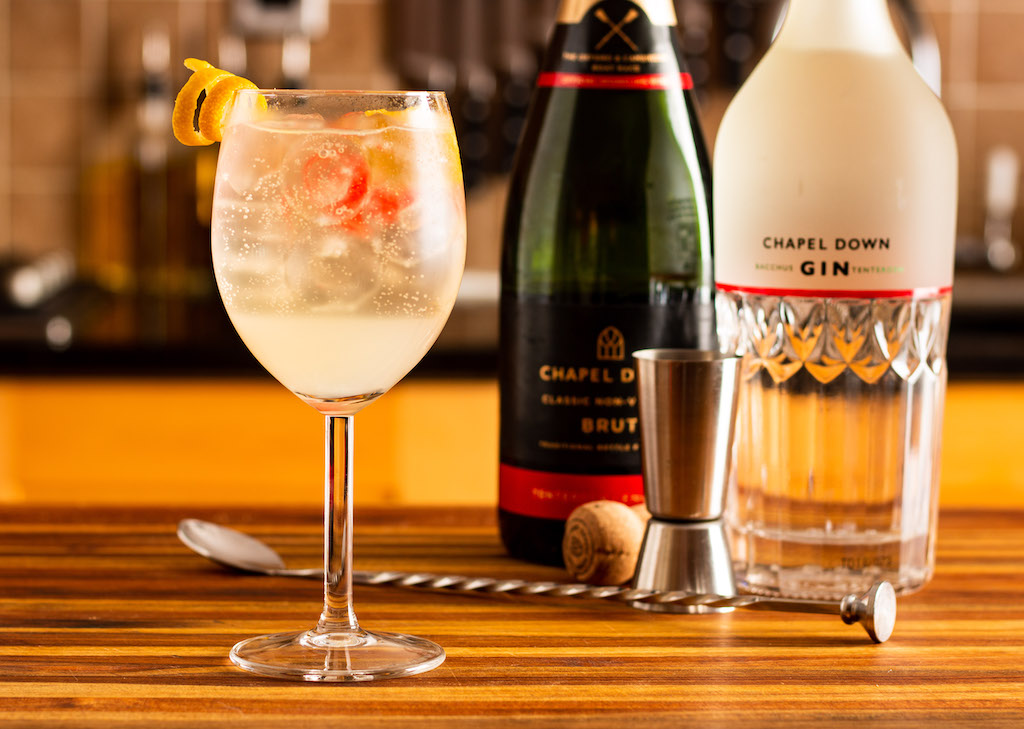 Print Recipe
Ingredients
30ml Chapel Down gin

Half a tsp of maraschino liqueur

Half a tsp of orgeat

20ml fresh lemon juice

1.5 tsp simple syrup

Top with Chapel Down Classic Non-Vintage Brut
Instructions
1
Shake the first five ingredients in a shaker with ice. Strain into a goblet filled with ice. Top with the fizz and garnish with lemon peel and seasonal berries.