'Normande,' in terms of French food, means 'with apples.' This is because apples grow abundantly in northern France where more than 800 varieties are grown, with a history dating back to the 8th Century.
Calvados, which is used in this recipe, can only be made in Normandy where the distillation is similar to that of cognac. Normally, calvados is served after a meal as a digestif, but there is a tradition of serving it in the middle of a long meal as a palate-cleanser. If drunk this way, then it is known as 'trou Normand,' or a 'Normandy hole.'
We have been chasing recipes for Normandy chicken around for a while for the simple reason that we like apples.  We thought we had hit full authenticity with the version we adapted from Morley Butchers in Crouch End, London. That was until we found this far simpler version from Auguste Escoffier with the neat and curious 'trick' of cooking and serving it in a terrine dish.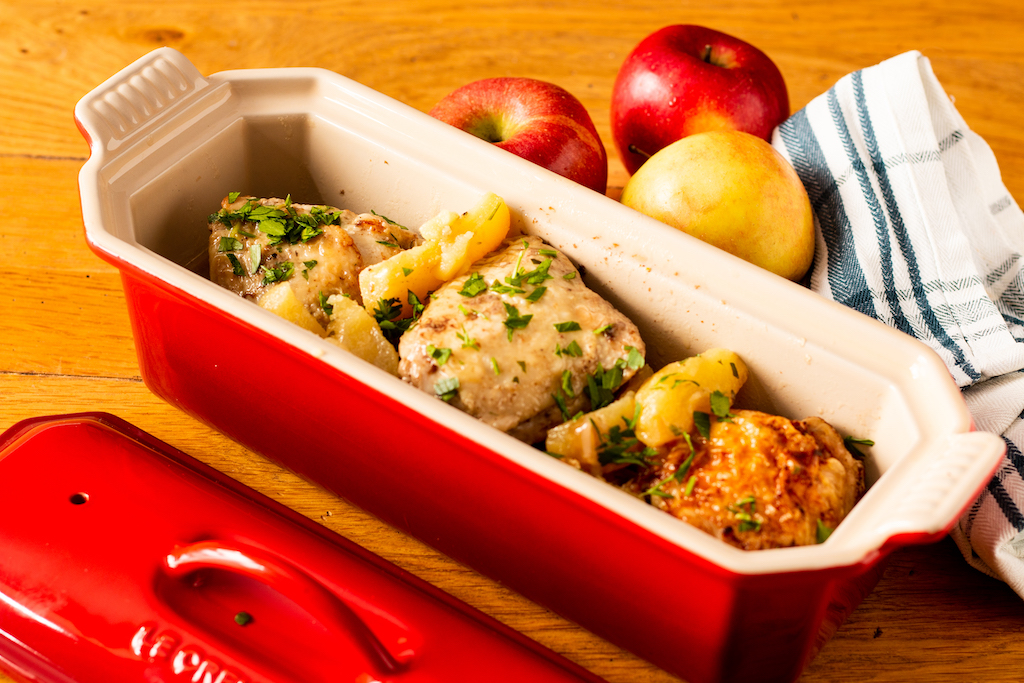 Print Recipe
Poulet sauté à la Normande Auguste Escoffier
Ingredients
1 whole free-range chicken, jointed, or six legs jointed into thighs and drumsticks

2 Braeburn or Cox apples, peeled, cored and sliced into 8

25g butter

4 tbsp Normandy calvados

Salt and freshly ground black pepper
Instructions
2
Season the chicken pieces and sauté them in the butter until golden. Transfer the chicken pieces to a terrine or similar lidded, oven-proof dish, and add the apples.
3
Deglaze the sauté pan with the alcohol. Flambée if desired. Pour the pan juices over the chicken. Put the lid on the terrine and bake in the oven for 1 hour until the chicken is thoroughly cooked (check with a probe for 75˚C in the thigh pieces).
4
Serve to the table in the terrine.
Notes
This dish adapts very well to pheasant. Consider packing some more things in with the apples – mushrooms are a popular addition to dishes à la Normande.