Adding leftover mashed potato to flour and cooking it again is not an idea exclusive to Italy (observe the tattie scone), but it does come from those areas of Europe and South America where potatoes grow particularly well. In Italy, this makes gnocchi an essentially northern thing. The composition of gnocchi varies according to the potato variety available. The essential breakdown of gnocchi composition appears to go generally like this:
Lazio. Waxy potatoes and egg.
Piedmont. Floury potatoes and no egg. Often dressed with fontina cheese, or assembled in the classic layered and baked gnocchi alla bana.
Lombardy. Floury potatoes, parmesan, nutmeg and no egg. Served with sage butter sauce.
Brescia. Made with pumpkins, eggs and spices, and sometimes crushed amaretti. Served in garlic and rosemary butter, or with butter and cinnamon (Venice).
Tuscany. Made with ewe ricotta, eggs and herbs.
The recipe here is adapted from the instructions in Institut Paul Bocuse Gastronomique, which is based on a Piedmont recipe, but adds a cheeky egg yolk to help gnocchi virgins get a good result. In our version, we use 00-grade pasta flour (Petra 7224 Granpasta) instead of plain, and we shape our little potato pillows with a proper gnocchi board. We also do not salt the water on the advice of Anna del Conte, who says that the salt can make the dumplings stick together. Salt can be controlled in the sauce.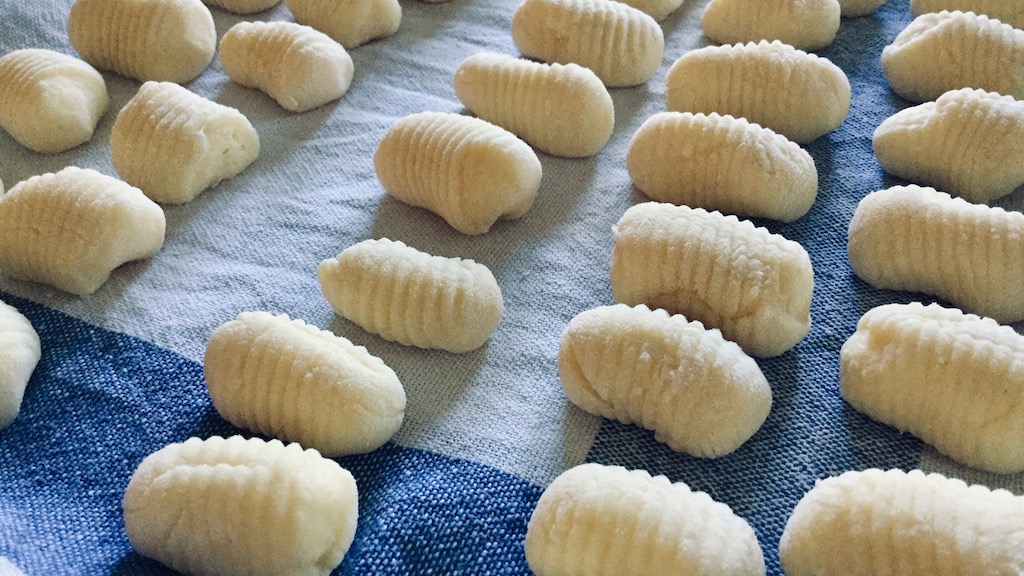 Print Recipe
Ingredients
500g floury potatoes, steamed

1 egg yolk

Approx 200g 00-grade pasta flour

Salt
Instructions
1
Pass the potatoes through a ricer or a sieve. A masher will not do the job here. Mix the egg yolk in with a silicon spatula and season with a good pinch of salt.
2
Add about 2 dessert spoons of the flour and knead in. Continue to add flour a dessert spoon at a time until you have a nice dough that no longer sticks to your hands. Roll the dough into a ball.
3
Liberally flour a surface, and roll about an eighth of the dough into a sausage about the thickness of your middle finger. Cut with a knife into 2cm lengths. Working one at a time, shape the dough pieces into balls and then drag them over a gnocchi board with your thumb. This will curl and groove them into lovely dumplings. Place them on a floured kitchen cloth until needed.
4
To cook gnocchi, lower them into boiling in small batches. Lift them out with a slotted spoon when they float freely (about 3 mins). It is essential to cook in small batches or they will stick together and revert to mashed potato – this time, unrecoverably soggy.
Notes
Gnocci can be served very simply by tossing them in warm butter, drizzling them with olive oil, and sprinkling over ripped basil leaves and fresh, grated parmesan or fontina. Alternatively, toss them in a classic sage butter, or just dress them simply with pesto.