The Nosey Chef likes to dig into the history of food, and we are very glad when the trail ends in recent, written history with no further effort. The Hasselback potato fulfils this brief by originating in 1953 when Leif Elisson, trainee chef at the Hasselbacken restaurant on Djurgården, Stockholm sliced partway through potatoes and baked them.
The problem with finding a recipe for Hasselbacks is that Elisson never wrote the thing down, and stuff like herbs, garlic and breadcrumbs have been added since the Fifties. Cooking temperatures, times and methods vary too. I had a go at a very simple baking technique, and it resulted in uncooked, singed potatoes. In the end, we went and looked at how Felicity Cloake did them, and based our recipe on hers with some of the less frequently encountered ingredients taken out.
Restaurang Hasselbacken is now at Hazeliusbacken 20, 115 21 Stockholm, Sweden. It is listed in the Michelin guide.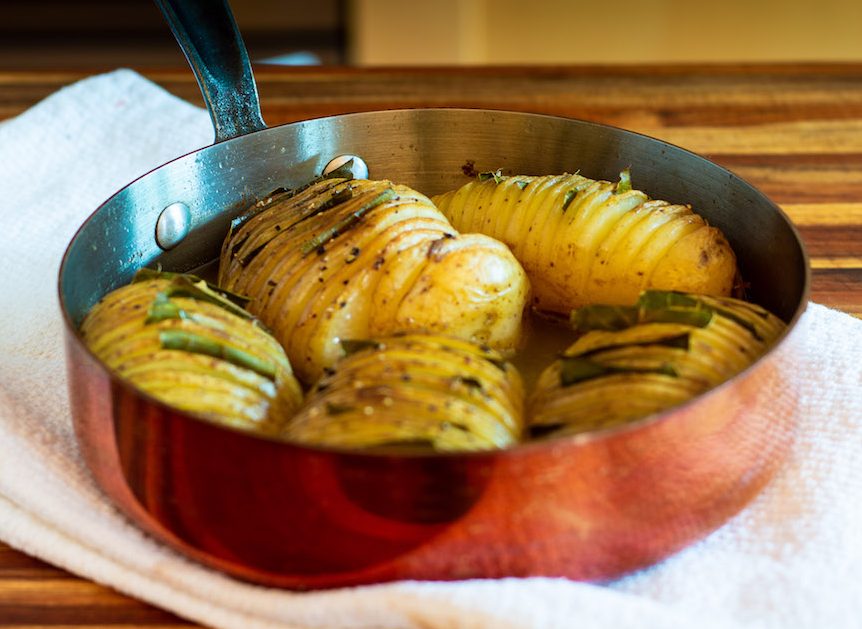 Print Recipe
Ingredients
8 floury potatoes, washed and dried but unpeeled

6 garlic cloves, peeled and thinly sliced

50g butter

Sea salt and freshly round black pepper

A couple or more sprigs of thyme
Instructions
2
Place a potato in a serving spoon to use as a cutting guide. Slice through the potato until the knife contacts with the spoon. Do this at 2mm intervals all over the surface of the potato (see picture). Push the sliced garlic into the slots, making sure no garlic pokes out (or it will burn). Some recipes slip torn bay leaves in at this point too, but they can go hard during baking, so need to be removed after cooking.
3
Melt the butter in a baking tin until foaming. Add the potatoes, turn them in the butter, and then add water to come halfway up the tatties. Bring this to the boil, sprinkle the tatties with salt and then place them in the oven for 1h 30 mins, basting occasionally. Brush over with the thyme, soaked in the butter and water.