The origins of Southern fried chicken, and why it is 'Southern' and not just 'American,' is tied up with the horrors of Afro-caribbean slavery. It was while watching David Chang's Ugly Delicious that I discovered why Southern fried chicken is 'Southern.' It turns out that black Americans, even when free from slavery, were not allowed to keep cattle on tenanted land. All they could do was keep chickens. Following an original tradition from Scottish settlers, who fried chicken in fat rather than boiling it like everyone else, the slaves added spice and gave birth to the crispy southern fried chicken we know today. Trademarked Kentucky fried chicken, as popularised by the famous fast food chain, came along much later, and the recipe came from a white dude in a white suit with white hair, which is something of a shame.
Colonel Harland David Sanders had a difficult childhood. At the age of 5 his father came home from work with a fever and died later the same day. This meant that the young Sanders had to learn to cook for his siblings. By the age of 7 he was an adept cook, and he entered the world of work at the early age of 10. After a chequered working life, in and out of various jobs that had nothing to do with food, Sanders, aged 49, bought a motel in Asheville, North Carolina. It was there that he worked on and perfected his secret recipe for Kentucky Fried Chicken.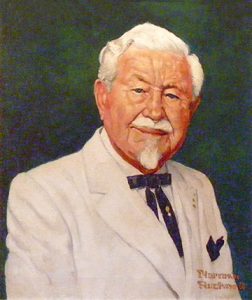 The success of KFC is in no doubt, but in February 2018, coinciding with peak fried chicken demand in the UK school holidays, KFC UK decided to switch their logistics supplier from food logistic specialist Bidvest, to the general clusterfuck that is DHL. The result was an instantaneous disaster. Not used to the stringent standards that KFC place on their fresh, non-frozen supply chain, DHL attempted to operate the whole chicken delivery exercise from a single distribution depot in Rugby. Within hours, almost three quarters of British KFC outlets had run out of chicken, and some were forced to close. KFC blamed DHL, DHL blamed KFC, and the and chattering classes were all over the TV complaining that they had to go to Burger King.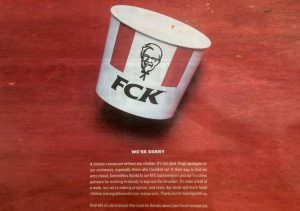 While most of the British press was pointing and laughing at the mess KFC had got itself into, hundreds of food bloggers and correspondents stepped into the void and published their own, homemade fried chicken recipes. Some were quite simple, and others spoke of a 'leaked' version of the the recipe incarcerated in a safe inside a vault in KFC's headquarters in Louisville, Kentucky.
The secrecy surrounding the KFC Original Recipe is the stuff of legend. The safe in Louisville also holds 11 vials containing the the famous 11 herbs and spices that go into the mix. In order to maintain utmost secrecy, half of the mix is made by Griffith Laboratories before it is shipped to McCormick, who add the second half.
With this level of fuss, it was inevitable that one day the truth would out. Indeed, in 2016, Sanders' nephew Joe Ledington spoke to the Chicago Tribune. During the interview, Ledington showed the Tribune's Jay Jones a family scrapbook. In the book was a list of 11 herbs and spices and the instruction to mix them with 2 cups of plain flour. The scrapbook was once owned by Claudia Ledington, who was the second wife of Colonel Sanders, and the recipe was written on the back of one of her will documents. The interesting ingredient is the white pepper. Back in the 1950s nobody in the US had heard of it, let alone knew how to cook with it. Ledington specifically remembers the copious amounts of white pepper from his boyhood days spent mixing the recipe in Sanders' restaurant.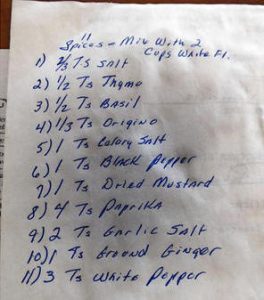 As written, this recipes tastes very similar to a KFC, if a little spicier. You can increase the ratio of flour in the mix if you prefer your fried chicken a little milder. Evidence suggests that these days KFC add monosodium glutamate (MSG) as a flavour enhancer, and experiments conduced on the Claudia Ledington recipe indicate that adding MSG gets you even closer to a genuine KFC Original Recipe chicken.
With the spice mix sorted, how to cook the chicken? The fundamental problem with fried chicken is that if you just fry it, it will take ages to cook, become dry in the process and possibly burn the coating. Some sort of pre-cooking is needed. Colonel Sanders solved this problem with a pressure cooker, which cooked chicken in 9 minutes. Jamie Oliver will tell you to brine the chicken in buttermilk overnight to maintain succulence during the cooking. However, in a modern kitchen there is a third way. We looked to the technical genius of the Chef Steps team, and did our chicken sous vide for 4 hours, before a short time in the fryer. The result is spectacular and arguably better than any chicken you could buy at a drive through.
If, however, like many, you lack a sous vide, then Jenn Miller of Jen Reviews has your back. She cooks the chicken at exactly 170˚C for 14 minutes, and obtains cooked chicken and a crispy outer. Her recipe post is notable for its very clear, step-by-step instructions. If you follow The Nosey Chef for the coating and Jenn for the cooking, then you will get another, perfectly good bucket of KFC.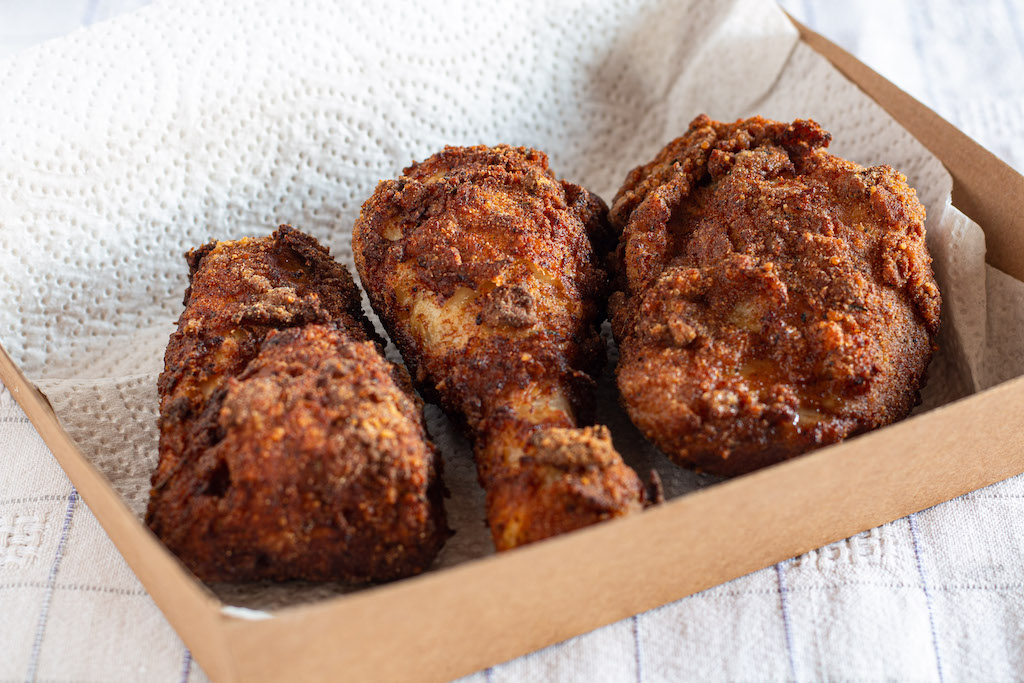 Print Recipe
Ingredients
4 chicken legs, skin on, jointed into thighs and drumsticks

1 tbsp sea salt

Two thirds of a tbsp salt

Half a tbsp dried thyme

Half a tbsp dried basil

One third of a tbsp dried oregano

1 tbsp celery salt

1 tbsp black pepper

1 tbsp dried mustard

4 tbsp paprika

2 tbsp garlic salt

1 tbsp ground ginger

3 tbsp white pepper

250g plain flour

284ml buttermilk
Instructions
1
The recipe here uses sous vide. If you do not have a water bath rig, see the notes for timings on the pre-cook.
2
Set a water bath to 68˚C.
3
Salt the chicken pieces with the sea salt, wrap in a vacuum bag and cook in the water bath for at least 3 hours.
4
Once done, remove the chicken from the bag and pat dry.
6
Dredge the chicken in the flour and spice mix. Roll the chicken around in a bowl of the buttermilk to evenly coat it. Dredge the milked chicken in the flour and spice mix again, and then cook in batches in the fryer until golden.
7
Serve with your favourite sides.
Notes
When buying the spices, note that if you are getting the standard Schwartz-size jars, then it is the paprika you will use a whole jar of (and nearly a whole jar of white pepper). You will be left with loads of the dried herbs. If you don't have a sous vide rig, then marinate (brine) the chicken pieces in salted water for 4 hours, pat dry, and then bake them in the oven at 200˚C for 15 mins before coating and frying as above.