Debate on the origins of the Singapore Sling are few, and they essentially boil down to what it was originally called, and what type of cherry liqueur is in it. Two facts are in no doubt. Firstly, this drink was invented by Ngiam Tong Boon, a Chinese bartender working in the Long Bar at Raffles Hotel. Secondly, date of creation is between 1910–1915.
When Ngiam was making it, the drink may have been called a 'Gin Sling in the house style,' a Pink Sling, or a Straits Sling (named for the straits that cut through the scatter of islands that separate Malaysia from Indonesia). The name of the drink is uncertain, and there is also no real record of the nature of the cherry element – it may have been any one of a number of things, including kirsch. Raffles Hotel currently uses Cherry Heering, which is a style of cherry brandy.
It gets worse …
There is a major upset in the history of Raffles Hotel that further obscures the original recipe of the Singapore Sling. Between 1942–1945, Raffles Hotel was commandeered by Japanese armed forces, and was later used as a waystation for Japanese prisoners of war after allied forces retook the port of Singapore in 1945. During that time, many hotel records were destroyed or lost, and the only record of the recipe for a Singapore Sling survives from a note made by a 1936 hotel visitor who watched a barman make the drink. Much later, in the 1970s, people were going mad for long, tiki-style tropical drinks, and some theorists argue that it was around then that the grenadine and the copious amounts of pineapple juice were added.
Regardless of the debate, the recipe given here is the International Bartender's Association certified version, which is supposedly the Raffles one, and is exactly the same as the one that Raffles give out on their own information cards. Difford's Guide provides a Raffles version with exactly the same proportions, and adds a spritz of club soda. Most other recipes include the spritz, so I am going to call that element optional, but I do think it helps to cut through the overt fruitiness of the original Singapore Sling. The drink ought to be served in a hurricane glass, but I don't have one, so a highball suffices.
Travellers, particularly those from the UK, are often interested in the idea of going to Raffles and ordering a Singapore Sling in the Long Bar. Those that do never come away enthusing about it. My brother-in-law Niki described the Long Bar as, "A bit of a shithole with monkey nut shells all over the floor, which was cool when we were students, bit really not very nice now we are all grown up." He also decried the bar's practice of pouring your sling from a massive, pre-mixed jug of the stuff. Summing up, he said:
"The Long Bar at Raffles for a Singapore Sling? Don't waste your time."
Somehow, I don't think that Fairmont Raffles Hotels International, who own the 103-room hotel, will be losing any sleep over that – at least not while endless streams of British holidaymakers rush in excitedly and order their tall, red glass of faded colonial pride.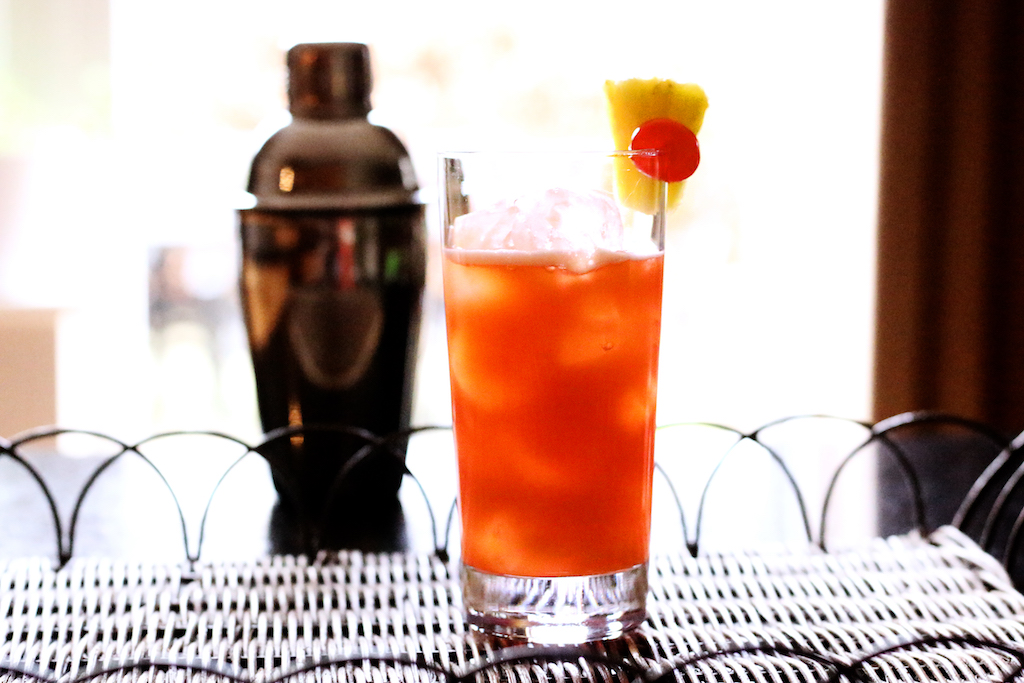 Print Recipe
Ingredients
30 ml London dry gin

15 ml cherry liqueur

7.5 ml Cointreau

7.5 ml DOM Bénédictine

10 ml grenadine

120 ml pineapple juice

15 ml lime juice

1 dash Angostura bitters

Spritz of club soda (optional)
Instructions
1
Pour all ingredients except the soda into cocktail shaker filled with ice cubes. Shake well.
2
Strain into highball or hurricane glass filled with more ice.
3
Garnish with pineapple and cocktail cherry. Spritz if you wish, but be left wondering if that ought to be in the drink.