Carrie Bradshaw's favourite drink – the Cosmopolitan – has many recipes and quite a few claimants to its invention. Back in 1934, there was a drink described in Pioneers of Mixing at Elite Bars that mixed gin, lime and raspberry cordial to produce a pink drink known as a 'Cosmopolitan.' This recipe is almost certainly where the modern drink has its origins, because despite numerous claims to independent invention, Cosmos always end up pink. This cannot be a co-incidence.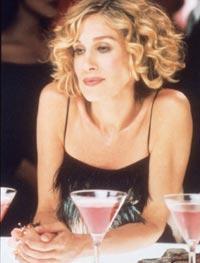 In the 1960s, Ocean Spray, keen to promote their cranberry juice, provided a cocktail recipe on their bottle labels that described a 'Harpoon' that called for vodka with cranberry on the rocks, sometimes with a spritz. This is probably the first time that cranberry juice was put in a cocktail.
In the 1980s, the riotous gay bars of New York and San Francisco were awash with a drink by the name of 'Cosmopolitan' that consisted of an horrendous mix of vodka, lime cordial and grenadine. Thankfully, Toby Cecchini of The Odeon in New York, took this liquid nightmare, grabbed a bottle of the all-new Absolut Citron vodka, and returned the Cosmopolitan to its rightful place as a stylish, stiff apéritif. The Ceccarini recipe is generally regarded as the definitive recipe for the drink. It calls for citrus vodka, triple sec and cranberry.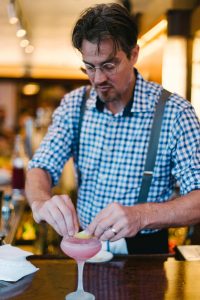 The Cosmopolitan joined the Martini as part of the canon of American cocktail culture, and young bartenders, always keen to buck against trends, would say to Cecchini:
"You! You invented the Cosmopolitan, you f**k!"
All Cecchini could do was apologise.
The Cosmopolitan came at a time when cocktails were not terrifically popular. Then Sex and the City got hold of it, which reinvigorated cocktail culture, and catapulted the Cosmopolitan into true notoriety. Commentators say that the Cosmo remains the last of the classic cocktails – everything that came after it is regarded as 'modern,' despite the efforts of todays best bartenders striving to produce the best drinks they can.
What is certain is that there will never be another drink as notorious and loved and hated in equal measure as the Cosmopolitan. As Carrie Bradshaw said, she only stopped drinking them because everyone else started.
The recipe supplied here is that of Toby Ceccarini, and is the IBA-certified recipe. I have added some notes on the version I normally make, which is closer to the one advocated by the modern-day Godfather of cocktails, Simon Difford.
The Odeon can be found at 145 West Broadway, New York, NY 10013, USA.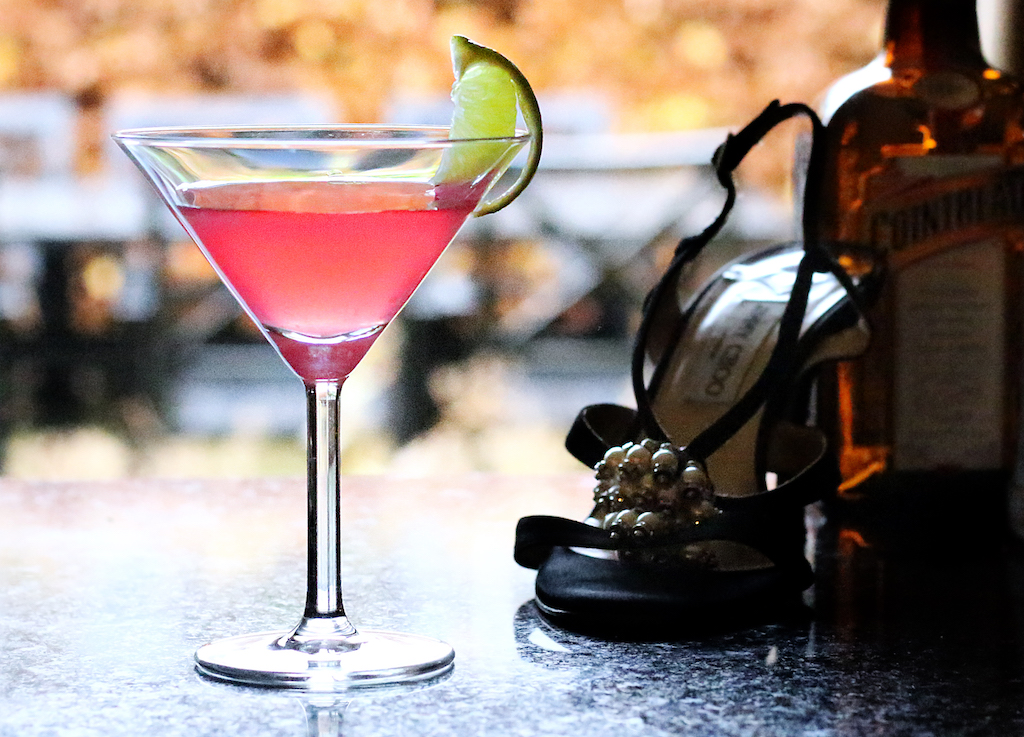 Print Recipe
Ingredients
40ml citron vodka

15ml Cointreau

30ml cranberry juice

15ml fresh lime juice

Slice of fresh lime
Instructions
1
Shake all ingredients in cocktail shaker filled with ice. Strain into a cocktail glass. Garnish with lime slice.
Notes
I frequently make this cocktail differently. I usually make it with 35ml of standard vodka, 15ml of Cointreau, a smaller squeeze of fresh lime, 25ml cranberry juice, and garnished with some orange peel that has been briefly set fire to. This knocks back the citrus a bit, and makes quite a Christmassy drink.