'Royal chicken korma' is the original format of this classic curry. Nowadays, chicken korma is eaten on any day of the week and is a popular choice for restaurant diners who do not get on with spicy curries. However, the original kormas were both spicy and quite elaborate. The korma be traced back to the Mughal era in India, which spanned from the 16th to the 19th Centuries. The Mughals were known for their fabulous feasts, and korma was one of the dishes that featured for only the most lavish occasions. The use of ruinously expensive dried fruits and nuts were a means of displaying wealth.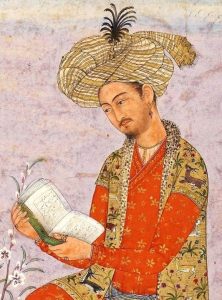 The term 'korma' is derived from the Urdu word 'qorma,' which means braised meat. Initially, korma was primarily made with lamb or beef, as the Mughals were fond of these meats. However, as the dish became more popular and spread to different regions of India, variations emerged to accommodate local culinary preferences. Chicken korma gained prominence as an alternative to the traditional lamb or beef version.
A modern, restaurant-style korma typically involves marinating chicken pieces in a mixture of yogurt, ginger, garlic, and a blend of spices such as coriander, cumin, turmeric, and cardamom. The marinated chicken is then cooked slowly in a creamy sauce made with yogurt, cream, and a combination of spices.
The recipe given here is adapted from that of Madhur Jaffrey whereby we add the marinade that she misses out. We also use the cooking sequence taught to us by Atul Kochhar. Students of the korma will notice that there is no coconut in this recipe. Coconut was never in the original versions, and only made its way into the dish once the notion of korma reached southern India.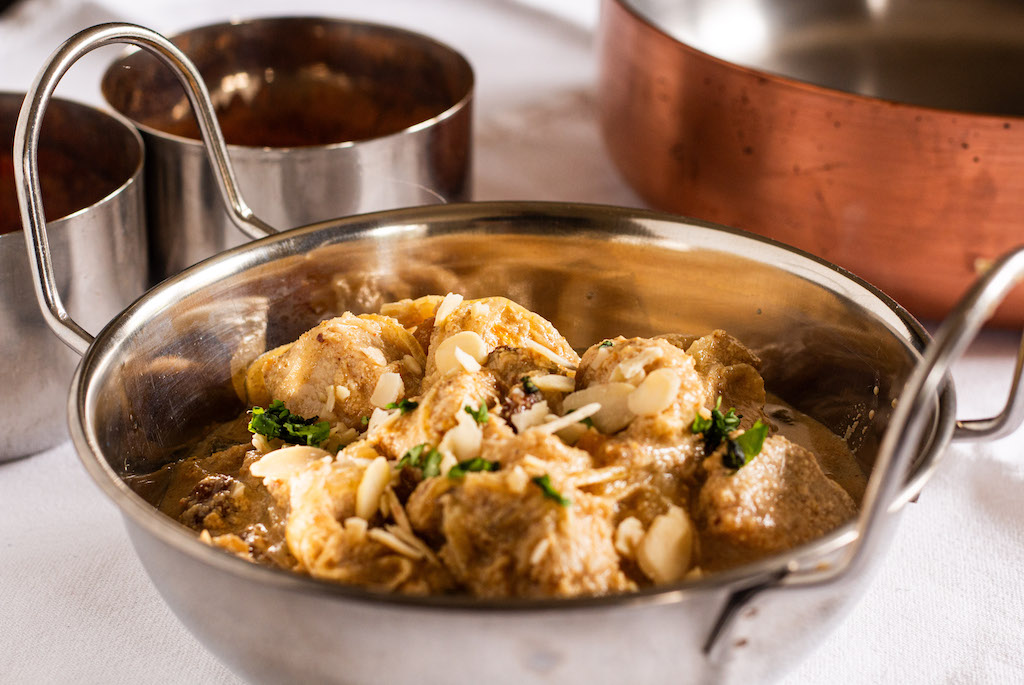 Print Recipe
Ingredients
For the marinade:

4 chicken breasts, diced

2 tbsp ginger garlic paste

2 tbsp ground coriander

1 tbsp ground cumin

250ml natural yoghurt (do not use Greek-style yoghurt for a marinade – it will split when cooked)

For the saffron cream:

60ml double cream

Large pinch of saffron

To cook:

2 tbsp neutral oil

4 bay leaves

12 cardamom pods

2 cinnamon sticks

2 onions, very finely sliced

1 large handful of dried fruits (sultanas are a must, but can be mixed with chopped dried apricots and/or pitted dates

Half a handful of blanched whole almonds or flaked almonds

150ml water

2 tsp cayenne pepper

1 tsp garam masala
Instructions
1
Combine all the marinade ingredients in a bowl and refrigerate for 3 hours or overnight.
To make the saffron cream:
2
Heat the cream with the saffron until just about to boil. Stir and set aside for 3 hours.
3
Heat the oil and add the whole spices and bay. Heat until the cardamom pods start to crackle.
4
Add the onions and a pinch of salt to the fried spices. Cook for about 15 mins until soft and quite brown.
5
Add the chicken and all its marinade, and cook on medium for about 10 mins.
6
Add the dried fruits and nuts, bring to a simmer and cook gently, partly covered for 20 mins until well reduced.
7
Add the saffron-infused cream, half a glass of water, cayenne pepper and garam masala. Cook through, covered for about 5–10 mins until nice and creamy.
8
Serve with chopped coriander sprinkled over.