If the notion of cherry pie evokes one thing, then this has to be 'America.' In the States, Cherry pie is a traditional dish for Independence Day (4 July), on the basis that it was a cherry tree that the young George Washington had cut down when he uttered the immortal apology:
"Father, I cannot tell a lie. I cut down the tree."
Independence Day also happily co-incides with the cherry season.
Fruit pies in general first appear in cook books from England in the Tudor period. The first cherry pie was said to have been served to Queen Elizabeth I. Some versions of this tale place Elizabeth I not only as diner, but also inventor and cook.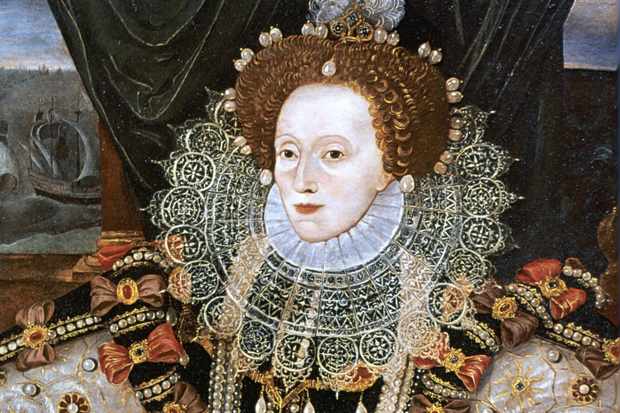 The recipe given here is a hybrid between our own pastry and a filling from 'Sally's Baking Addiction.'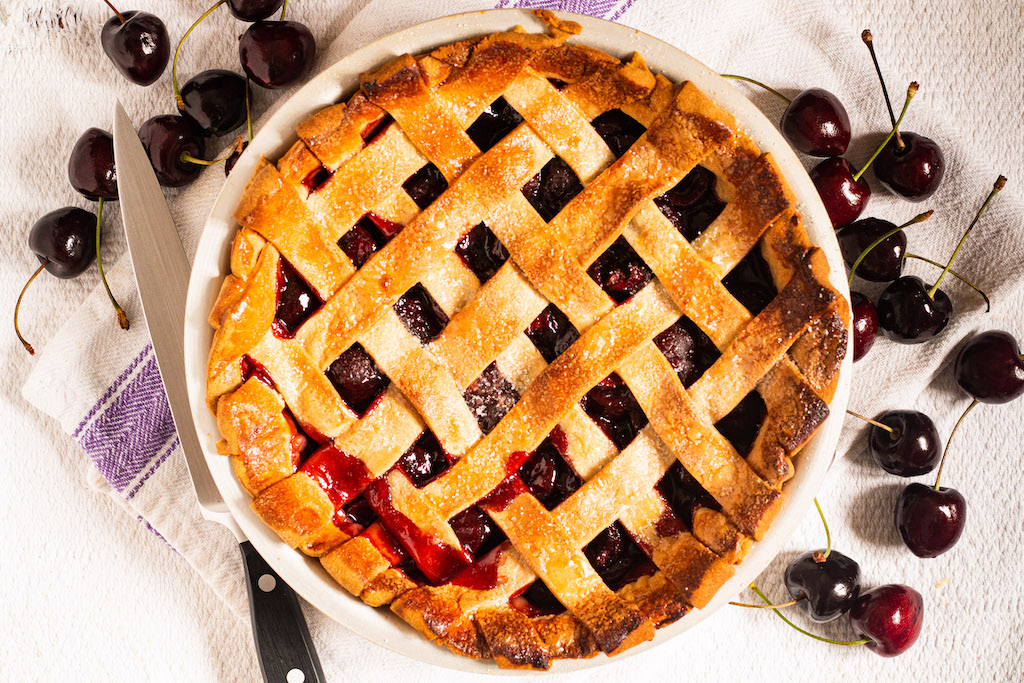 Print Recipe
Ingredients
Heat an oven to 200˚C.

For the pastry:

200g plain flour

100g unsalted butter, cubed and chilled

1 large pinch or salt

1 egg

1 egg yolk

A tiny bit of ice-cold water

For the filling:

800g cherries, stoned

135g caster sugar

1 tbsp cornflour

1 tsp vanilla extract

1 quarter tsp almond extract

25g butter, cubed and chilled

To cook:

1 egg, beaten

Half tbsp caster sugar
Instructions
2
Place all the ingredients except the water in a food processor and process until homogenous. With the motor running, add the water slowly by degrees until the pastry comes together as one lump. Remove to a board and knead until smooth.
3
Roll the pastry out and cut out into two circles to fit your pie tin. Line the pie tin with one circle, allowing the excess to drop over the edge. Cut the other circle into strips for the lattice. You can roll the pastry, cut a circle, combine the scraps and re-roll for the lattice strips.
4
In a large bowl, stir the cherries, sugar, cornstarch, lemon juice, vanilla, and almond extract together until thoroughly combined. Cover filling and place in the refrigerator as you roll out the pie dough or for up to 24 hours.
5
Separate the cherries from the juicier the bowl. Heat the juice in a pan and cook on low until reduced and thickened a bit. Cool.
6
Arrange the cherries in the pastry case and pour over the cooled sauce. Dot over with the cubed butter.
7
Make the lattice with the pastry strips, crimp and trim.
8
Brush over with the beaten egg and sprinkle with sugar. Place in the oven and cook for 55 mins or 1 hour. Start checking the pie at 40 mins and add a tin foil ring over the outer crust if it looks like it might burn. Remove and cool.