While beef noodle soup is an incredibly old dish originating in the Tang dynasty (618–907 AD), chicken noodle soup appears to be a more recent collision of two ideas: 1. Chinese noodle soup (see above); and 2. Chicken soup. It seems obvious to combine the two, and it may be that the Chinese were making a version of chicken noodle soup for centuries, but its ubiquity was cemented 1934 in a processed food factory in New Jersey.
by the 1930s, Westerners had been using chicken soup as a cure for a range of ailments of general malaise. Chicken soup is nourishing and very easy to digest for bed-ridden malingerers suffering from chills, agues, colds, fever and hangovers. Ernest Lacoutiere, a chef at the Campbell's Soup Company latched onto this idea and started to make and market a product known as 'Noodles with Chicken Soup.' Later, in 1939, a radio host scrambled the name by accident and uttered the term "Chicken noodle soup." Once that was in the wild, Campbell's soup flew off the shelves, the company changed the name to match its popular moniker, and a legend of the tinned food aisle was born.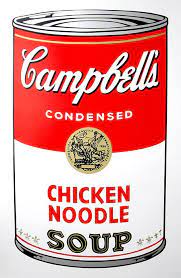 Our version of chicken noodle soup is a re-imagining of the dish in the post-hipster ramen age. We flavour broth with ginger and garlic, and garnish with chilli and eggs, just like our chilli beef noodle soup.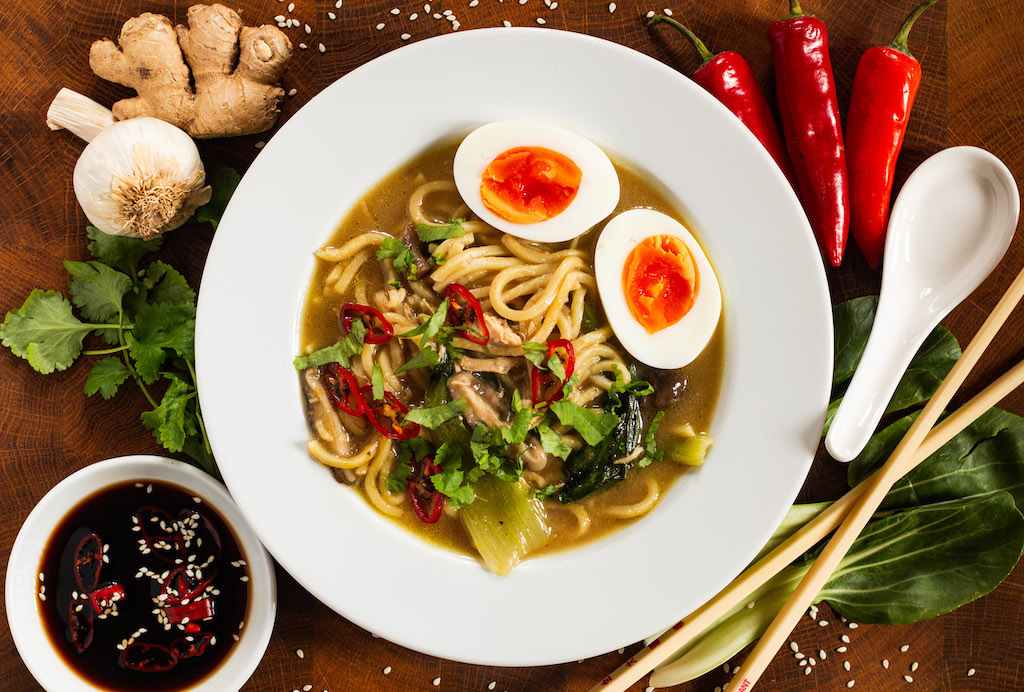 Print Recipe
Ingredients
4 eggs

Half a chicken jointed

1 litre chicken broth (see notes)

1 tbsp ginger-garlic paste

4 heads of pak choy, sliced

150g shiitake mushrooms, sliced

4 spring onions, sliced

100g noodles

2 tbsp soy sauce

Large pinch of MSG

1 red chilli, sliced

2 tbsp fresh coriander, chopped
Instructions
1
Begin by boiling the eggs. Prick the bottom of the eggs with a pin. Lower into rolling, boiling water and cook for 8 mins. Immediately run the pan under cold water to cool the eggs and prevent a sulphur ring forming. Peel the eggs under a running cold tap and slice in two. Set aside.
2
Bring the broth to a boil. Add the chicken and ginger-garlic paste, and simmer part-covered for 20 mins. Fish out the chicken and shred it with two forks.
3
Put the chicken back in the stock with the mushrooms, spring onion, noodles, soy sauce and MSG. Simmer 3–4 mins until the noodles are cooked.
4
Ladle the soup into bowls and garnish with the eggs, chilli and chopped coriander. Pour some soy sauce into a bowl with more sliced chilli to dip the chicken if liked.
5
Eat with chopsticks and a spoon.
Notes
To make the broth, put a couple of chicken carcasses in a stock pot with about 4 litres of water. Bring to the boil and simmer on very low with a loose lid for a day. Skim and strain. Freeze the excess broth for another day.