There are a string of Italian gelato flavours that are considered to be 'classic.' These are vanilla, chocolate, stracciatella, pistachio and hazelnut. While stracciatella has an invention story from Ristorante La Marianna in Bergamo, near Lake Como, none of the others have a real point of origin.
However, due to the distribution of agriculture in Italy, anything involving hazelnuts comes from Piedmont. This includes Nutella and gelato alla nocciola.

The recipe we have provided here is the result of quite a bit of research on gelato. The base gelato is from Sofia of London street food outlet Nonna's Gelato. Gelato uses no eggs, and is made almost entirely from whole milk. Milk solids are added to reduce the potential for icing. This preparation is nothing like the custard-based, traditional ice cream, and is a major point of confusion in some American-derived recipes for gelato. Ignore the Americans – the Italians are the only reliable source on the manufacture of this stuff.
The hazelnut flavouring is deadly simple. You can make your own hazelnut butter, but it is it important to use blanched, peeled hazelnuts rather than the ones with the skins on. Failure to do so will result in a gritty gelato. It is much easier to buy some hazelnut butter on Amazon.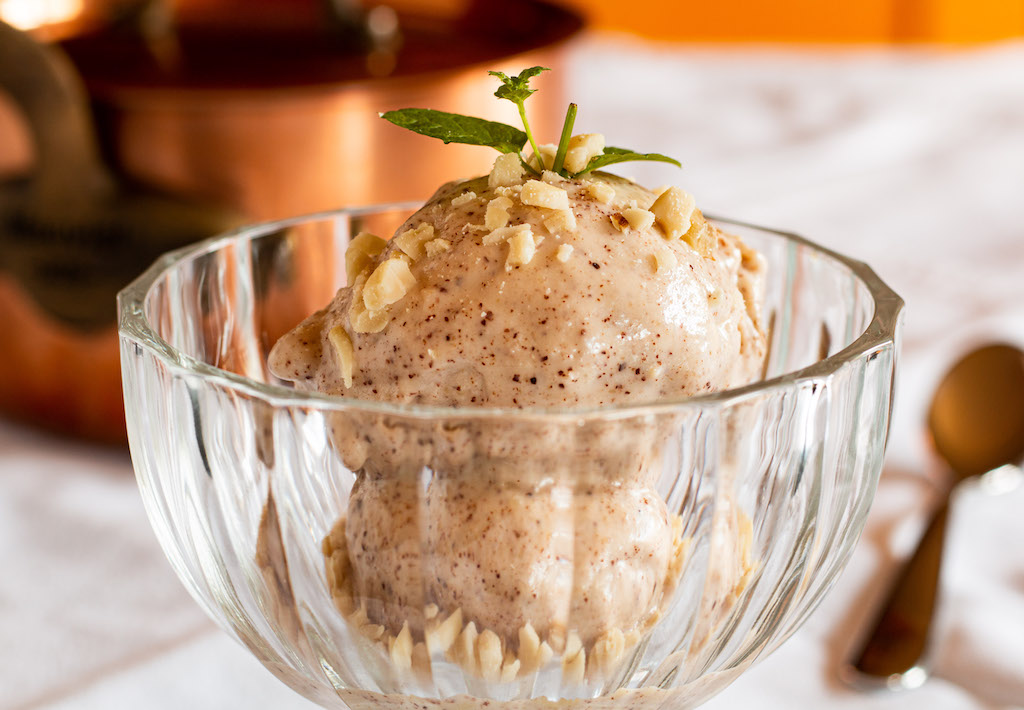 Print Recipe
Ingredients
For the basic gelato:

650ml whole milk

120ml double cream

180g caster sugar

45g skimmed milk powder

1 teaspoon cornflour

For the flavouring:

250g hazelnut butter
Instructions
1
Place the milk and cream in a saucepan over a medium heat. While it's warming, place the sugar, skimmed milk powder and cornflour in a measuring jug and mix well. When the milk reaches 40ºC, add the dry ingredients and the hazelnut butter. Whisk together and stir continuously until it reaches 85ºC.
2
Plunge the saucepan into an ice bath and stir occasionally. You are aiming to drop the temperature to 10ºC within 30 minutes. When the mix is cooled, scrape into in a sealed container and refrigerate for at least 4 hours, preferably overnight.
3
Once fully chilled, strain the mix through a fine sieve to remove any solids and blitz with a hand blender. Pour into an ice cream machine and churn until nearly frozen.