The Connaught hotel has stood in Carlos Place, Mayfair for 200 years. Originally known as the Prince of Saxe-Coburg, the hotel was later named for Arthur Duke of Connaught and Strathearn, who was a son of Queen Victoria.
Eggs Connaught is attributed to the hotel, and was first written down in the 1968 edition of the Cordon Bleu Cookery Course. Prawns are mixed into a lightly spiced sauce of soft cheese and Bechamel. Presentation is of its time, but it remains a great dish.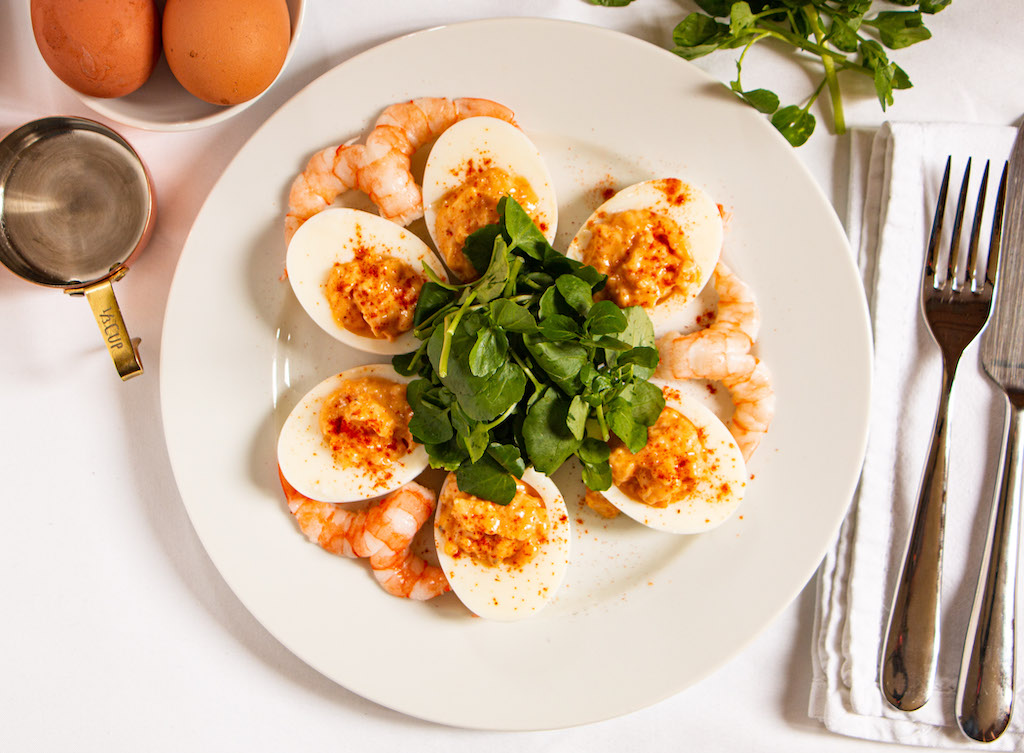 Print Recipe
Ingredients
6 eggs, hard boiled

125ml milk

30g butter

1 slice of onion

1 blade of mace

6 peppercorns

100g butter

1 tbsp plain flour

Sea salt and freshly ground black pepper

2 tbsp soft or cream cheese

1 tsp paprika

115g prawns/shrimp, cooked and shelled

Watercress to garnish
Instructions
1
Put the milk in a small pan and add the onion, mace and peppercorns. Bring briefly to the boil can leave to infuse off the heat.
2
Heat 30g butter, heat gently and whisk in the flour. Strain the infused milk into the butter and flour and add salt. Stir continuously, bring sauce to the boil and cook for 1 minute.
3
Split the hard boiled eggs in two, scoop out the yolks and rub through a wire strainer; keep the whites in a bowl of water as they will soon get hard if exposed to the air. Work the yolks with the butter, cheese, paprika and cold sauce. Chop half the prawns finely, add to the mixture and season to taste. Drain the dry egg whites and have ready a round serving dish or use a cake platter.
4
Spoon a drop of filling on to the dish to hold each egg white in position, arrange them in a circle and then fill each with the mixture. Scatter over the remaining prawns and dust with paprika. Place the watercress in the middle and serve brown bread and butter separately.