Pâté appears to have arisen in France in the 1600s when the aristocracy needed a way of preserving the biblical quantities of game they shot every weekend. There are a billion variations of pâté, but the easiest to produce is a 'country pâté' known as a 'pâté de campagne.' The classic version of this that does the rounds on recipe sites all over the Internet is the one that Raymond Blanc published in his 2002 book Simple French Cookery. The recipe given here leans heavily on that of Blanc, but simplifies the meat quantities and uses a mincer rather than a food processor.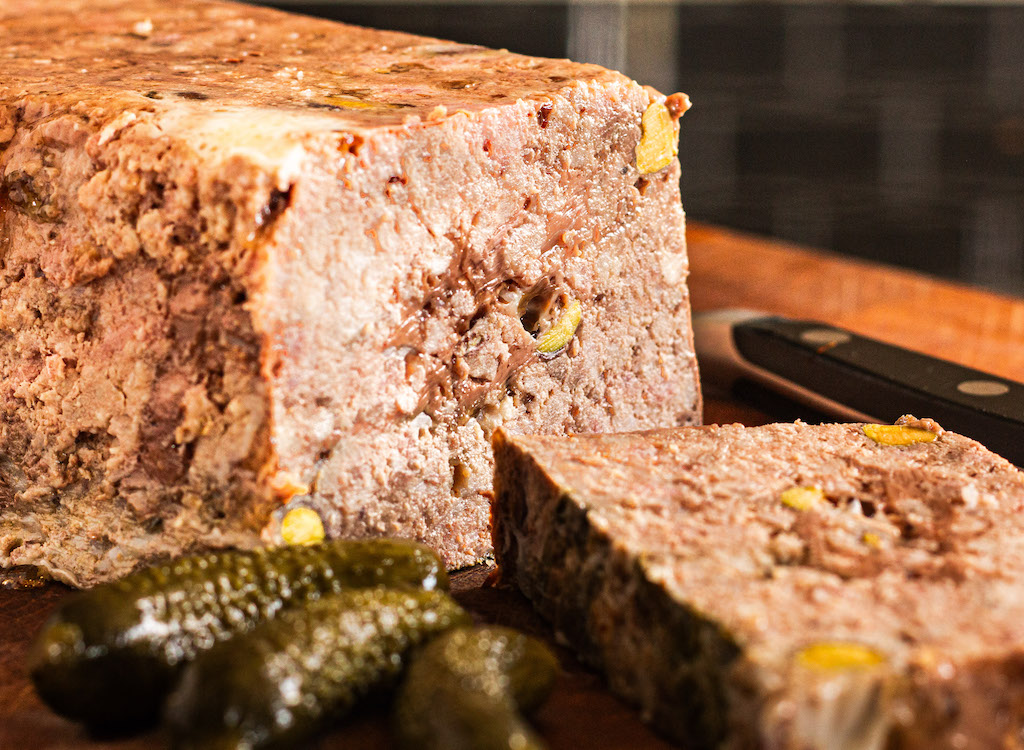 Print Recipe
Ingredients
For the pâté mix:

250g pork shoulder, diced

250g pork belly diced

250g streaky bacon chopped

250g pork liver diced

1 egg

1 scant tsp salt

Few twists of freshly ground black pepper

6 juniper berries crushed

0.5 tsp five spice

0.5 tsp thyme, picked and chopped

50ml white wine

2 tbsp cognac

50g pistachio nuts, shelled (see notes)

To assemble for cooking:

3 bay leaves

3 sprigs of thyme

3 sprigs of anything else you can find fresh (e.g., rosemary, hyssop, oregano, tarragon, chervil)

Fresh bay leaf

2 sprigs

Fresh thyme
Instructions
1
Start by mincing all the meats and offal on a medium grind setting. Add all the other ingredients, mix by hand (squish) and transfer to a terrine mould.
To complete for cooking and to cook:
3
Tamp down the terrine to ensure it is compact and then lay the fresh herbs over the top. Cover with a piece of baking paper cut to size.
4
Place the terrine in a hot bain marie (2 thirds height on the pre-heated [boiled] water) and cook for 1 hour until firm and 70˚C in the centre (use a probe). Cool and refrigerate for 2 days.
5
To turn out, peel off the baking paper, place the terrine mould in a baking tray containing hot water, and run a hot knife (heated in a mug of hot water) around the edges. Turn out onto a chopping board. Serve with a fresh baguette and cornichons.
Notes
The pistachios can be swapped for almonds or hazelnuts.