Salted caramel is, on the face of it, a peculiar idea – adding salt to sugar does not make a tonne of sense, until you try it. The global craze for salted caramel probably began in the 1960s when Brittany-based chocolatier Henri Le Roux opened a candy store. Brittany is known for its abundance of locally-produced salted butter, and it was Le Roux, looking for a way to use the stuff, who hit in the idea of making salted caramel candies based on a 1940s idea already present in French cookbooks of the era. In 1980, Le Roux was fêted for his invention by the international de la confiserie in Paris with the accolade of 'Best Sweet in France.'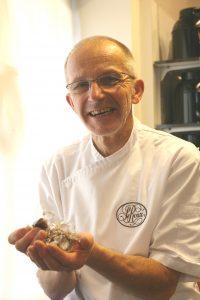 Salted caramel grew in popularity, and eventually somebody made ice cream with is. Nobody seems to know who did this and when, but evidence from our Twitter friend Elisabeth Neveux indicates that salted caramel ice cream was in Brittany for many years, frequently plopped atop the buckwheat galettes that are also popular in that area.
Between Henri Le Roux in the 60's and the 2000s, there is nothing to read about salted caramel ice cream, but we do know that the first commercial tubs of it are claimed to be packaged and sold by Häagen-Dazs of Brooklyn Heights, New York in 2008. Doubt can be cast on that because direct contact between Elisabeth Neveux and Le Sanchez ice cream makers of Saint Malo, Ille-et-Vilaine, Brittany indicates that Le Sanchez was selling it in quantities by 2006.
The recipe given here is my own. I take the basic ice cream recipe from the Nick Nairn Cook School (glucose syrup prevents icing), and add salted caramel recipe I have relied on for years. Adding the caramel to the ice cream base is done by taste, but the recipe gives an idea on how much to aim for.
Le Sanchez artisan glacier can be found at 9 Rue de la Vieille Boucherie, 35400 Saint-Malo, France.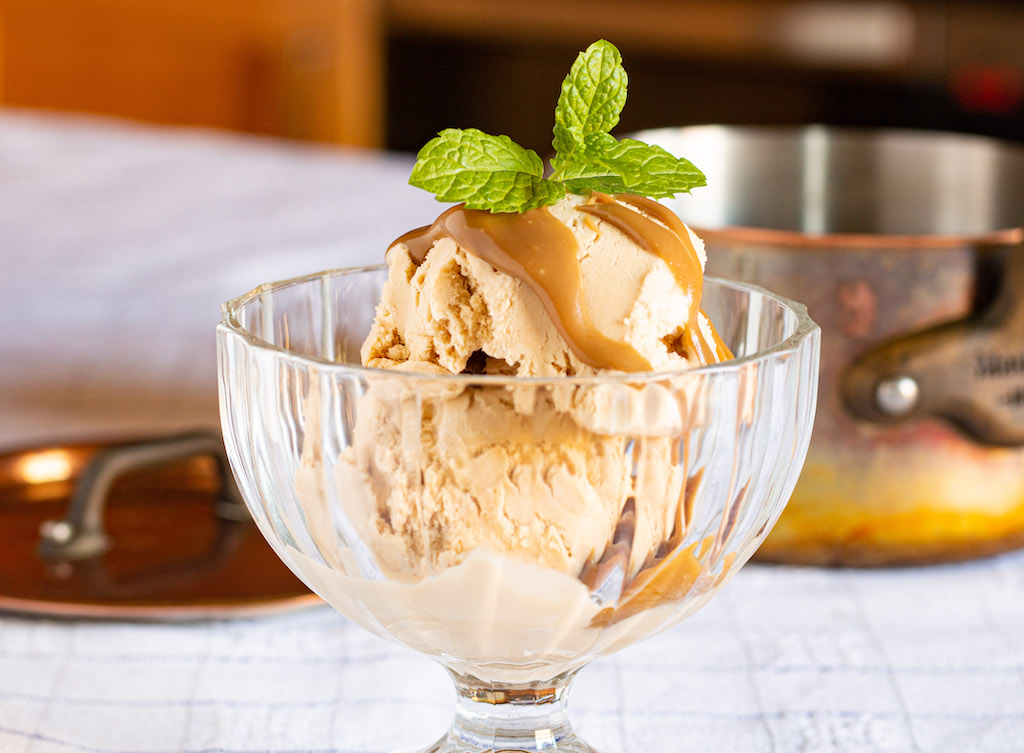 Print Recipe
Ingredients
For the ice cream:

300ml full fat milk

300ml double cream

30g liquid glucose

5 egg yolks

90 g caster sugar

For the salted caramel:

175g brown sugar

300ml double cream

50g butter

Half tsp salt
Instructions
1
Put the milk and cream in a pan, bring to the boil and remove from the heat. Stir in the glucose. Set aside.
2
Beat the egg yolks and sugar until fluffy and pale (use a stand mixer).
3
Reheat cream a little (just to make it flow, but not enough to scramble the eggs) and add it to the bowl with the eggs while whisking (just run the stand mixer and slowly put the cream in).
4
Scrape mixture back into the pan and heat slowly to 82˚C (use a thermometer) to thicken to coating consistency – do not boil or it will split). Strain to remove lumps and cool with some cling wrap on the surface to prevent skinning.
To make the salted caramel:
5
Heat all the ingredients over low until sugar dissolves. Up the heat and bubble until syrup. Cool.
6
Add the salted caramel to the custard to taste. You will use a little over half of it. Keep the rest to garnish your ice cream when you serve it.
7
Churn the ice-cream in a machine, transfer to a plastic carton and freeze.