Bubble and squeak is a basic, peasant-oriented dish that uses up almost any kind of leftover crap. It has probably existed for quite a long time. In 1735, William Bulkeley, MP for Beaumaris made two trips to Dublin where he discovered colcannon. This was brought back to England where the aristocracy apparently took it as their own simply because it sounded more exotic than the bubble and squeak their servants where eating. However, the two dishes are essentially the same thing, albeit the B&S is secondarily cooked.
Bulkeley's travels indicate that bubble and squeak was being eaten in the 18th Century, but it took until 1806 for Maria Eliza Rundell (1745–1828) to write a recipe down. This was printed on page 42 of her New System of Domestic Cookery, and it goes like this:

So, we can see here, that bubble and squeak originally included pre-cooked meat. Over time, the meat has been lost along the way, and the cabbage has become interchangeable with just about anything. Adding onions gives some sweetness to offset the bitter leaves.
The recipe given here is based on that of Gary Rhodes, but we form the bubble and squeak into cakes a little differently.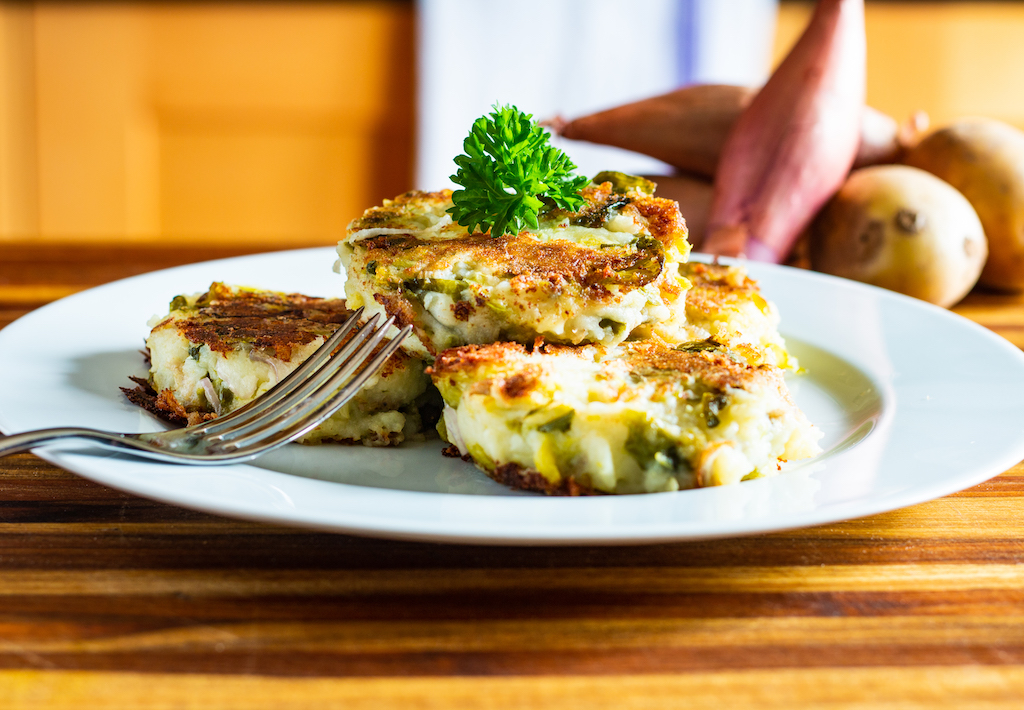 Print Recipe
Ingredients
2 large onions, sliced

50g unsalted butter

750g leftover mashed potatoes

450g leftover Brussels sprouts, chopped up

2 tbsp vegetable oil

Sea salt and freshly ground black pepper
Instructions
1
Fry the onions in half the butter until soft. Combine with the potatoes and sprouts and season. Form the mixture into cakes by pressing into a mould ring or a cookie cutter.
2
Heat a frying pan with the oil and remaining butter. Fry the cakes until golden on both sides, taking care when you turn them.