The unstoppable, long-lasting trend for large starter-sized ravioli (known as 'raviolo') on British restaurant menus probably has its origin with Marco Pierre White. In 1987, White opened Harvey's in Wandsworth, London. It was an instant sensation and won three Michelin stars, before White eventually moved on in 1993.
The menu included a legendary lobster raviolo that was featured in White's cook-book-cum-photo-essay White Heat. Gordon Ramsay, who trained under MPW took the idea to Restaurant Gordon Ramsay (three stars) where it sits on the menu to this day as Ramsay's 'signature' dish.
This recipe for crab ravioli follows the lead from Richard Corrigan who produced it as a main dish for Great British Chefs. We had his version planned, and then ended up with more people for dinner, so we stretched it out as a primi, MPW-style, and then banged out some pizzas as secondi. It was a huge hit, even with our 12 year-old.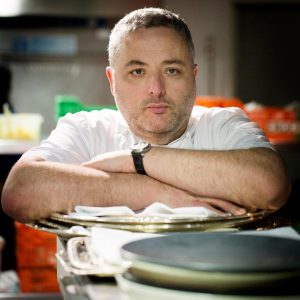 So far as preparation goes, this dish is ridiculously easy if you can handle fresh pasta. Buy pasteurised crab meat and a tin of lobster bisque. All you really need to is make the pasta and assemble the dish.
We accept that Richard Corrigan probably preps his own crab and lobster.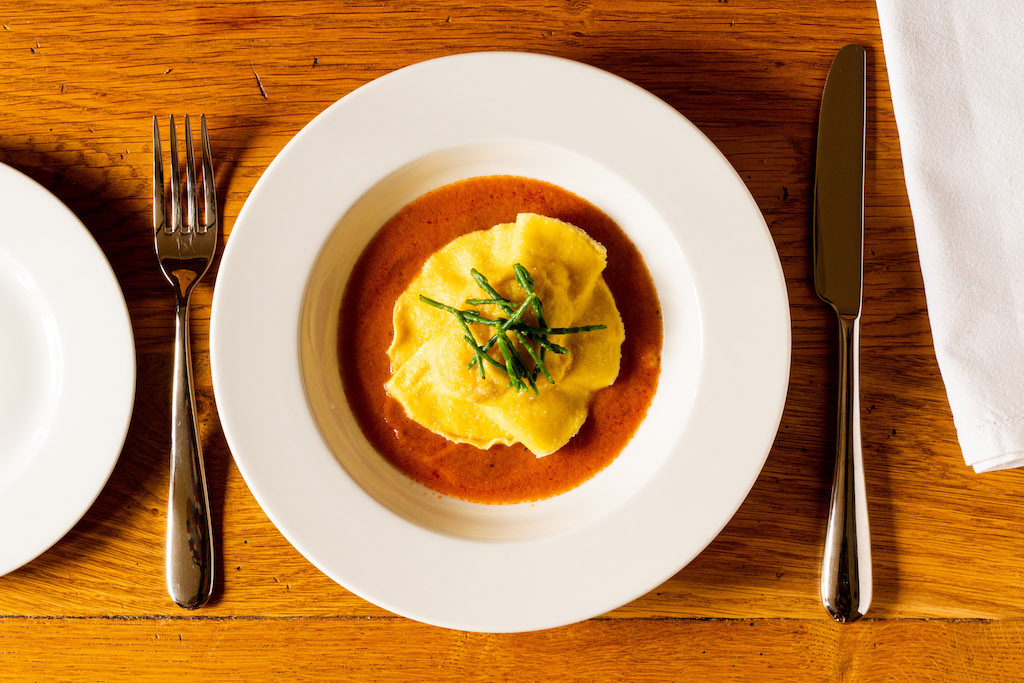 Print Recipe
Crab raviolo with lobster bisque
Ingredients
300g of cooked crab meat

100g of pasta flour

1 egg for the dough

Half an egg beaten and lightly salted for the egg wash

1 pinch of saffron strands

100g of samphire

1 can of Baxter's lobster bisque

Olive oil

Salt and freshly ground black pepper
Instructions
1
Begin by making the pasta. Place the saffron in a small pan with 100ml water, and simmer until almost dry. Strain to reserve the liquid and discard the saffron strands. Whisk the whole egg together with the saffron water.
2
Tip the flour onto a worktop and make a well in the centre. Pour in the saffron egg, and then knead into a springy pasta dough. Wrap and chill the dough for 30 mins.
3
Roll out the pasta with a pasta machine until quite thin. Keep the pasta from sticking using flour or semolina. Lay out sheets of pasta and brush on one side with the egg wash. Make balls of crab meat and place them on large cut circles of pasta. Place another circle of pasta on top of each one and pinch the egged surfaces together to make the ravioli parcels.
4
Heat and season the bisque. Blanch the samphire briefly in boiling water, and chill rapidly in iced water. Drain and dress the samphire with olive oil.
5
Cook the raviolis for about 2 minutes in salted boiling water.
6
Serve the ravioli with the warm bisque and garnish with the samphire.