Andrew has already covered the history of Eton mess as a British summer dish invented at the famous Eton College, and probably never called 'Eton mess' within its own walls. However, Andrew's version was more of an exploration of molecular cooking than a quick, kid-friendly dessert that can be whipped up in moments.
The dish described here is the original Eton mess.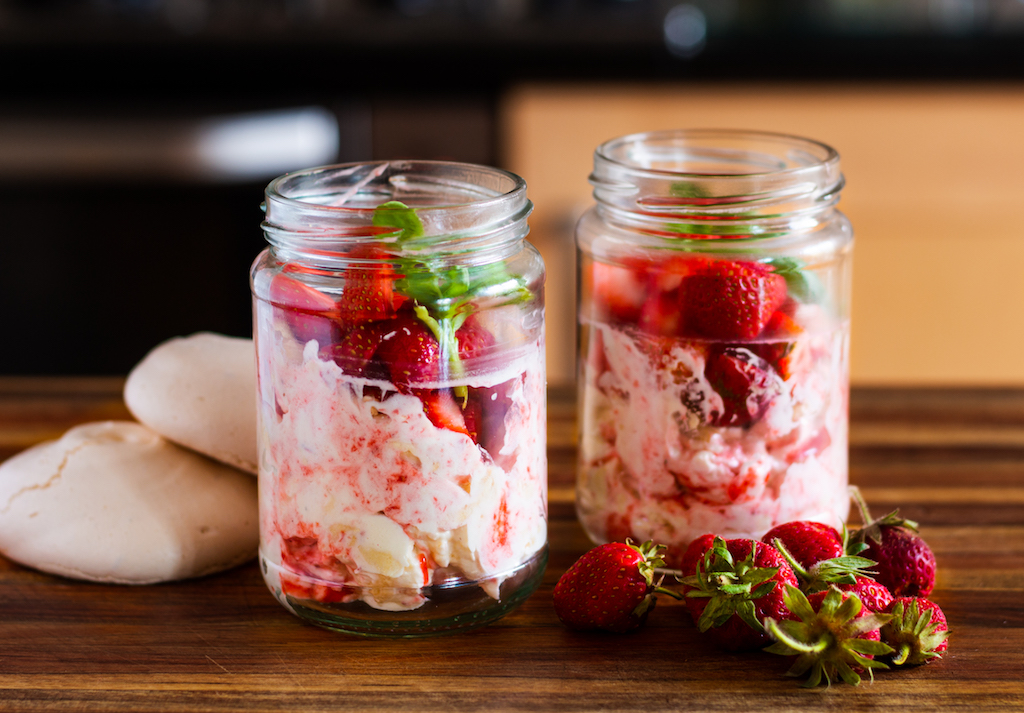 Print Recipe
Ingredients
For the meringes:

3 egg whites

175g caster sugar

For the coulis:

1 handful of strawberries, hulled

1 tbsp icing sugar

To finish:

3 more handfuls of strawberries, hulled and halved

150ml double cream

A few sprigs of fresh basil or mint if liked
Instructions
2
Whisk the egg whites to soft peaks. Gradually add the sugar while mixing and whisk to soft peaks again. Spoon equal, tablespoon-sized blobs onto a baking sheet lined with baking paper. reduce to oven to 140˚C and bake the meringues for 1 hour. Switch off the oven and allow to cool.
3
Add a handful of whole strawberries to a blender with the icing sugar. Blitz until puréed.
4
Whisk the double cream into soft peaks.
5
To assemble the dish, combine the cream with the broken meringues, and gently fold in the coulis to create a marbles effect. Portion the mixture into bowls, glasses or jars and add the chopped strawberries. Pour over any remaining coulis as a garnish. Add a sprig of basil (or mint) for summer colour.
Notes
You can make more meringues than you need. Bag them and store them in a cool, dry place to enable rapid, al-minute Eton mess manufacture.