Supplì are the Roman version of arancini di riso, whereby both dishes are made of breaded, deep-fried risotto. Where arancini often contains ragú (frequently with peas), supplì are a far simpler affair that most often combines a plain or saffron risotto rice with mozzarella as the filling. The term 'supplì' comes from the Anglo-French 'surprise,' presumably because of their tasty, hidden centre.
Supplì are still a popular snack in Rome, and are often found as an antipasti in pizzerias. The beauty of supplì lies both in their simplicity and in their original intention as a means of using up leftover risotto. There are a few ways of making them. The easiest is to mix torn mozzarella into the rice, ball the mixture, bread and fry it. A clever variation is to put a dent in the ball, fill it with a whole piece of mozzarella, and then cover over. This type is sometimes called supplì al telefono, because the gooey, melted cheese centre stretches out like a telephone cord when the morsel is broken in half. Roman supplì are often made using rice that has been cooked in tomato sauce. In the recipe we have provided here, we have used saffron risotto (alla bianco).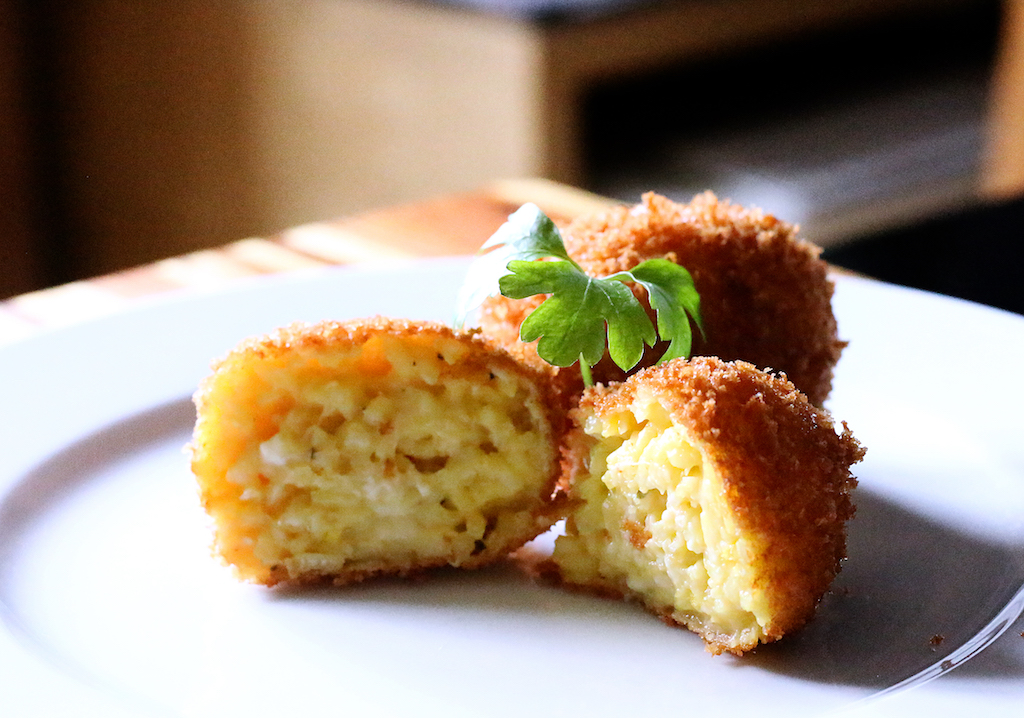 Print Recipe
Ingredients
200g leftover saffron risotto, cooled

150g fresh mozzarella, torn into small pieces

50g parmesan, finely grated

2 eggs, beaten

2 mugs of breadcrumbs
Instructions
2
Mix the cheese into the rice. Ball the rice into rounds just larger than a golf ball.
3
One by one, roll the rice balls in the egg to thoroughly coat before rolling in the breadcrumbs.
4
Fry the supplì in small batches (two at a time) until golden.
5
Serve immediately so the cheese stays molten.
Notes
The uncooked, breaded supplì can be frozen very successfully.