In his most famous exchange of wit, British Prime Minister Winston Churchill crossed swords with Labour MP Bessie Braddock who had accused Sir Winston of being drunk in the House of Commons. Startling for its audacity, Churchill's response was:
"Bessie, you are ugly. But tomorrow I will be sober, and you will still be ugly."
While faintly incredible, this comment has been confirmed by several eye-witnesses who were there the moment that the ultimate verbal smack down was delivered.
There is no doubt that Winston Churchill liked to maintain a blood alcohol level well above zero. His drinking habits are the stuff of legend. To this end, Churchill preferred to begin his day with what he called 'mouthwash.' This was a fairly weak Johnny Walker and soda that he would sip from about 09:30, and top up all morning.
At lunch time, the covers were thrown off his drinking guns. The great man would help himself to a 1-pint bottle of Pol Roger (this size is no longer available), which he drank from a silver tankard. Estimates suggest that he drank something like 42,000 bottles of Pol Roger Champagne in his lifetime. Much of this excess was fuelled by his 'enabler,' Odette Pol-Roger, the Grand Dame of the winery, who kept Churchill supplied with Champagne in gratitude for the 1944 liberation of France. When Churchill died in 1965, Pol Roger marked the occasion by putting a black border around their labels for UK export.
Once the champers was exhausted, Churchill's lunch would conclude with a snifter of cognac, after which the PM would switch back to his watery Red Label 'cocktail.'
Pre-dinner drinks would be a sherry, or possibly a Martini. Churchill did not care for fancy, sugary American cocktails, and preferred his Martini mixed thusly:
"I would like to observe the vermouth from across the room while I drink my Martini."
For dinner, claret and another pint of Pol Roger were swallowed for the attention of his Right Honourable liver. Port or brandy would be consumed afterwards. At this point, Churchill would put in a load of ministerial work, which justified him to quip:
"I have taken more out of alcohol than alcohol has taken out of me."
In Christmas of 1941, Churchill decamped with half his staff to the White House in Washington DC. In preparation for the visit, the US Administration purposefully stocked up on brandy, Champagne and whisky lest Churchill run them dry. Franklin D Roosevelt made a great and famous friend in Winston Churchill, and the two would sit up into the small hours drinking brandy and smoking cigars. The White House staff called these nocturnal sessions 'Winston Hours.'
After the visit, which ended shortly after New Year 1942, FDR reportedly slept for ten hours a night, three nights running, in order recover from the rigours entertaining Britain's most celebrated premier.
In 1953, at the age of 76, Churchill decided to reduce his drinking. He announced:
"I am trying to cut down on alcohol. I have knocked off brandy and take Cointreau instead."
The cocktail recipe provided here comes from the ChefSteps team, who set out to create a homage to Churchill's morning routine of whisky, soda and a cigar. However, in their recipe, they dropped an entirely predictable American clanger by using American rye whiskey (with an 'e') instead of the Scotch whisky (no 'e') favoured by Churchill. This is obviously unacceptable, and The Nosey Chef is bringing this back home to Blighty and putting the Scotch back where it belongs.
We will never surrender.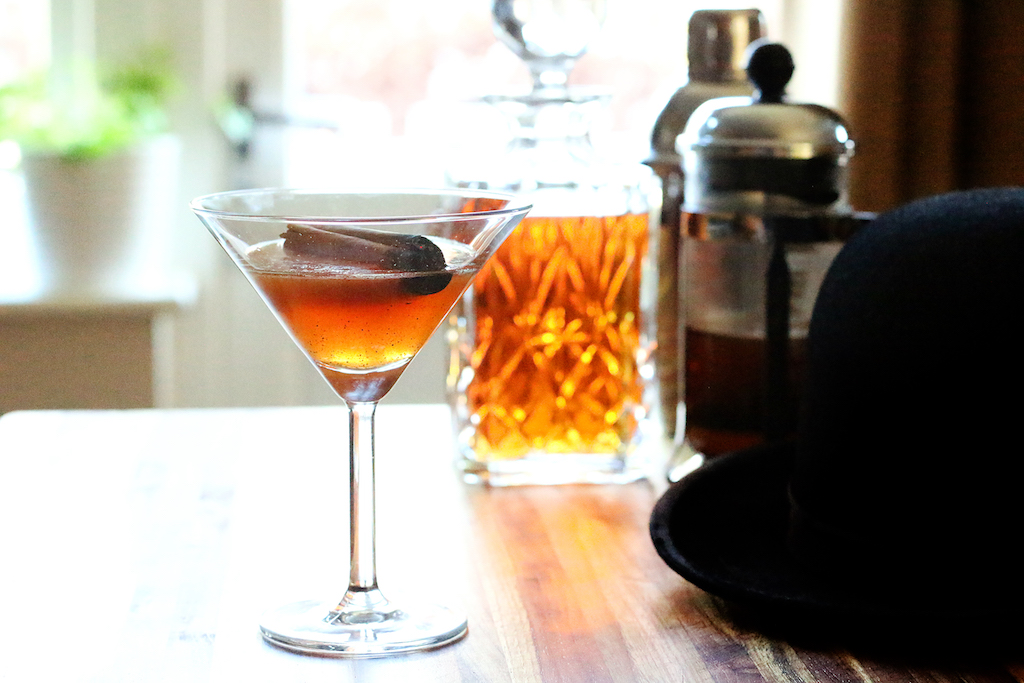 Print Recipe
Ingredients
60ml blended Scotch whisky (Johnnie Walker Red Label if you have it)

25ml cold-brewed coffee

15ml (15g – easier to weigh this) maple syrup

1 dash angostura bitters

1 cinnamon stick
Instructions
1
Chill a Martini glass or coupe in the freezer for a few minutes to get a frosting of condensation on it. Light the end of a cinnamon stick with a gas flame, and let it smoke. Place the smoking end of the cinnamon stick under the upturned glass.
2
Shake the liquid ingredients over ice. Grate some of the unburnt end of the cinnamon into the smoked glass with a fine grater or microplane. Pour in the cocktail and garnish with the now doubly molested cinnamon stick.