As we have found with so many drinks, there is this single, quite specific story that seems to follow limoncello around – this is the tale of Nonna Maria, and her Sorrento-born brew. However, like so many other drink stories, there are the usual, slightly more pedestrian versions involving Moors and Saracens, that cast doubt on the entertaining tale of this classic tipple. So, rather than arguing the bit, here is a basic list of the principal claimants to the invention of limoncello:
1. Nonna Maria: In the 1900s, Lady Maria Antonia Farace, of the guesthouse Isola Azzurra in Sorrento, cultivated a lovely garden, rich with lemons and oranges. Once the Second World War was over, her nephew opened a bar close to the villa of the Swedish physician Axel Munthe. The nephew had his 'nonna's' limoncello available to buy. Later, in 1988, the bar owner's son, Massimo Canal, started to make small-batch limoncello, and it was he who trademarked the name 'Limoncello.'
2. Monks: Monks used to get bored between prayers and started to infuse distilled alcohol with lemon to pass the time. I love the fact that monks seem to spend an inordinate amount of time making booze.
3. Saracens: Farmers and fishermen started using limoncello to ward off the cold, with this practice believed to have emerged around the time that folks from the Middle East were concerning themselves with Southern Europe – often with a sword. This may or may not have co-incided with the general practice of lemon cultivation. The problem I have with this is that this version of events is centred on Amalfi, where it really is not so chilly as to require medicinal alcohol.
Regardless of the origin of limoncello, the people of Capri, Sorrento and Amalfi, while all laying claim to its invention, agree that the drink is best made with Sorrento lemons.
The classic way of making limoncello is to soak lemon zest in alcohol for a week, before the addition of sugar, and straining. However, The Nosey Chef has run across another method of making it that delivers a really fresh limoncello, with none of the thick sweetness of the editions you might buy from a shop. The recipe comes from Franny's in Brooklyn, New York, and was blogged by Gizmodo writer Brent Rose in 2014. In this method, lemons are suspended over vodka in a sealed jar, and the alcohol percolates through the lemons for a month. The drink is finished off with syrup, and a quick exposure to the zest of a couple of fresh lemons. We realise that this is not 'autentico,' but it is a remarkable version of limoncello, and we recommend you try it.
Franny's used to be found at 348 Flatbush Ave, Brooklyn, NY 11238, but it sadly closed in August 2017. So, if you want to try limoncello made this way, you are going to have to have a go yourself.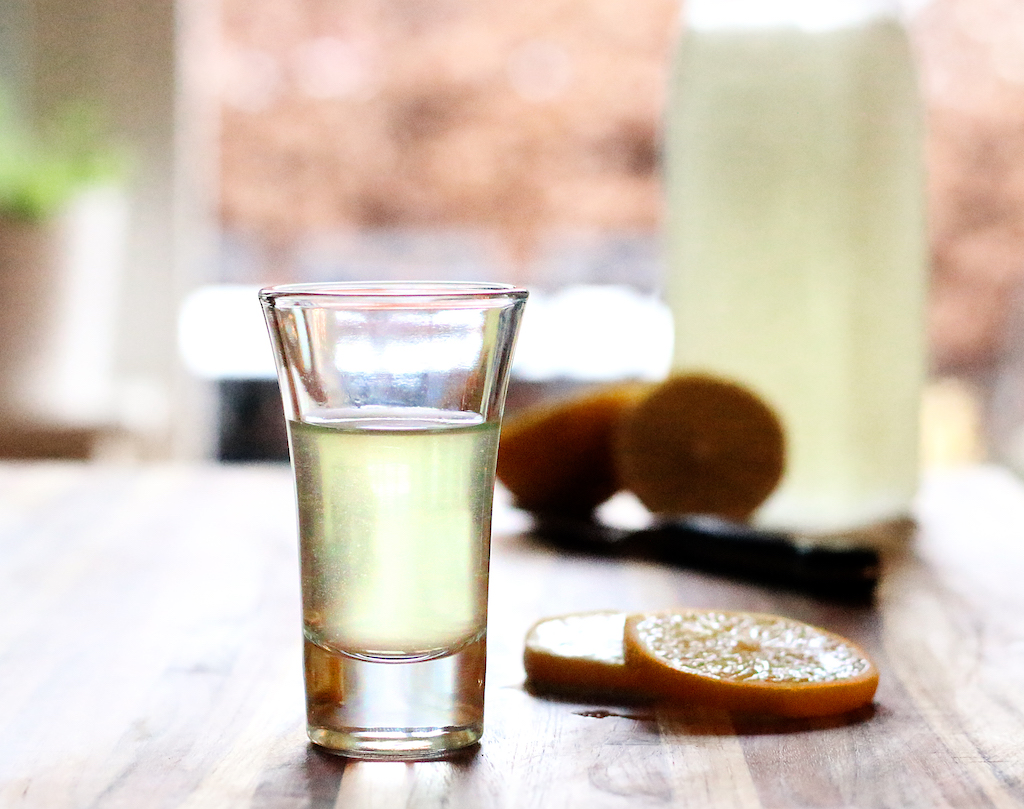 Print Recipe
Ingredients
750ml bottle of good vodka (we use Russian Standard)

4 organic lemons, rinsed

350ml simple syrup (50:50 water and sugar)
Instructions
1
Pour vodka into a large, clean pickling jar. Wrap 2 of the lemons in muslin and suspend over vodka – take care to make sure they do not touch the liquid. The easiest way to do this is to tie the muslin with a cable tie and then trap the tie in the lid of a Kilner pickling jar. Leave in a cool, dark place for 1 month.
2
After one month, discard the percolated lemons, add the syrup and the fresh zest of the second two lemons. Shake, and then rest for 15 mins.
3
Strain the mixture through a fine sieve, bottle and store in the freezer.
4
To serve, freeze your shot glasses, pour the limoncello and get smashed.
Notes
Limoncello is rather good if poured over ice cream in a similar fashion to an affogato.