At Nosey Chef we love a good yarn, just ask our poor wives. Our posts are usually about the history of a dish, or how we happened to have first encountered it. But there is also a story to be told in how an idea can become a disaster, and in turn become a spectacular save. With today's recipe, I'd like to tell the tale of an idea, chocolate fondants, edible soil, and a possibly unrepeatable happy accident.
Being a self-taught cook, chocolate fondant was one of those dishes that, if the truth be known, I was a wee bit scared of. I think I had seen too many MasterChef hopefuls destroyed at the last moment under the withering stare of Greg Wallace, who would lay down the soul-destroying cockney one liner:
"It's not great, is it mate?"
Similarly, making one of these fancy dessert 'soils' we read about on high-end restaurant nenus looked to me both baffling and difficult.
On close inspection chocolate soil is actually a doddle. The confection is made by simply heating sugar and chocolate to which water is added. Chocolate fondant pudding, previously in my 'I can never get that right' box, is really no more difficult than undercooking a chocolate brownie – and many home cooks are banging brownies out for Cake Day in the office – some of them undercooked.
And really, if your friends are your friends, then messing up a dessert will at least give you something to laugh about while to polish off the wine into the small hours while the smell of burning subsides – nothing to lose apart from some mis-placed pride. None of us are cooking for Charles Campion with a Michelin Star hanging in the balance.
I recently had some friends over for supper and I thought, "Sod it, I'm going hang my arse out over the dizzying edge of chocolate fondants." I found a nice recipe, and the end result was, even if I say so myself, rather good, surprisingly easy to execute, and it appeared to meet with the approval of everyone around the table.
Of course, making a half-baked brownie is not really in the spirit of The Nosey Chef. I decided, on that day to really push the technical and flavour combination stuff. Marco Pierre White wrote in famous cookbook/manifesto/glamour magazine White Heat:
"Anyone who says they have invented a dish is just bullshitting. You'd need to invent new ingredients before you could invent new dishes."
What he means by this is that flavour combinations are well known, often handed to us by nature – the cook is just the technician who gives it shape. Chocolate fondant is just eggs, flour, chocolate and sugar, and there are only a handful of ways to combine that to make something a human can eat. So, I thought a bit beyond dessert basics and decided that beetroot was the way to go.
Chocolate and beetroot is one of those established flavour combinations that MPW alludes to in his sweary soundbite, so it didn't take long to find a recipe from a 'celebrity' chef, and hey presto I was three quarters of the way to the finished article. At this point I was thinking about how it was going to look on the plate, and I hit on the idea of using the chocolate soil to anchor a quenelle of beetroot ice cream to stop it from sliding around and creating messy collateral damage. You can achieve the same level of engineering using crumbled biscuits, like shortbread.
So, thus far, I have chocolate fondants, beetroot and chocolate ice cream and chocolate soil. None of that went wrong, so what about my accident? Well, I wanted to make something both earthy and sweet with beetroot to compliment the other flavours of the dish and bring it together. The original idea was for glacé beetroot cubes. The glacéing process has been around for centuries, and involves replacing the water content of (most commonly) a fruit, with sugar. That would have been fine, had I not looked at the neat purple cubes sitting in a Kilner jar of thick syrup, in the fridge, and thought, I can do better than that. So, having tipped said cubes back into a pan with the intention of just thickening up the syrup a bit, what I actually got were beetroot Fruit Pastilles (other soft, chewy, sugar coated sweets are available). So, the beautiful iridescent, deep pink, crystalline cubes that decorate the plate in the photo, and actually provide a tiny bit of crunch, were the result of an accident created by a basic misunderstanding of the properties of warm sugar.
There you have it – my own dessert of smoked sea salt chocolate fondant, served with chocolate and beetroot ice cream on a bed of chocolate soil, with crystallised beetroot cubes. I am going to call this my 'signature' for as long as it takes me to come up with something else that makes me smile as much as this did. The process of coming up with it reminded me happily of some principles I try to bring to my cooking:
Push my boundaries – be bold, and experiment, dress it up for parties and down for the kitchen table
Stuff is often way easier than I think – very few things are beyond the abilities of a domestic cook who can read
Embrace my errors
Use my imagination enjoy cooking for my friends and family.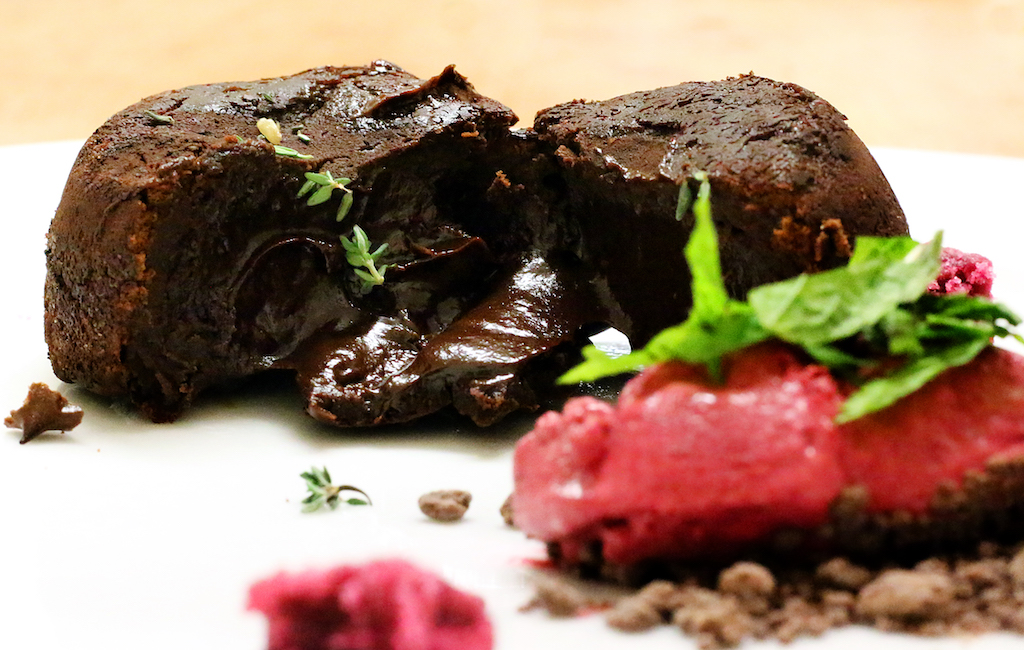 Print Recipe
Smoked sea salt chocolate fondant, with chocolate and beetroot ice cream and chocolate soil, with crystallised beetroot cubes
Ingredients
For the puddings:

200g dark chocolate

30g unsalted butter, softened plus extra for greasing the moulds

1 tsp cocoa powder

100g caster sugar plus half a tsp for dusting

2 whole eggs and 2 egg yolks, beaten together

30g plain flour, sieved

1 tsp smoked sea salt

For the ice cream:

300g beetroot

4 egg yolks

100g caster sugar

200ml double cream

300ml whole milk

100g dark chocolate

For the chocolate soil:

70g dark chocolate

100g caster sugar

2 tbsp water

For the glacé beetroot cubes:

2 whole beetroot

1 cup granulated sugar

1 cup water
Instructions
1
Preheat the oven to 200°C.
2
Start by making the puddings. Grease the inside of the pudding moulds. Mix half a tsp of caster sugar with half a tsp of cocoa powder and use this to dust the inside of the greased moulds. Double line the moulds using 2 circles of parchment and place the prepared moulds into the fridge.
3
Melt the chocolate, preferably using a double boiler. Remove from the heat and set aside.
4
Cream the butter and sugar using a food processor until pale and fluffy. With the blade still running, pour in the beaten egg in a steady stream, followed by the flour and the sea salt. Lastly add the melted chocolate until fully combined.
5
Fill the moulds and bake for 10 minutes.
6
To make the ice cream, roast the beetroot in the oven at 180°C in a dish with 1cm of water to prevent them from drying out, covered with foil, for about an hour or until tender. Remove and leave to cool.
7
Whisk the egg yolks with the sugar until pale and fluffy.
8
Pour the cream and the milk into a heavy bottomed pan and heat gently to the scalding point (82°C) which approximately 20°C below the boiling point. Add the scalded milk and cream to the beaten egg and sugar slowly, whisking all the time. At this temperature the milk is hot enough to start cooking the eggs in the custard mixture without causing the mixture to curdle. Return the custard to the saucepan and stir continuously over a low heat until the mixture begins to thicken, enough to coat the back of the spoon (known as the nappé stage in classic French cooking). Pour into a clean bowl and allow to cool, stirring occasionally to prevent a skin forming.
9
Peel the cooled roasted beetroot, chop roughly and place into a liquidiser with the remaining 100ml of milk. Blitz to a smooth pureé and add to the cooled custard. Melt the chocolate, preferably in a double boiler and add to the beetroot custard base, stirring until fully incorporated.
10
Churn using an ice cream maker and transfer to an airtight container in the freezer.
11
To make the chocolate soil, heat the sugar and water gently in a clean pan.
12
Roughly cut the chocolate into small pellets.
13
When the sugar reaches 130ºC remove from the heat. Add the chocolate pellets and whisk until the sugar and chocolate have formed into soil grains.
14
Once cooled the soil can be kept in an airtight container.
15
To make the glacé beetroot cubes, peel the beetroot and carefully cut into 1cm cubes.
16
Place the sugar and water in a clean pan and gently bring to the boil. Once the sugar has completely dissolved add the beetroot cubes. Continue to boil gently until the syrup has reduced to the consistency of clear honey. Allow to cool and place in a sealed container in the fridge. Leave in the fridge for about a week – this allows the water content of the beetroot to be replaced by the syrup.
17
Return to a clean pan and heat. As soon as the sugar starts to crystallise, remove from the heat. Once the beetroot has cooled slightly, gently re-shape the cubes with you fingers and set aside individually to cool completely.
18
To serve, place a chocolate fondant on each plate. Place a few spoonfuls of chocolate soil on the plate and top with a perfectly formed quenelle of beetroot and chocolate ice cream. Garnish with a scattering of glacé beetroot cubes and some basil leaves if you have them to hand.
Notes
If you want, you can fill the moulds the night before and keep them in the fridge. They will need an extra 2 minutes in the oven.